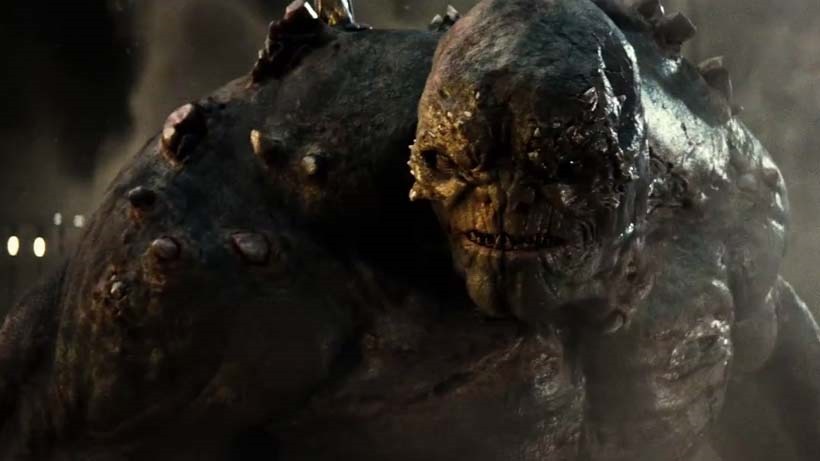 We're just a few months away from watching the Man of Steel tussle with the darker knight in Batman V Superman: Dorks and Orcas Dawn of Justice. And presumably some other big bads, as dammit, somebody has to put their differences aside for the greater good and merchandising. If you watched the latest trailer for Batman V Superman, you may have noticed a certain iconic villain popping up, something that fans felt was perhaps a rash decision on the part of Warner Bros.
But like, chill guys. Director Zack Snyder is here to assuage all your fears about the massive killer-cat being let out of the bag too early. "I know what's in the movie, so I know there's other stuff," Snyder said to The Daily Beast about the criticism surrounding the reveal of Doomsday, revealing that the Kryptonian killing machine may not even be the biggest threat around.
We had a long conversation about just taking ownership of that, of giving it to the audience in a controlled way that I felt was consistent with the escalation of the campaign. Well, you have Doomsday, right? He doesn't just crawl out of the ground. He has his own mythology, right? So that has to be explored.

To us it really made sense to give [Doomsday] to the audience now. I really wanted to make the audience a promise that… though I'm super excited and happy and fulfilled by the conflict of Batman and Superman, there's also a bigger world to start to think about.
According to Snyder, it's not enough to just have a villain like General Zod or Doomsday present. The actual impact that they have on the film and the battles that they create with the heroes needs to be examined as well. That's an idea that Snyder says that he and screenwriter Chris Terrio have spent a great amount of time working on:
The great thing about having Chris Terrio as the writer of this project is it's hard to get him not to do that. It's in his DNA. When we talk about it in mythological terms we're always talking about, what does it mean to the world? What does it mean mythologically to us, now? What is the why of all of it?

Those conversations are a big part of the genesis of all of the ideas. It also offers an opportunity because you have now a variety of perspectives on a single issue. That allows the conversation to be bolder and more lively in the debate, because of these varied points of view.
Said whole new world, a dazzling place we never knew, will sweep previous DC films under a magic carpet ride with Snyder overseeing the development of the films set inside of it. "It is constantly evolving, but we're starting to get a handle on where we're going with the world," Snyder said of the shared universe which totally wasn't inspired by Marvel and Disney's recent box office success stories.
That's fun because it allows us now to be driving toward a goal that we don't have to make up as much. The rules can be the rules, and the movie can exist in a closed universe… it allows us to tie things together. If there's a movie over here doing this, and we're over here doing this, now we're all on the same page.

It allows for a coherent universe, which is important. I think that makes the experience a little more satisfying because we know where we're going, so the misdirects can be stronger and the reveals can be bigger.
Honestly, the Doomsday quotes sound like some quick damage control to me. Because as iconic as Doomsday is, he's kind of a ridiculous character. Hell, his entire origin story boils down to a mad scientist smashing a baby against hostile wildlife and resurrecting it with minor adjustments each and every time until he got the ultimate killing machine. Sort of like an Apple product line then. Batman V Superman hits cinemas on March 25.
Last Updated: January 13, 2016