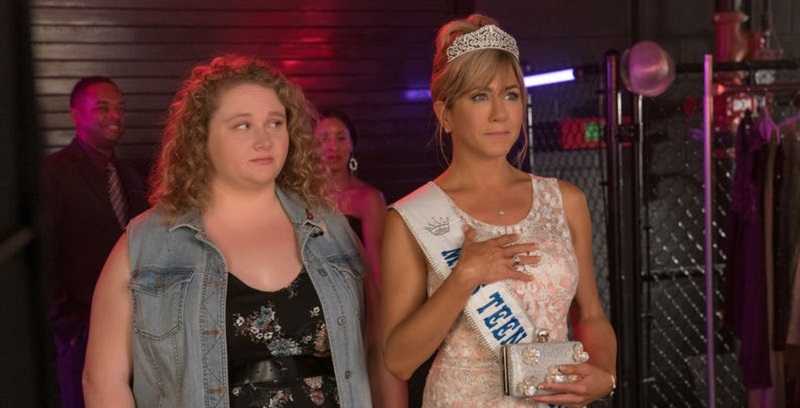 I've never understood the point of beauty pageants. The whole focus on superficial beauty has always felt very odd to me. I say that not to knock the hard efforts of people that do participate in them, as I'm sure there is a lot of hard work and self-sacrifice that goes into competing in contests like this, much the same as any other form of competition. I don't think I'm the only one who thinks this way though as we generally get to see more movies in Hollywood that challenge the idea of beauty pageants than films which support them. And this new Netflix drama, Dumplin', is all about protesting beauty pageants.
However for lead character Willowdean Dickson – aka Dumplin' – (Danielle Macdonald), things are a little difficult as she happens to be the daughter of local beauty queen Rosie Dickson (Jennifer Aniston). The story, based on a novel by Julie Murphy, sees Willowdean sign up for the beauty pageant run by her mother in order to prove something to herself – but she accidentally winds up leading a revolution of sorts against typical beauty standards when other atypical pageant contestants follow her lead and sign up.
It sounds like the perfect formula for some decent laughs mixed with a fair amount of introspection in examining the true meaning of beauty. So how does it all play out? Well, let's take a look at the new trailer to find out:
Dumplin' looks pretty generic though should have enough appeal to attract a large number of people watching it. There might not be too much new to its concept and story, but Macdonald's Willowdean appears likeable enough and Aniston's performance in this movie may be the real highlight as well. The movie also features new and re-recorded songs from Dolly Parton which is also certain to attract fans of her music as well to this new film.
Dumplin' was directed by Anne Fletcher from a script by Kristin Hahn and also co-star Odeya Rush, Luke Benward, Bex Taylor-Klaus, Maddie Baillio and Dove Cameron. The film will be released on Netflix on December 7th 2018.
Last Updated: November 20, 2018