Disney has been on a roll as of late with their films. That awkward phase that gave birth to terrible, terrible animated films like Home On The Range and Bolt is thankfully over. Instead, we've got a second renaissance on our hands where Disney can easily stand next to its Pixar partner thanks to efforts which include Tangled, Frozen and Wreck-It Ralph (CRUSH MAN'S HEAD LIKE SPARROW'S EGG BETWEEN MIGHTY THIGHS).
But one of Disney's other fantastic efforts recently, has to be Big Hero 6. It's a superhero movie that had it all: Fantastic visuals, exciting battles, a wonderful cast and a neat finish for anyone who enjoy's the ol' fist bump (Balalalalala!). It's one of my favourite films from the Disney library, thanks in no small part to the adorably squishy balloon-robot known as Baymax.
And I'd love to see a sequel some time. But honestly, a weekly TV series could suit the superhero format a tad bit better. Good news then, as Big Hero 6 is getting that TV series. According to Entertainment Weekly, an animated Big Hero 6 series will debut in 2017 on DisneyXD, picking up where the film ended.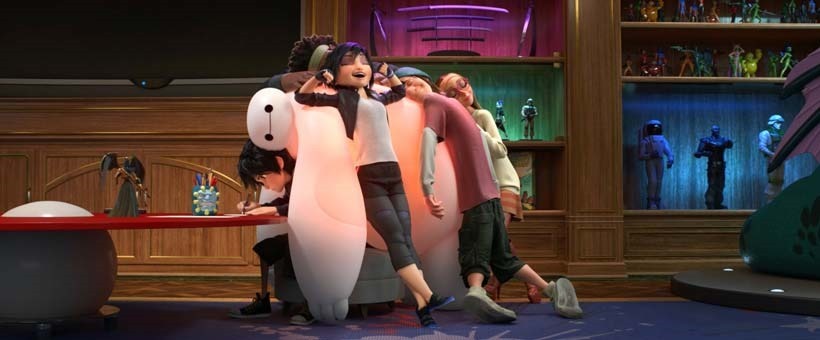 Hiro is now famous for helping to save San Fransokyo and will face "daunting academic challenges and the social trials of being the little man on campus." Meanwhile, Wasabi, Honey Lemon, Fred, and Go Go will be back as "Off campus, the stakes are raised for the high-tech heroes as they must protect their city from an array of scientifically enhanced villains."
Neat. DisneyXD has had plenty of series based on their movie properties over the year. Such as Avengers Assemble, Hulk: Agents of Smash and Ultimate Spider-Man. Although to be honest, I'd be happier shoving the pointy ends of forks into my eyes instead of watching those series. Still, the Guardians of the Galaxy tie-in series isn't bad.
And Star Wars Rebels is easily one of the best shows on TV right now. Hopefully Big Hero 6 will lean more towards the latter rather than the former when it becomes animated.
Last Updated: March 3, 2016