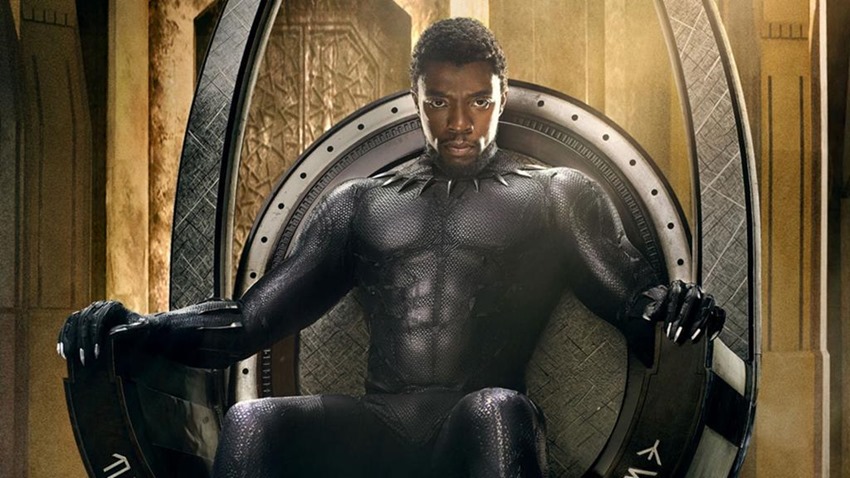 Black Panther, the greatly anticipated – and historic, being the first Marvel solo movie to be headlined not just by a person of colour, but an almost entirely black cast – next chapter in Marvel's cinematic saga has got some serious hype behind it. Chadwick Boseman's debut as T'Challa, the titular protector of the African nation of Wakanda, was a fan-favourite moment from Captain America: Civil War and people are stoked for him getting his own movie which shows off his insane Afro-tech homeland. Add on top of that the fantastic Michael B. Jordan as his nemesis Killmonger, and the critically acclaimed Ryan Coogler, director of Creed and Fruitvale Station (which both starred Jordan) behind the camera and scripting, not to mention a whos-who of top-tier black actors and this has all the trappings of something special.
Well, the worldwide premiere of Black Panther wrapped up just over an hour ago in Los Angeles, and the social media reaction embargo just lifted a short while ago so we can see if it does indeed live up to that hype. The short answer: Yes. The long answer: YEEEEEEEEEEEEEEEEEESSSSSSSSS!
Serious praised is being heaped on Jordan's Killmonger as one of the best Marvel villains ever, while Letitia Wright's Shuri, T'Challa's sister (who in the comics was the Black Panther for a while), appears to be quite the scene stealer. So too The Walking Dead's Danai Gurira continues her streak of playing supremely badass characters with Okoye, the head of the King T'challa's all-female special forces unit, the Dora Milaje. Coogler also seems to have struck a nice balance between spectacle and substance, as many are exclaiming that the movie is even more visually spectacular than we expected but that it's also very heavy on the politics and character drama. If you're familiar with his previous work, then you know that the latter is vintage Coogler. The result of that balance is that I've seen more than just a few Captain America: Winter Soldier comparisons, which is about as good a comparison to make in the MCU as you can get. In fact, several folks are saying Black Panther surpasses even that movie, which has me stoked beyond belief right now.
Check out a selection of tweets from press below.
So much love for Black Panther. The exploration of Wakanda is phenomenal, Erik Killmonger is unquestionably one of Marvel's best villains, and manages to be both fun and dramatic. Can't wait to see it again! pic.twitter.com/46fRrYKuul

— Eric Eisenberg (@eeisenberg) January 30, 2018
Ryan Coogler knocked it out of the park, some great sequences presented in a "single take/shot." If this movie isn't nominated for costume, art and production design awards next year, I would be seriously shocked. #blackpanther

— Peter Sciretta (@slashfilm) January 30, 2018
BLACK PANTHER is not screwing around. By far the most political Marvel chapter, to the point I had to remind myself this is a Marvel movie. BLACK PANTHER is a movie with a lot to say.

Also, Michael B. Jordan … damn

— Mike Ryan (@mikeryan) January 30, 2018
Black Panther is the best MCU movie ever. I was blown away from start to finish and I'm not even being biased. This was by far the best marvel movie to date. Thank you, Ryan Coogler! #BlackPanther pic.twitter.com/8Qh0hlOYAb

— Geeks of Color (@GeeksOfColor) January 30, 2018
Killmonger is the best and most interesting villain out of any of the MCU movies. Michael B. Jordan is so good.

— BenDavid Grabinski (@bdgrabinski) January 30, 2018
#BlackPanther is exceptional – the James Bond of the MCU. You've seen nothing like this in a superhero movie – it's bold, beautiful & intense, but there's a depth & spiritualness that is unlike anything Marvel has ever done. It's 100% African & it is dope af. pic.twitter.com/Z77IjnIjf2

— ErikDavis (@ErikDavis) January 30, 2018
The best part of #BlackPanther is how it unravels this deeply emotional & complex story about family ties & protecting your tribe. While lots will tout Michael B. Jordan as the stand-out, my favs were Danai Gurira & especially BP's lil sis, Letitia Wright pic.twitter.com/VSEwa98BnI

— ErikDavis (@ErikDavis) January 30, 2018
Lastly, #BlackPanther is an audience movie. See it with a crowd cause they will be loud. It is a very proud movie & a female first movie, and I hope it crushes at the box office, paving the way for a future full of much greater representation pic.twitter.com/OBAmAt8eZL

— ErikDavis (@ErikDavis) January 30, 2018
#BlackPanther: I never wanted this movie to end, and as soon as it did I wanted to go back. Solid action, smart story, tons of personality. Shuri is my new fave, Nakia is everything, Killmonger is incredible, T'Challa deserves to rule the MCU. Coogler has done it again. ??? pic.twitter.com/t9gG3DLuCL

— Angie J. Han (@ajhan) January 30, 2018
BLACK PANTHER is incredible, kinetic, purposeful. A superhero movie about why representation & identity matters, and how tragic it is when those things are denied to people. The 1st MCU movie about something real; Michael B. Jordan's Killmonger had me weeping and he's the VILLAIN

— jen yamato (@jenyamato) January 30, 2018
#BlackPanther is everything we all wanted it to be. A smart, emotional, well-told story. And just f'ing beautiful. pic.twitter.com/dvNDgEH7k0

— Roth Cornet (@RothCornet) January 30, 2018
#BlackPanther is riveting on many levels: visually astonishing, but more importantly, so unpredictable. Incredible to watch a major blockbuster celebrate blackness while exploring its relationship to various facets of pop culture. "Stop scaring me," colonizer!" #wakanda4ever

— erickohn (@erickohn) January 30, 2018
#BlackPanther is simply awesome. Extremely bold and as touching as it is thrilling, it boasts GOT-style intrigue, crazy innovative action and a deep bench of memorable characters. Top 5 all-time Marvel movie, easy. More later. pic.twitter.com/mmz8Nuf1sy

— Brian Truitt (@briantruitt) January 30, 2018
Marvel has outdone themselves, #BlackPanther is remarkable and the best #Marvel film to date. Finally, a mature superhero film that doesn't feel like a superhero film. Prepare to have your mind blown. Black Panther has officially redefined the superhero genre as we know it. Bravo

— Scott Menzel (@TheOtherScottM) January 30, 2018
#marvel does it again with 'Black Panther'. Very impressed with the story and filmmaking. @michaelb4jordan absolutely kills it as the villain and is the best one since Loki. Also @DanaiGurira kicks so much ass and I loved every second of it. Going to make serious $. pic.twitter.com/YBrg2x3Nnz

— Steven Weintraub (@colliderfrosty) January 30, 2018
Like for real Michael B Jordan's Killmonger is the new Heath Ledger's Joker. The standard.

— Phil "2018 Will Be Worse" Owen (@philrowen) January 30, 2018
The MVP of #BlackPanther is Letitia Wright's hilarious, ebullient Shuri. I want a Shuri supercut, I want a Shuri spinoff, I want a capsule collection of Shuri sportswear at Opening Ceremony, and I want these things now!

— Kyle Buchanan (@kylebuchanan) January 30, 2018
#BlackPanther is all you want and more. Unlike any Marvel movie to date, great villain in @michaelb4jordan, @chadwickboseman is regal as he is badass and @DanaiGurira is all I want to be in life. Can't wait to see this one again with a new audience. pic.twitter.com/y0MpJLGeBH

— Brian Particelli (@BrianParticelli) January 30, 2018
#BlackPanther is a love letter about blackness, to a world that often ghettoizes it without realizing that it is on black backs that this planet revolves.

This world's livelihood is in our blood. pic.twitter.com/FscW1hWbI6

— Tre'vell Anderson (@TrevellAnderson) January 30, 2018
BLACK PANTHER is the most spiritual Marvel movie yet! Family and heritage is a big part of the story — there are moments in this movie that get real deep. Danai Gurira is a scene-stealer and the movie elevates whenever Michael B. Jordan shows up. #BlackPanther pic.twitter.com/KIxiAItnEY

— Jason Guerrasio (@JasonGuerrasio) January 30, 2018
Extraordinary work by Ryan Coogler and company! #BlackPanther #WakandaForever!

— James Gunn (@JamesGunn) January 30, 2018
Like for real Michael B Jordan's Killmonger is the new Heath Ledger's Joker. The standard.

— Phil "2018 Will Be Worse" Owen (@philrowen) January 30, 2018
And the representation of Black women in #BlackPanther made me feel seen. Seen in a way other superhero movies have not done well. pic.twitter.com/xrzVP5SLu6

— ReBecca Theodore-Vachon (@FilmFatale_NYC) January 30, 2018
Of course, everybody has different tastes. Well, in this case, everybody being just one person. The only reaction I could find that was even negative in the slightest – and I mean slightest – was from Indiewire's David Ehrlich, who historically has never been a strong proponent of comic book superhero movies in general and not even the popular Marvel ones. Even so, he basically only had one criticism.
BLACK PANTHER is like a Marvel movie, but better. the action is predictably awful, but this is the first MCU film that has an actual sense of identity & history & musicality. Wakanda is alive. whole cast is great but the women (and the war rhinos) steal the show — Danai Gurira!

— david ehrlich (@davidehrlich) January 30, 2018
LONG LIVE THE KING!
Black Panther also stars Lupita Nyong'o, Martin Freeman, Daniel Kaluuya, Winston Duke, Angela Bassett, Forest Whitaker, and Andy Serkis. It is scheduled for release locally on 16 February.
Last Updated: January 30, 2018