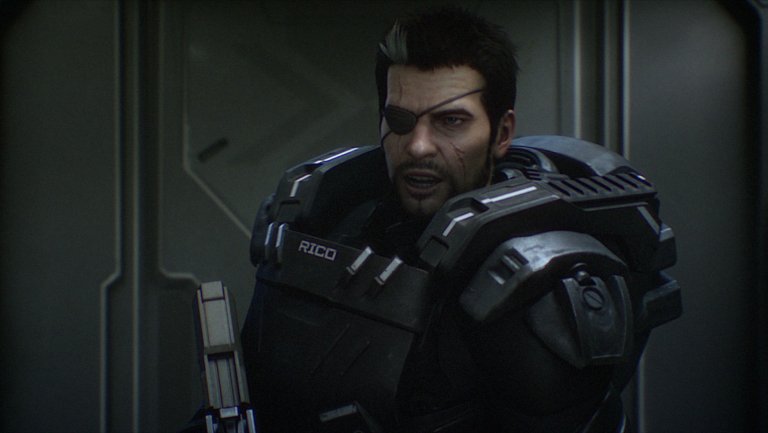 There's no denying Starship Troopers is a cult classic movie. Paul Verhoeven's 1997 adaption of Robert A. Heinlein's 1959 novel of the same name is a solid sci-fi action movie and a glorious anti-war and anti-fascist satire – with the satire being a decided change from the original novel.
The movie was followed up by a further two live-action sequels that I won't bother dignifying by giving any details about because they're crap. 2012 saw the release of the first animated feature, Starship Troopers: Invasion, which wisely eschewed those sequels to tell its own story that linked back to the original movie. There have also been a few rumblings lately about Starship Troopers being remade/rebooted more in line with Heinlein's original vision.
However, in the meantime we get the new animated feature Starship Troopers: Traitor of Mars, which is the sequel to Invasion and was written by Ed Neumeier – who wrote the screenplay for the original movie (and practically everything related to RoboCop). Casper Van Dien's voice will reprise its role as Johnny Rico along with Dina Meyer as Isabelle "Dizzy" Flores. Comedian/actor DeRay Davis (21 Jump Street) is also joining the voice cast.
The official plot synopsis is like mainlining pure Starship Troopers:
C'mon You Apes, You Wanna Live Forever?! I have only one rule. Everybody fights, no one quits. The bugs have breached Mars and the Federation's Fleet is too far to help. It's up to us to save the planet. On the bounce, Troopers! The only Good Bug is a Dead Bug! Oorah!
Thankfully the folks over at The Hollywood Reporter could give a few more details:
The movie sees Rico demoted and relocated to a satellite station on Mars, while the Federation moves to attack the home planet of the bugs — but Mars just so happens to be the target of a secret bug attack at the same time, and it falls to Rico and a group of new recruits to keep the planet safe while the Federation's fleet is far out of reach.
So let's see if it's time for a bug hunt or the bug spray:
I… I actually like that. In fact, I think that looks great. There are some fantastic action sequences on display in the trailer, tonnes of bugs, there's definitely a few hints of human-based intrigue, and it harkens back to the original movie with the now-grizzled Rico and Flores taking a new bunch of recruits under their wing. And it definitely has better animation than Marvel.
What do you think?
Starship Troopers: Traitor of Mars will get a limited one-night-only screening in the US on 21 August, with a special introduction by both Van Dien and Neumeier and bonus features and interviews – the lucky sods. Then, I assume, it's off to DVD and Blu-ray and hopefully a convenient streaming service because I definitely want to watch this.
Last Updated: June 6, 2017