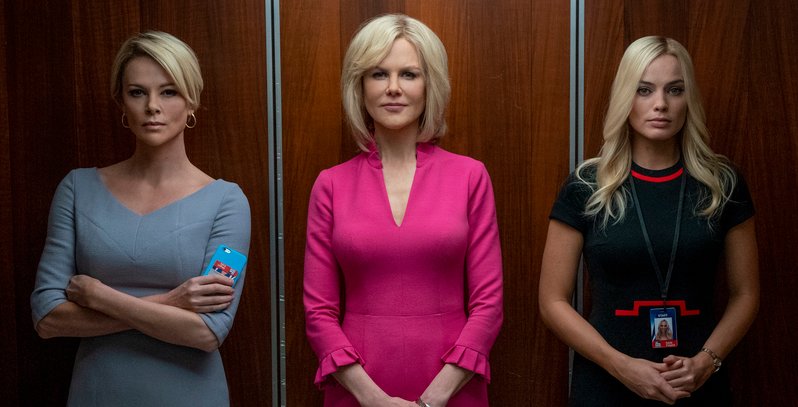 Movies aren't all about action and witty dialogue. Unless you're Dwayne Johnson, Jason Statham or Arnold Schwarzenegger because then that's all you've got going for you. But movies should and can always be a lot deeper than that where even the absence of dialogue can often add to the experience.
Take this new trailer for the movie Bombshell which features barely any dialogue, but thanks to the use of some awkward glares and facial expressions backed by a musical score that alludes to something more, you can still feel the tension.
That is the power of acting when you combine thespian powerhouses Charlize Theron, Nicole Kidman, and Margot Robbie together and throw in some deft direction from Jay Roach (Game Change). The trailer might be light on dialogue but the story itself is quite a timely one as the film explores furore surrounding late Fox News Chairman and CEO Roger Ailes (played by John Lithgow) when a string of sexual harassment allegations began surfacing in 2014 that resulted in nasty legal battles and his eventual resignation from the influential network. Bombshell deals with the tense work environment that affected the women involved, with Theron and Kidman respectively playing real-life Fox news anchor Megyn Kelly and Fox journalist Gretchen Carlson. Robbie will be playing Kayla Pospisil, a composite character representative of many of the other women involved, created just for the film.
Penned by The Big Short's Charles Randolph, Bombshell had a tumultuous development as it was supposed to be produced by Annapurna Pictures. However, when that studio ran into financial problems Roach and his team had to find a way of securing the funding to complete the movie which they eventually did through Lionsgate. A good thing too because it looks like it could showcase some remarkable performances.
Bombshell is due out in the US in December. A time when many studios punt their big awards contenders making it clear that Lionsgate believe this film has a strong shot at some gold.
Last Updated: August 22, 2019