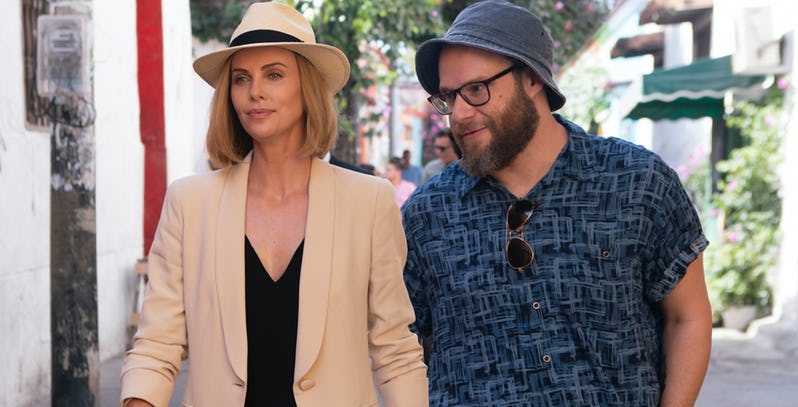 Thanks to recent events in U.S politics we've come to the realisation that almost anyone stands a shot at becoming an American president. Even a South African woman from Benoni of all places.
 I am unfortunately not talking about real-life politics, but rather the script for Long Shot (written by Liz Hannah and Dan Sterling) which sees Charlize Theron star as Charlotte Field, a U.S. Secretary of State who has hopes of becoming the next U.S. President. However, things change unexpectedly for her when she is reunited with an unemployed journalist Fred Flarsky (Seth Rogen) whom she used to babysit. For reasons, this makes her journey to the most powerful position in the world a little more difficult:
Long Shot definitely looks like a solid romantic comedy with a mix of political satire thrown in too. While the film offers up an insightful look at the challenge women have in ascending to power, both politically and otherwise, it also looks very predictable and relies on some gags that are a little too silly for my liking. Joining Theron and Rogen is also the solid supporting cast of O'Shea Jackson Jr., June Diane Raphael, Andy Serkis, Ravi Patel, and Bob Odenkirk.
Much like its characters hopes for a lasting relationship and potential presidency though, this movie has a shot at overcoming its challenges to still provide us with decent entertainment. Perhaps the biggest challenge at the box office though for this Jonathan Levine directed film is not the film's contents, but the fact that it releases a week after Avengers: Endgame: a movie that has the potential to consume everyone's attention and make them forget about everything else on at the box office.
Still, if superheroes are not your thing or you're looking for something different after watching the fourth Avengers film five times, Long Shot could prove a perfect light hearted distraction when it releases on May 3rd.
Last Updated: February 19, 2019