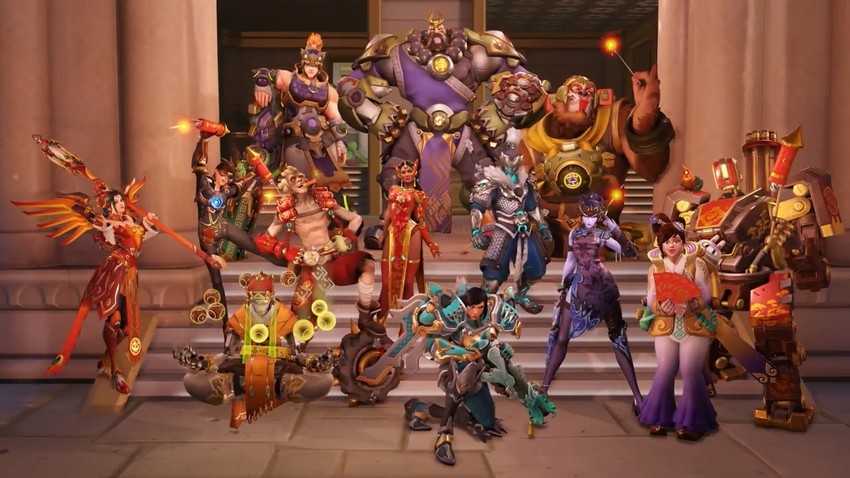 As reported yesterday, Overwatch kicked off its annual Lunar New Year event last night, celebrating the Chinese Year of the Dog. We heard in that report from Overwatch game director Jeff Kaplan how this seasonal event would bring with it some brand new and much-need gameplay mechanics for the Capture the Flag mode first introduced during last year's event. On top of that, a new map set in Thailand – the first in the game's history to be designed from the ground up specifically for CTF – will be rolled out as well. There will also be the usual collection of cosmetic items, including six new legendary skins.
Of course, all of that was just explained to us by Kaplan with words, and as we all know, words are boring. So for those of you who didn't update the game last night to check out all the new goodies for yourself, the Overwatch has revealed a brand new video that shows them all off and they look incredible!
While we don't get to see too much of the new Thailand-set map, Ayutthaya, I can't wait to test it out and see exactly how the team have optimized it for CTF. I do have to say though that just on first glance, I think these new skins are some of the best themed event ones Blizzard has ever done. That Genji and Zarya, in particular, are phenomenal! I don't even play Genji and I want it in my collection. You will also notice from the video above that the skins from 2017's Year of the Rooster will once again be made available as well, so if you missed out on any last year, now's your chance to get them.
And you really do have a long time to get them as Blizzard has extended the time normally given to these events to four weeks, to allow all those fans that are actually travelling to celebrate the Year of the Dog to still have enough time to experience the new content for themselves. And there is indeed a whole lot more content with plenty of emotes, highlight intros, voice lines and more. Too much, in fact, for me to describe here with more of those pesky words. Luckily, the folks over at Your Overwatch have gone and made a handy video for you to check out a bunch of the new stuff.
Last Updated: February 9, 2018