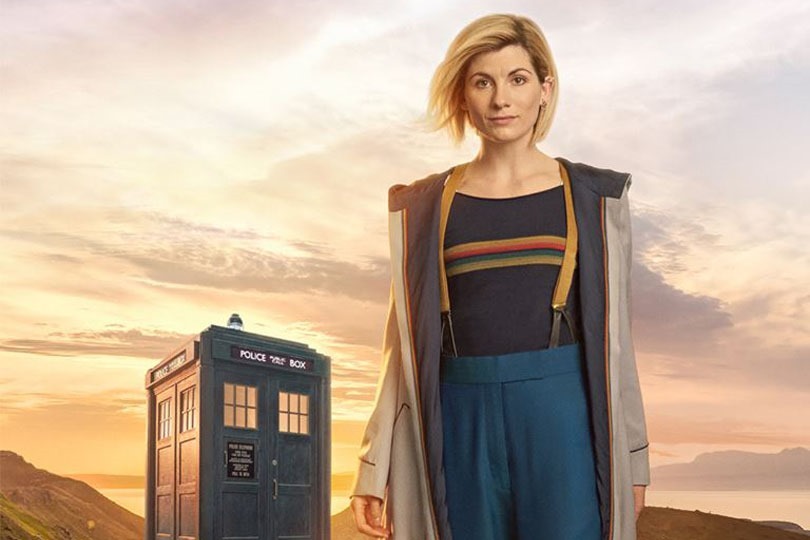 If you've come here today looking for deep and meaningful insights into pop culture and analyses of current trends in the entertainment business, then you're crap out of luck. Today it's all about squealing in fervent fan delight for no other reason than OMG DOCTOR WHO IS IN OUR BACKYARD! Not our literal backyard, by the way, though trust me Darryn and I have tried to… arrange that (totally off topic, if cops come around asking if you've seen any suspicious people with a sack large enough to stuff a British actress wearing a long coat into, then please just deny everything). I am, of course, referring to the first season 11 filming location for the long-running beloved sci-fi franchise, which was rumoured to be in none other than our sunny South Africa.
Now thanks to pics popping up on social media these last few days (via Cultbox.co.uk), we now know that not only is the South African shooting location confirmed, but more specifically it's actually happening in the heart of Cape Town in Roeland Street. The pics from the set – which is a for two-episode adventure being directed by Mark Tondera – show that the production will be some kind of retro throwback, complete with lots of vintage cars. The new coat-wearing Doctor, Jodie Whittaker, can merely be seen standing around next to one of those old-school vehicles in one pic, but other than that we're not really getting any story clues.
The Kimberley Hotel while being prepped for Doctor Who filming #dwsr pic.twitter.com/Eph0no4vV3

— Girly Letters (@GirlyLetters) January 14, 2018
"?quick wonder into Doctor Who film set a la Cape Town for d new episodes coming out. #vintagecars #slimsbar #filmset" #dwsr
More photos: https://t.co/LxGFh79PLj pic.twitter.com/kaeYQRdkhQ

— Girly Letters (@GirlyLetters) January 14, 2018
Yasmin is standing behind 13 I didn't even notice her ? pic.twitter.com/CtFongxH5s

— Jake(B) (@SPACE_JODIE) January 14, 2018
As informed locals will know, this area used to actually be part of District Six, the infamous once-lively melting pot neighbourhood that saw over 60 000 people of colour violently removed from their homes and displace to the Cape Flats by the South African Apartheid regime during the 1970s and 1980s. With Doctor Who's overwhelming themes of non-violent conflict resolution and the embracing and celebrations of all cultures, it's kind of fitting to have the show use this richly historic neighbourhood.
Not that the episodes will actually be set in District Six that is. Besides for the model of the police car that was never found locally, if you look closely at the pic featuring Whittaker, there's a sign on the tavern wall that reads "We cater to white trade only". While initially you may think this has something to with Apartheid-era South Africa, it's actually from the American Segregation Era – also fitting as Martin Luther King Jr. Day was celebrated in the US just yesterday. I have a feeling that this overlap of racial themes between the filming location and the supposed setting is no accident.
Of course, South African filming locations are revered by big international productions for their ability to stand in as a totally different place. From a mall in Kuilsriver becoming downtown Seattle in Chronicle, to a plot of land on the side of the N2 on your way to Somerset West doubling as the Caribbean in Black Sails, or the Cape Town CBD even being transformed into Mega-City One for Dredd, these and many other local locations have all shown off their chameleonic abilities. So it won't be surprising at all that when the hotly anticipated 10-episode season 11 of Doctor Who kicks off later this year that Cape Town has been transformed into America in the late 1950s.
Last Updated: January 16, 2018