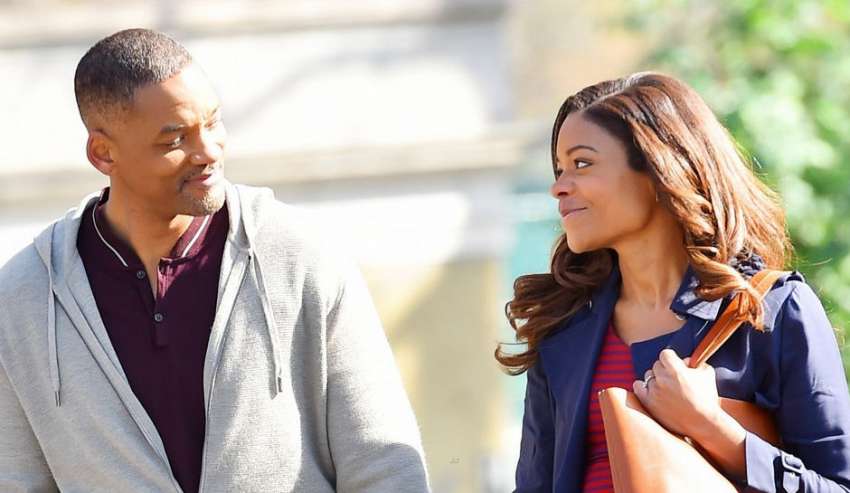 Naomie Harris may have been around for a while, but she truly blasted onto the scene as the new Miss Money Penny in the hugely successful 2012 James Bond film Skyfall and since then she's been, well, busy. She's appeared in the next Bond movie Spectre, then Moonlight, Our Kind of Traitor and now the upcoming Collateral Beauty. A movie that has Trevor foaming at the mouth because of the all the feelings it explores. I have to agree that it does look like a rather sugary movie, so perhaps we are just bitter humans.
Thanks to our friends over at Times Media Films we managed to get an interview with Harris who has quite a bit to say about star Will Smith (who she spent the majority of her time acting alongside) and director David Frankel. But what actually attracted her to a such a movie?
What really sold me was the script. I have never read a Hollywood script that deals with loss in such a sensitive, inspiring and profound way.
And indeed it deals with loss. Here's the synopsis:
When a successful New York advertising executive (Will Smith) suffers a great tragedy, he retreats from life. While his concerned friends try desperately to reconnect with him, he seeks answers from the universe by writing letters to Love, Time and Death. When his notes bring unexpected personal responses, he begins to understand how these constants interlock in a life fully lived and how even the deepest loss can reveal moments of meaning and beauty.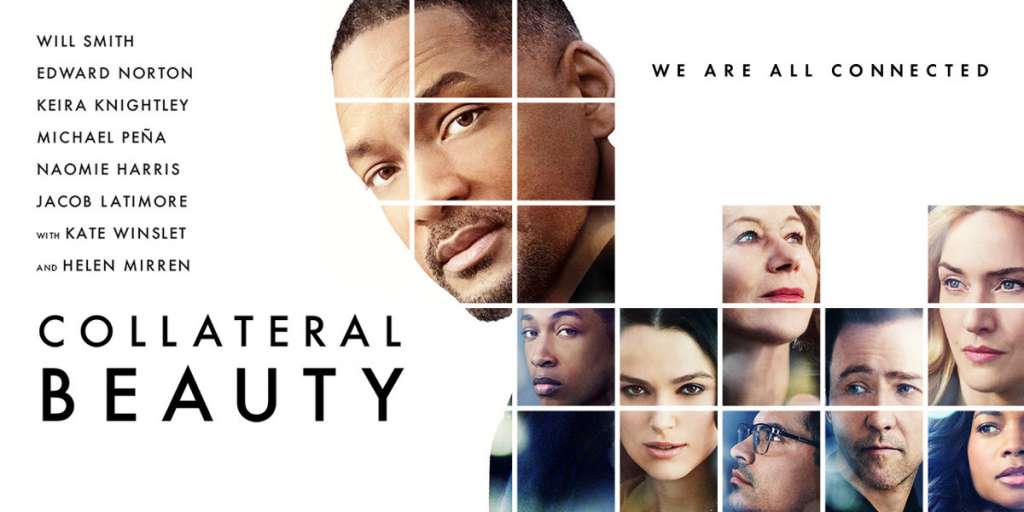 It sounds like… Scrooge doesn't it? Only it can't be because with a cast like this, all the money was spent! You see Collateral Beauty also stars Helen Mirren, Keira Knightley, Kate Winslet and Edward Norton. Sadly for Harris she didn't really get the chance to act with the majority of those (if you can say sadly when you are acting exclusively with Will Smith). However, Harris apparently has no problem with that:
It's an amazing cast and I wish that I'd had more time to be with them. I do have one scene with Helen, but I didn't get the opportunity to work with most of the others because almost all my scenes are with Will, only. But I'm honored to be sharing the screen with all of them.
Harris plays Madeline, a character who has also experienced loss and she attempts to help Smith's character, Howard, by getting him to join her counselling group.
What I love about Madeline is that she has discovered, through her own loss, a way to find meaning in life, which is by helping other people deal with their loss – well, deal with it as best they can, because as she says in the movie: 'You never get over something like that. It always stays with you.' But Madeline has found meaning in helping people navigate that journey. I really connected to that. I thought it was a beautiful thing.
Of course this begs the question, 'Why her'? Why is it Madeline is able to help Howard and not say, the guy who sells papers outside his apartment?
With Madeline, Howard finally finds the one person he's able to open up to. What's special about Madeline is her way of giving space to people, and in a non-judgmental way, allowing them to express their grief. That's what she does with Howard, and it's the first time he's able to open up because she makes him feel safe.
So basically the exact opposite of me. But then again I am not a famous actor who commands quite a bit of respect from his peers. This, of course, is always a challenge when working with actors with such a presence.
Well, it's really interesting, because when you talk about Will Smith, you're really talking about two different Wills [laughs]. When he's in character, as Howard, there's something about him that's so deeply moving because he seems to be in so much pain.  You just want to hug him all the time and say, 'It's going to be all right.'  And then there's Will the actor, who is the life of the party, and whose energy is so positive and uplifting.  You feel happy and better just from being around him.  I've never experienced that before while making a movie.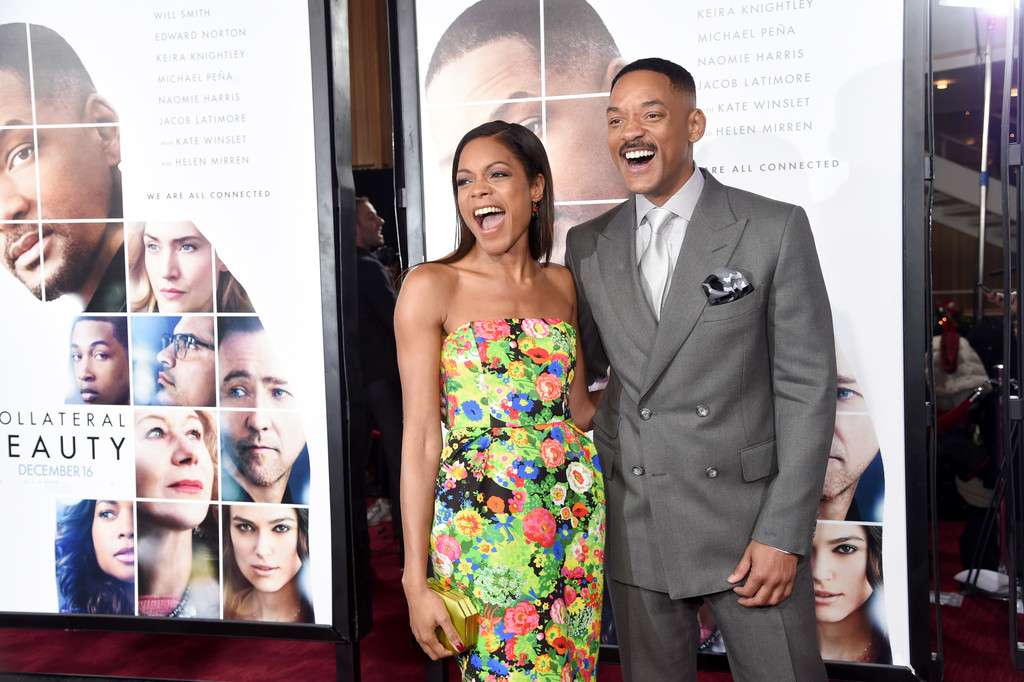 That must have been tricky if you ask me. Working with someone with such positive energy in a movie where the main character is in such pain. I suppose that's what the director is there for, to help get you in the mood so to speak. David Frankel (The Devil Wears Prada) apparently creates a very safe environment though, allowing his actors input while filming.
David definitely welcomes your input.  But the thing I love most about David is his sensitivity.  When he whispers direction in your ear, you just feel very safe and nurtured, as though there's no right or wrong in the way you're playing a scene.
So not quite the same as David Fincher then. While actors on set with Fincher were known to cry, or urinate into jars because they didn't have enough time to make it to the loo, it would seem Frankel's set was a peaceful space. When asked what memories Harris has taken with her she said:
That would be Will rapping on the set [laughs]. The crew, many of whom had already worked with Will, would tell me, 'Yeah, this is what he does.' And it was just brilliant. Will Smith…there he is, on set, standing in the corner while the set is being lit, and just entertaining everybody. I love how he's so playful and fun.


Okay, that's pretty cool. I'd get him to sing the Fresh Prince of Bel-Air everyday till people screamed. Lastly what audiences take from a movie is important and Harris wants us to take hope away from them movie's experience.
I think the biggest thing I'd like them to take away is that there's hope. The movie's message is really summed up in the title Collateral Beauty. It's the idea that, no matter what you're going through, there's always a silver lining. And there's always beauty to be taken from life.

Also, there is a force outside of ourselves, which is always benevolent. It's always trying to help and support us, if we allow it to do so. So, I hope audiences leave the film with some sense of reassurance and hope.
Collateral Beauty opens on the 27th of January in South Africa.
Last Updated: January 26, 2017