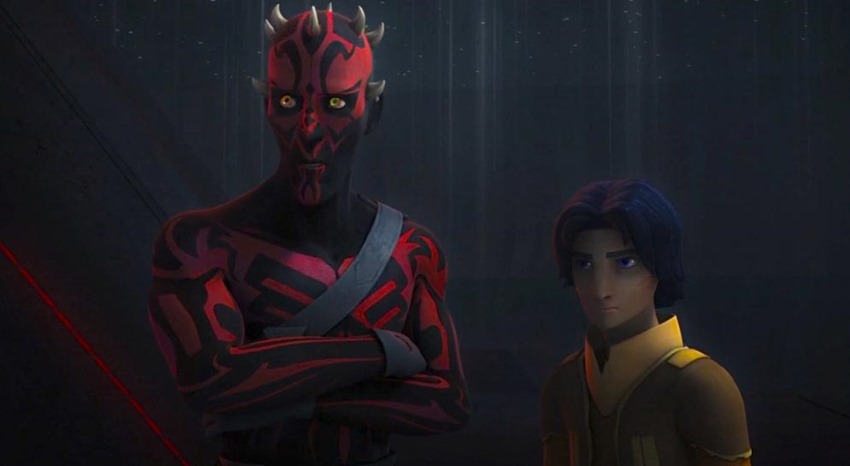 Star Wars Rebels may be bowing out this week with a third season finale, but it's going out with a bang that would rival the explosion of the first Death Star. After almost two decades it looks like the rivalry between Obi-Wan Kenobi and Darth Maul will finally be settled, as the former Sith Lord finally tracks the exiled Jedi to Tattooine.
That's a battle that almost never happened.
Rewind back to last year and the second season finale of Rebels, and Maul was seemingly back from the dead. In an episode that featured a tearful farewell to one of the best characters in the entire animated saga, Ahsoka Tano, Maul almost met his end at the cybernetic hands of his replacement: Darth Vader. "Originally Maul perished in the season two finale where he returned. It was a one-off appearance," Rebels executive producer Dave Filoni said to io9.
So originally in that episode you were gonna get Vader fighting Maul, Vader would have killed Maul, and then fought Ahsoka. It just became unwieldy, there were too many storylines, and there isn't enough emotional material between Vader and Maul. It's more of a fan fiction fun thought that they fought. The emotional drama was really between Vader and Ahsoka. So we decided to let Maul live.
A move which actually paid off quite well. Maul has had a presence within Rebels this season, but a presence that has moved the story further as he teamed up with Ezra Bridger to unlock information that was vital to the Star Wars mythos. It's this final duel, which benefits both Maul and Kenobi. "You always felt Obi-Wan had this great track record of taking out a Sith Lord in the past," Filoni said of the fantastic first battle between the two from Star Wars: The Phantom Menace.
We wondered, [by bringing back Maul], did we rob him of what he was able to accomplish?
Maul has had a much better storyline after the Phantom Menace. A discarded apprentice, he'd reemerge once again on Star Wars: The Clone Wars as a reborn nemesis that drove the series forward. Rising to power once again on Mandalore, Maul lost everything when his former master came knocking on his door, in a clash that robbed him not only of all of his gains but his family as well.
Touching stuff. With the finale airing this week on Disney XD, the circle will finally be complete as Rebels gears up for a fourth season return later this year.
Last Updated: March 17, 2017