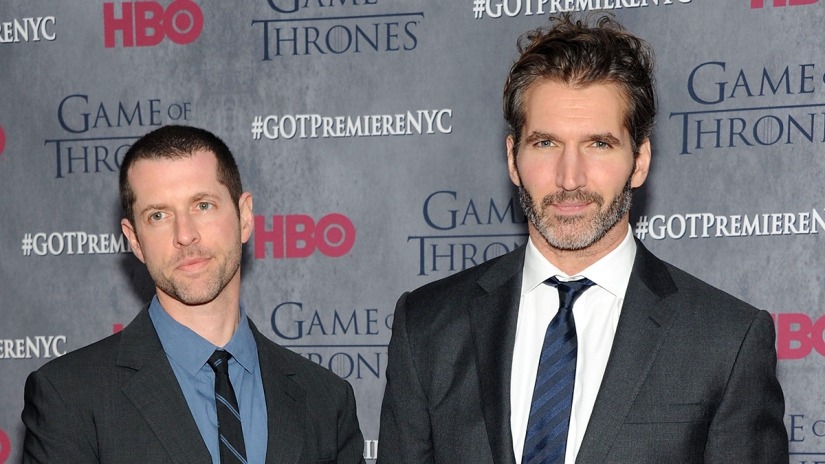 I'm sure some of you will have read that headline above and just went, "Duh". After all, erstwhile Game of Thrones showrunners David Benioff and D.B. Weiss have certainly been lambasted often enough online for how they screwed up the final two seasons of the multiple award-winning HBO fantasy drama by rushing through the plot and making some daft decisions. Just look at the massive sigh of relief across the internet at yesterday's news that they were no longer developing a new Star Wars trilogy. However, it would appear that it's not so much that the last two seasons of Game of Thrones was a mess, but rather that it's miraculous that the previous six seasons didn't suffer the same fate.
That was the prevailing take away from those in attendance at the Austin Film Festival this weekend past where Benioff and Weiss were guests on a panel to discuss how the pair turned George R.R. Martin's books into one of the biggest TV phenomenons of all time. This panel was the first time the two have attended any public convention like this after pulling out of a scheduled appearance at Comic-Con in the wake of all the negative backlash to the Game of Thrones finale. Maybe they should have stayed hidden though as one of the attendees live-tweeted the entire panel discussion and it made for some… enlightening reading.
By Benioff and Weiss' own admission they had no prior experience making any form of television and told Martin as much when they first met him. They even went further to say that they don't know why they got the gig.
Going on with the panel though, Benioff and Weiss doubled down on just how out of their depths they were when they started shooting the pilot. By their own words, it was filled with "basic writing mistakes" and they had no idea how anything worked. Hell, they didn't even think to include a scene between Robert Baratheon and Cersei Lannister – two figures who are not only married but who could not be more key to that episode – until HBO requested them to make up a lack of running time.
This is… kind of ridiculous. How were they trusted with this show? Well, I would be remiss to mention what many people online are already pointing out: Benioff's father is a very wealthy former Presidential advisor, former Chairman of Goldman Sachs, and former Chairman of the New York Federal Reserve Bank. And he was socially connected to the head of HBO at the time of Benioff's pitch. Now I'm not saying that familial connections got the most-assuredly unqualified Benioff and his partner this gig, but I'm also not NOT saying it. This is Hollywood after all.
The pair continued in the panel explaining that they didn't understand Martin's characters and really learned about them from the actors they cast in the roles. Even the casting though was rather amateur with Jason Momoa picked from a fan-casting article they read online.
With Benioff and Weiss clearly out of their depth, why didn't they turn to others for help? Why didn't HBO get other more seasoned writers involved?
Their assistant. That's who they turned to. Oy vey.
To Benioff and Weiss' credit, they acknowledge that things got better as it went along because not only did they eventually start surrounding themselves with all the right, talented people, but they kept that team intact throughout to nail that consistent quality. The increasingly bigger and more complex battles, as well as the VFX used to realize the dragons, kept getting better.
One thing that wasn't consistent though was the show's fantastical tone, or rather the lack thereof in the earlier seasons where things played out more like a straight medieval drama. And even though we eventually got fire-breathing dragons, shadow demons, and armies of undead, readers of Martin's books know there were plenty more fantastical elements – like Lady Stoneheart – that were never even touched on in the series. And that's because Benioff and Weiss didn't want any of those nerdy fantasy elements so that they could rather appeal to NFL players and mothers. Really.
Surely, when some fans started commenting online though, the duo read about how they could get closer to the source material and adjusted? Well, no. After Weiss was upset by some online comments he never read them again. What's more, the two writers didn't even bother to look at the big picture of the story.
Yeesh. There are a few more nuggets over in that Twitter thread that you should definitely check out for yourself. Like how they barely had any persons of colour or women in their writers room (the one woman, Vanessa Taylor, only got to write a few scenes before she left the show to go write the Oscar-nominated screenplay for The Shape of Water) or how they initially had no process for how they would write episodes. It's one piece of ridiculousness on top of the other and it's just shocking how open Benioff and Weiss were about it all.
With one prequel cancelled and another ordered straight to series, it's been a wild 24 hours for Game of Thrones fans, but it would appear that the last 8 years could have been even wilder if things had turned out differently.
Last Updated: October 30, 2019