March is a bumper month for DVD releases from Ster Kinekor. In addition to Season 2 of time travel romance Outlander, 11 new movies are also now available to own. Here's a rundown of the full set.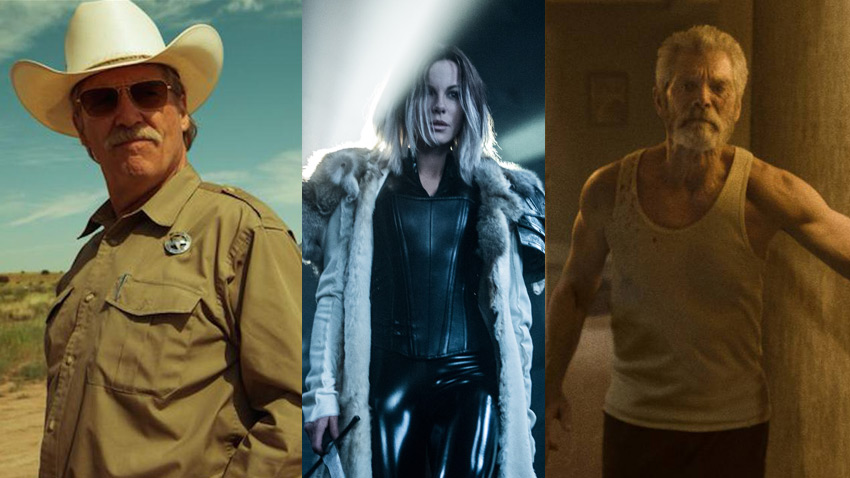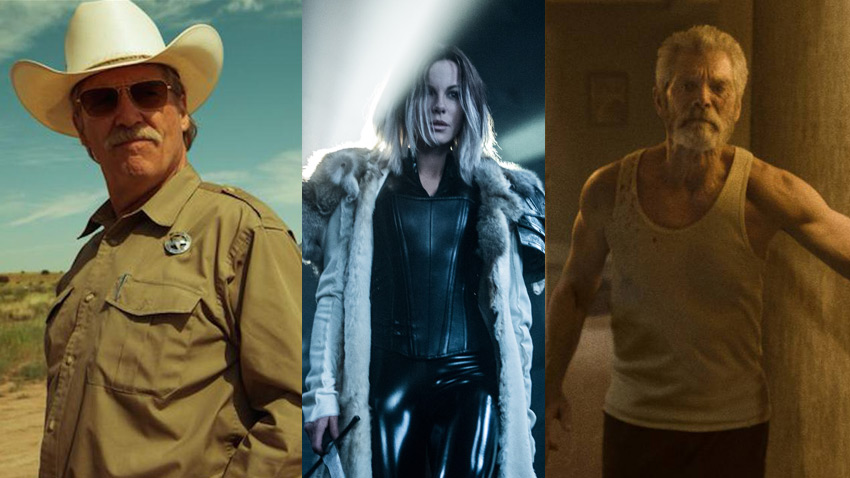 Hell or High Water
Genre: Crime / Drama
Toby, a divorced father (Chris Pine), teams up with his ex-con brother (Ben Foster) and hatches a plan to save their family's West Texas farm from foreclosure. In their desperation, they decide to risk everything in a daring and vengeful series of bank robberies. Their crime spree draws the attention of a Texas Ranger (Jeff Bridges), who sets chase with the help of local law enforcement to stop them in their tracks.
This neo-Western may be too slow and contemplative for adrenalin junkies, but lovers of good, character-driven cinema should make an effort to catch it. Hell or High Water was widely lauded as one of the best movies of 2016, earning four Oscar nominations, for Best Picture, Best Original Screenplay, Best Supporting Actor (Bridges) and Best Editing.
Critical Hit: 8/10
Rotten Tomatoes: 98%
Metacritic: 88
Manhattan Nocturne
Genre: Crime Drama / Mystery
Manhattan Nocturne is the story of Porter Wren (Adrien Brody), an accomplished journalist celebrated for solving a recent crime. At home, he is a devoted husband and father. But when a seductive stranger (Yvonne Strahovski) asks him to dig into the unsolved murder of her husband, he is drawn into a world of sexual obsession and blackmail.
Also known as Manhattan Night, this novel adaptation tries to resurrect the crime noir genre with mixed success. Its stars apparently deliver excellent, suitably complicated performances. Overall, though, it's a pretty pedestrian effort. Far from bad but it's a struggle to become invested in the whodunnit mystery at the movie's core.
Rotten Tomatoes: 30%
Metacritic: 44
Center Stage: On Pointe
Genre: Dance Drama
In Center Stage: On Pointe, Jonathan Reeves (Peter Gallagher) is tasked with infusing more contemporary styles and modernism into the American Ballet Academy. He enlists his top choreographers Charlie (Sascha Radetsky), Cooper (Ethan Stiefel) and Tommy (Kenny Wormald) to recruit dancers to compete at a camp where the winners will be selected to join the Academy. Bella Parker (Nicole Muñoz), who has always lived in the shadow of her hugely successful sister Kate, finally gets her chance to step into the limelight.
On Pointe is the third movie in the Center Stage film series, although this one was specifically made for TV. Fans of the franchise will probably enjoy it, especially since many familiar faces from the earlier films appear. Everyone else, though, may struggle to find the entertainment value, as evidently even the dance choreography is uninspired this time around.
Don't Breathe
Genre: Thriller / Horror
Rocky (Jane Levy), a young woman wanting to start a better life for her and her daughter, agrees to join her boyfriend Money (Daniel Zovatto) and their friend Alex (Dylan Minnette) in robbing a wealthy blind man (Stephen Lang). But when the blind man turns out to be a more ruthless adversary than he seems, the group must find a way to escape his home before they become his newest victims.
Don't Breathe, from the writer-director of Evil Dead (2013), was one of 2016's biggest horror hits – even if its acclaim has led to serious overhype. The movie is smart, appreciably stripped down and includes some legitimately tense moments. However, it's best enjoyed with minimal exposure to preview material as every spoiler lessens its impact.
Critical Hit: 7/10
Rotten Tomatoes: 87%
Metacritic: 71
Max Steel
Genre: Superhero Action-Adventure / Science Fiction
16-year old Max McGrath (Ben Winchell) has just moved to a new town – and is desperately trying to fit in – when he discovers his body can generate the universe's most powerful energy. Unbeknown to Max, slightly rebellious and hilarious techno-organic extra-terrestrial Steel has been keeping an eye on him, hungry for his super-human energy. When they finally meet, they discover that together they form Max Steel, a superhero possessing powerful strength.
Max Steel is, of course, based on the popular Mattel toy line, which has already led to hit animated series and movies. This live-action origin story, though, is a Max Dud. With a spectacular Rotten Tomatoes score of 0%, it's been called completely forgettable, creatively bankrupt and criminally boring. No surprise then that Max Steel was one of the biggest flops of 2016.
Rotten Tomatoes: 0%
Metacritic: 22
Surf's Up 2: WaveMania
Genre: Animated Comedy
Cody Maverick and friends return, and team up with the Hang 5 crew to find a mysterious surfing location. Known as the Trenches, this spot is alleged to have some of the biggest waves in the entire world.
A full decade after the release of rad mockumentary Surf's Up, we get this straight-to-DVD sequel, made in conjunction with the WWE. So John Cena, The Undertaker, Triple H, Paige and Vince McMahon provide voices, while original stars Shia LaBeouf and Zooey Deschanel are nowhere to be, uh, heard. Reviews are nearly non-existent for WaveMania, but it looks terrible.
Indignation
Genre: Drama / Romance
Based on Philip Roth's novel, Indignation takes place in 1951, as Marcus Messner (Logan Lerman), a brilliant working class Jewish boy from Newark, New Jersey, travels on scholarship to a small, conservative college in Ohio, thus exempting him from the Korean War draft. But once there, Marcus's growing infatuation with his beautiful classmate Olivia Hutton (Sarah Gadon), and his clashes with the college's imposing Dean, Hawes Caudwell (Tracy Letts), put his and his family's best laid plans to the test.
By all accounts novel adaptation Indignation is a highbrow, adult-orientated coming of age tale. It's well acted and thematically dense, touching on themes like religion, repression and psychological dysfunction. Not one for an evening of lighthearted escapism them. File it alongside Atonement.
Rotten Tomatoes: 82%
Metacritic: 78
Desierto
Genre: Survival Thriller
Moises (Gael García Bernal) is traveling by foot with a group of undocumented workers across a desolate strip of the border between Mexico and the United States, seeking a new life in the North. They are discovered by a lone American vigilante, Sam (Jeffrey Dean Morgan), and a frantic chase begins. Set against the stunningly brutal landscape, Moises and Sam engage in a lethal match of wits, each desperate to survive and escape the desert that threatens to consume them.
Desierto comes from Jonás Cuarón, son of acclaimed Mexican filmmaker Alfonso Cuarón, and the co-writer of Cuarón Snr's Gravity. According to critics, Desierto is far from subtle, and suffers from thinly sketched characters and repetitive action. Story weaknesses aside, though, it's relentlessly intense, and technically accomplished.
Rotten Tomatoes: 60%
Metacritic: 51
Underworld: Blood Wars
Genre: Horror / Action
The next installment in the blockbuster franchise, Underworld: Blood Wars follows Vampire death dealer, Selene (Kate Beckinsale) as she fends off brutal attacks from both the Lycan clan and the Vampire faction that betrayed her. With her only allies, David (Theo James) and his father Thomas (Charles Dance), she must stop the eternal war between Lycans and Vampires, even if it means she has to make the ultimate sacrifice.
In short, if you like the Underworld movies, you'll like this fifth film in the franchise. If you aren't a fan, stay far away. Blood Wars gets caught up in convoluted politics, features a dated aesthetic and seems to exist simply to set up yet another sequel. Kate Beckinsale has more to do than usual, emotionally, but even she seems shunted into the background.
Critical Hit: 3/10
Rotten Tomatoes: 17%
Metacritic: 23
Jou Romeo
Genre: Romance / Comedy
Marko Marais (Ruan Wessels) is the most popular guy in High School Monument, not only because he's a jock, but he's also a cricket champion and heartbreaker. He and drama nerd Yvette (Elani Dekker) couldn't be more different, but true love is on a collision course in this movie about romance, Shakespeare, cricket, friendship, and unconditional acceptance. Jou Romeo explores interesting themes of belonging, valuing others and discovering unusual qualities about people.
Finally. Jou Romeo is for anyone who's ever wanted to a watch a homegrown, Afrikaans-language version of those six hundred "Jock and Drama Nerd find love despite the unsaid social rules of high school" movies. On a more serious note, despite the lack of originality, Jou Romeo seems to be alright for what it is: lighthearted, charming and contemporary-minded.
Alone in Berlin
Genre: Drama
Otto (Brendan Gleeson) and Anna (Emma Thompson) are an ordinary couple living in a shabby apartment in 1940s Berlin, trying to stay out of trouble under Nazi rule. But when their only child is killed fighting at the front, their loss propels them into an act of resistance.
Based on a classic Nazi-resistance novel, Alone in Berlin has a great trailer. Unfortunately the movie lacks the suspense it promises, going the dignified art house route instead – which may make it too dull for many viewers. It is beautifully shot though, and the performances are packed with understated power. But would you expect anything less of Gleeson and Thompson?
Rotten Tomatoes: 41%
Metacritic: 51
Last Updated: March 21, 2017