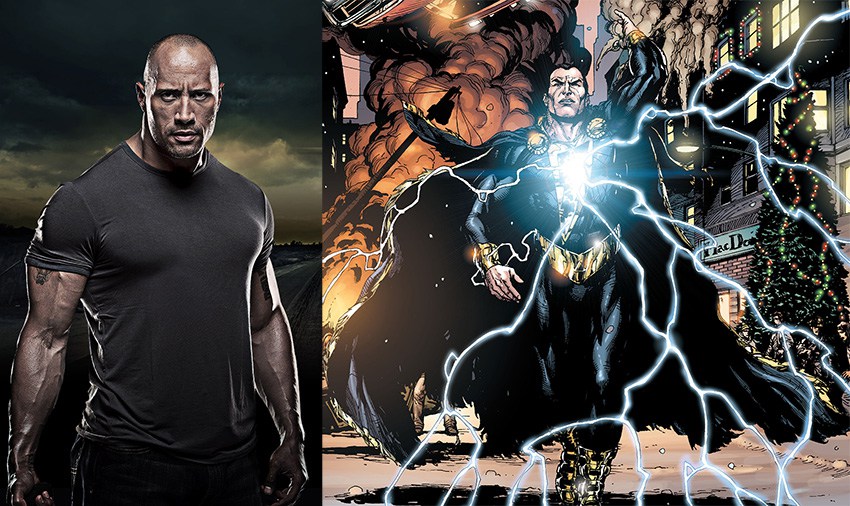 It's been five years since it was first announced that Dwayne "The Rock" Johnson was attached to play popular DC Comics character Black Adam on the big screen. We didn't even have a proper DC Cinematic Universe back then, just a single Man of Steel movie and some (overly) ambitious plans from the suits over on the Warner Bros. lot on how they could quickly catch-up and overtake their rivals at Marvel.
As some – to be fair, most – of those plans fell flat, the DCEU went through several massive upheavals, one result of which was massive uncertainty over Johnson's Black Adam. First, he was going to be the primary villain in Shazam!, then a secondary character to be expanded on later, and then finally a totally standalone movie that would eventually tie back to Shazam! Except we had no idea when that would happen. We do now though!
The former Most Electrifying Man in Sports Entertainment took to Instagram last night to reveal that things are finally moving ahead officially with a release date pegged for 22 December 2021! We also got the first look at some early concept art created by the powerhouse duo of comic book artist legend Jim Lee and fan-art creator extraordinaire BossLogic.
It's very interesting to note Johnson describing Black Adam as "a rebellious, one of a kind superhero, who'll always do what's right for the people – but he does it his way." Traditionally, as fans of the comics know, Black Adam is a very complex character. In his original incarnation, he was just a straight villain in the Captain Marvel comics (Shazam! was originally titled Captain Marvel, just like the Marvel character, and it was a confusing mess). Shazam's predecessor, he had possessed all the same magical gifts as his rival but had been corrupted by his lust for power.
However, his origin was retconned with DC Comics New 52 reboot (which if you don't want to know about, because you want to go into the movie completely clean, you should turn back now).
In his updated origin it was revealed that Adam had lived in the fictional land of Kahndaq long ago. He had a nephew, a violently abused slave named Aman, who was very kind of heart despite his horrible life. Adam helped Aman to escape slavery but was gravely injured in the process. With his purity of heart, the great wizard Shazam chose Aman to be his magical champion on Earth, bestowing his powers on him. Aman immediately shared his power with his uncle to heal him. Aman wanted to use the rest of his power to free all the slaves of Kahndaq whereas Adam only wanted to take revenge on the slavemasters. Trying to claim all the power for himself to exact his vengeance, Adam, in his blind rage, hurt Aman, perhaps lethally (it's intentionally left ambiguous). Instead of feeling guilty over Aman's "sacrifice", Adam instead vows to use his powers to wipe out all forms of slavery and abuse by whatever means necessary to make amends for what happened to Aman.
It will be very interesting to see how Johnson and director Jaume Collet-Sera (who joined the production in June) will walk that antihero line. It's a very fine balance that not even the best comic book writers have always managed to get right. They still have a few months to figure it all out (y'know, on top of the half-decade they've already had) with production scheduled to kick off in July 2020.
Last Updated: November 15, 2019