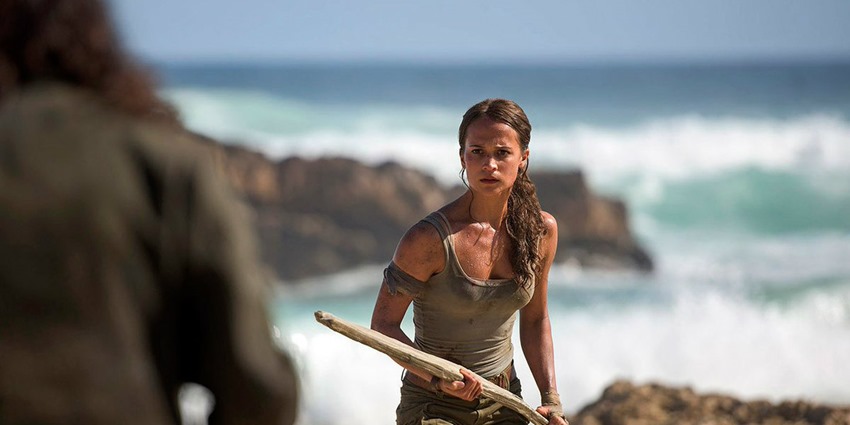 If you're seeing this article, it means I'm probably dead. Or stuck in traffic, which is pretty much the same thing, right? The reason for my transportation purgatory is that I'm on my way to watch Tomb Raider, the latest adaptation of the celebrated long-running gaming franchise. This time around, unlike the cheesy early 2000s Angelina Jolie adaptations, the movie is based mostly on the recent critically acclaimed reboot of the game franchise and stars Oscar-winner Alicia Vikander as a much younger Lara Croft as she learns to become the heroine fans originally loved.
Now up until yesterday, I was not even sure that I would get to see this movie today as there had been no press previews on the cards despite the movie releasing this coming Friday. That's never a good sign for a movie, as it often means that the studio doesn't want to get the early word out just in case the movie is terrible. Well, it appears that they forgot about Asia and the internet.
Although only opening in most parts of the world in a few days time, Tomb Raider actually already opened this weekend past in select Asian markets like Korea, India, Philippines and half a dozen others, and reviews from those areas have already come in. And well, things are not looking that great. Things are not looking that bad either, which I guess is a win as some fans were expecting a total trainwreck. Most of the reviews have good things to say about Vikander in the role of Lara and especially her physical commitment to the intense and engaging action set-pieces constructed by Norwegian director Roar Uthaug. There have been a few positives also thrown the way of the film's script for having Lara be believable in both her physical actions and the emotional repercussions of them, as well as its gender dynamics (very important in this franchise).
Unfortunately, that's where the praises tend to end as most found the story to be very lacking, many of the other characters around Lara undercooked, and the father-daughter relationship angle that drives the narrative (which many hardcore fans, like our own Noelle, were not happy with) to just drag everything down. Some have complained that some of the film's action beats are either too heavily in-your-face, while others think they've been over-edited. It's also reportedly a very grim affair, which is in keeping with the aesthetic of the video game reboot, but which won't translate too well for newer fans.
To say that Alicia Vikander had big boots to fill would be an understatement. Then again, Vikander is more than capable as an actress, with an Oscar for Best Supporting Actress ('Danish Girl') in her belt. She takes on the physically demanding role in this live-action revision of the franchise with ease, erasing any trace of her on-screen predecessor.

This version of Lara Croft is emotionally vulnerable and devoid of superhuman abilities. She needs to use her intellect and courage to overcome the challenges ahead of her. Vikander keeps us invested enough through Lara Croft's transformation from a naive, hesitant girl to a confident woman who isn't afraid of taking risks. But in establishing her roots, the film resorts to some of the clichéd tropes of an origin tale. As a result, the plot is often predictable and logically convenient to push the story forward. There's also the problem of the generic villain Vogel, played by Walton Goggins, who doesn't feel sufficiently threatening to be taken seriously.
The movie is based on the 2013 edition of the game and borrows some iconic sequences, such as the escape from the plane hulk, from the game. These running-leaping bits are fine, if a little uninspired, and cannot make up for the absence of any character that feels fresh or interesting.

Croft, as played by Vikander, gets wounded, feels pain and cannot make incredible leaps. She, in other words, is the most human Lara Croft yet, coming after the two Croft movies (2001 and 2004, featuring Angelina Jolie as a sleek, invulnerable Lara). The movies were as camp as they were convoluted in the cosmological puzzles she had to solve.

The problem is that, having got rid of the image of Croft as Glamour Adventurer Barbie, she has been replaced by Blah Barbie. Vikander's more realistic take is fine, but it is bland and saddled with a saccharine rendering of the father-daughter relationship.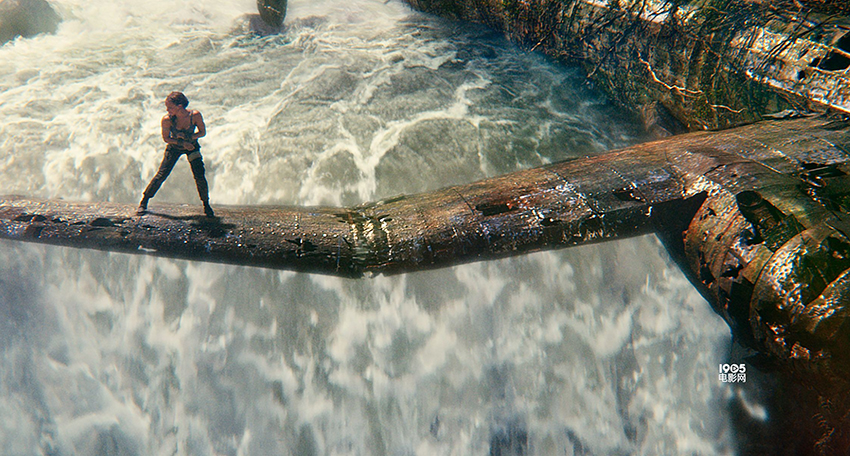 Roar Uthaug's rebooted Tomb Raider is in fact a metaphoric kick in the balls especially if compared to its Angelina Jolie-led predecessors. It is grittier and more grounded on what women aspire to look like rather than what men aspire their women to look like.

The film has no romantic angles. It has no threads that would require its heroine to rely on the men around him. It aspires to be the female-led action film that doesn't fall for the typical tropes that confounded the two Tomb Raider films before it.

Sadly, Uthaug is tasked with sustaining an entire film with only a sliver of a story, which the film belabors to the point of long-windedness. Most of the action scenes are properly staged, and the film's foray into literal tomb raiding is quite filled with tension. However, the film stalls when it decides to take a breather and focus on the awkward sentimentality between daughter and father.
The movie is one big action fest from the get-go, whether it is the high-speed bike chase through the streets of London, Lara jumping off a waterfall (reluctantly) into the churning waters below, or taking on big burly mercenaries in battle. You really have to suspend belief quite a bit, especially in scenes that show Lara falling from great heights, or getting impaled, but still being able to climb a cliff afterwards.

The visual effects are good, and some scenes will remind you of past adventure flicks. But this is the kind of film you have to go in with no expectations whatsoever.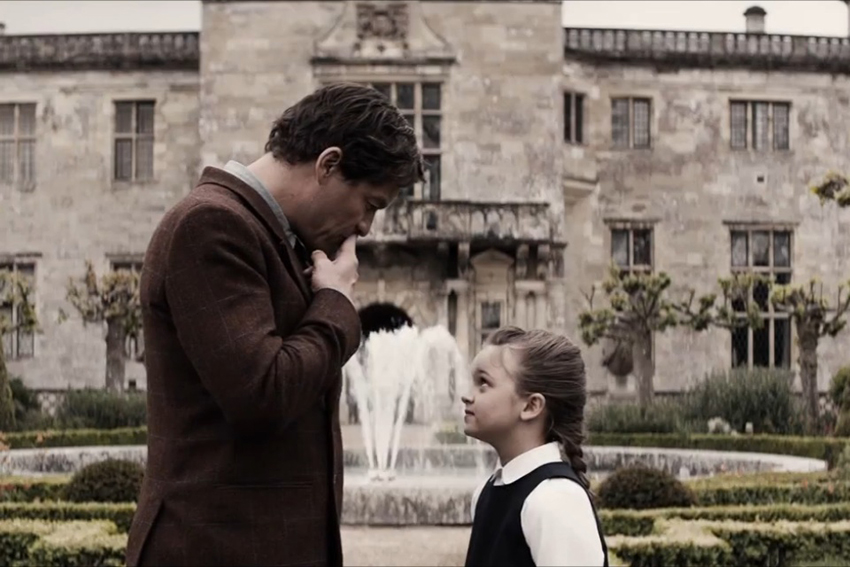 South China Morning Post – 2.5/5
Better known for traditionally dramatic roles, the 28-year-old Swedish actress who starred in The Danish Girl and 2015's Ex Machina acquits herself well. Flashing a chiselled six-pack, she quickly establishes Croft as a proficient cyclist, kick-boxer, archer and, when the circumstances demand it, cold-blooded killer.

Norwegian director Roar Uthaug makes the most of his locations, but the action is edited to ribbons, and an over-reliance on CG augmentation starves the more ambitious set pieces of any sense of threat or physicality.

The plot of the film may owe a sizeable debt to Indiana Jones and the Last Crusade, the dialogue is often clunky and the characters' motivations are far from clear, but Vikander does enough to establish herself in the role, and should have ensured we see her in at least one more adventure.
The ensuing race-against-the-clock narrative is crammed with chases, stunts and cheesy effects, and totally devoid of intensity. Norwegian director Roar Uthaug also fails to add any shades of grey to his one-dimensional protagonist. The estimable Derek Jacobi and Kristen Scott Thomas are wasted in what amount to glorified cameos.

Neither as supple nor as charismatic as her predecessor, Alicia Vikander and her Tomb Raider don't even make it to see-grade.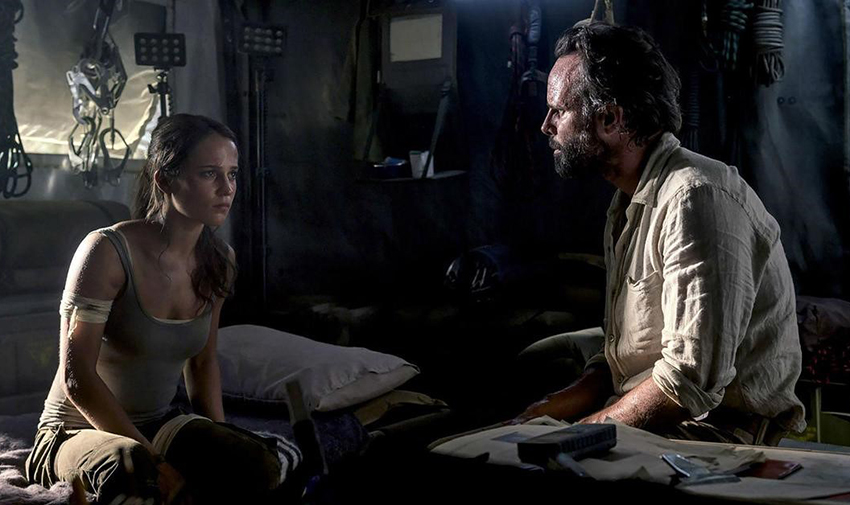 [Vikander] essentially carries the movie on her enviably chiseled shoulders, injecting unexpected emotion into her first kill, and the requisite excitement into a first adventure.

Her physical transformation, while the most obvious takeaway, is hardly her most impressive feat. It's the earnestness that she brings to the role that takes you off guard, considering especially the unimpressive screenplay that she's working with. It's the sort of script that brings the narrative to a screeching halt only to deliver unengaging exposition, and short-change supporting characters. No one needs that. Also, no one needs a perfunctory father-daughter relationship in a movie that should have ideally been a rip-roaring adventure. Especially if the relationship is handled with the insight of an alien when confronted with human emotions.

Director Roar Uthaug — what a fantastic name, by the way — handles the action with an almost enraged masculinity, which is slightly off-putting, considering the importance Lara Croft has had for young girls. But then again, the brute strength of the action is by far the best thing about the film he's made.
Tomb Raider releases in cinemas countrywide this coming Friday, 16 March.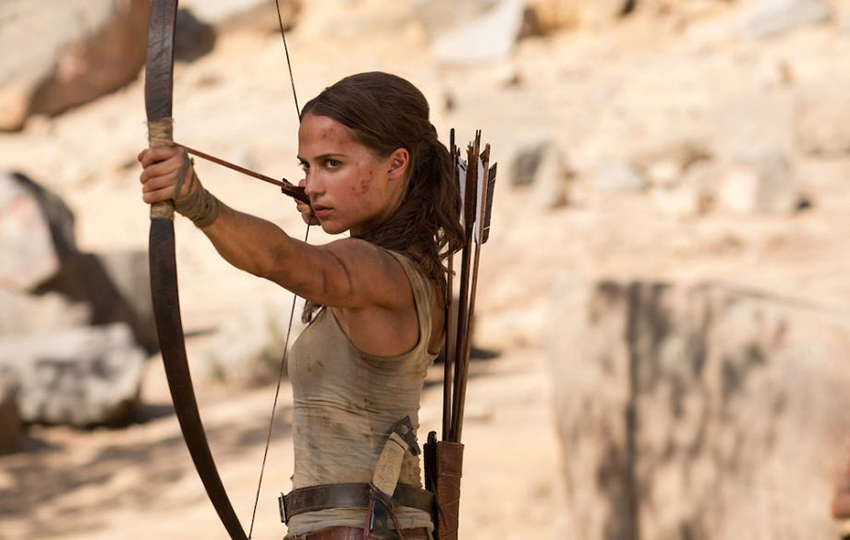 Last Updated: March 13, 2018