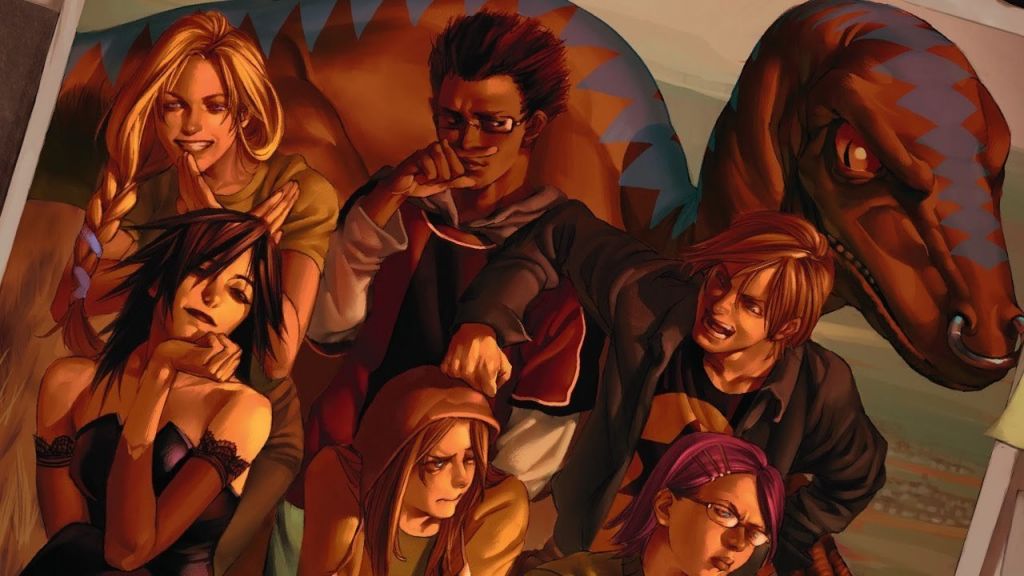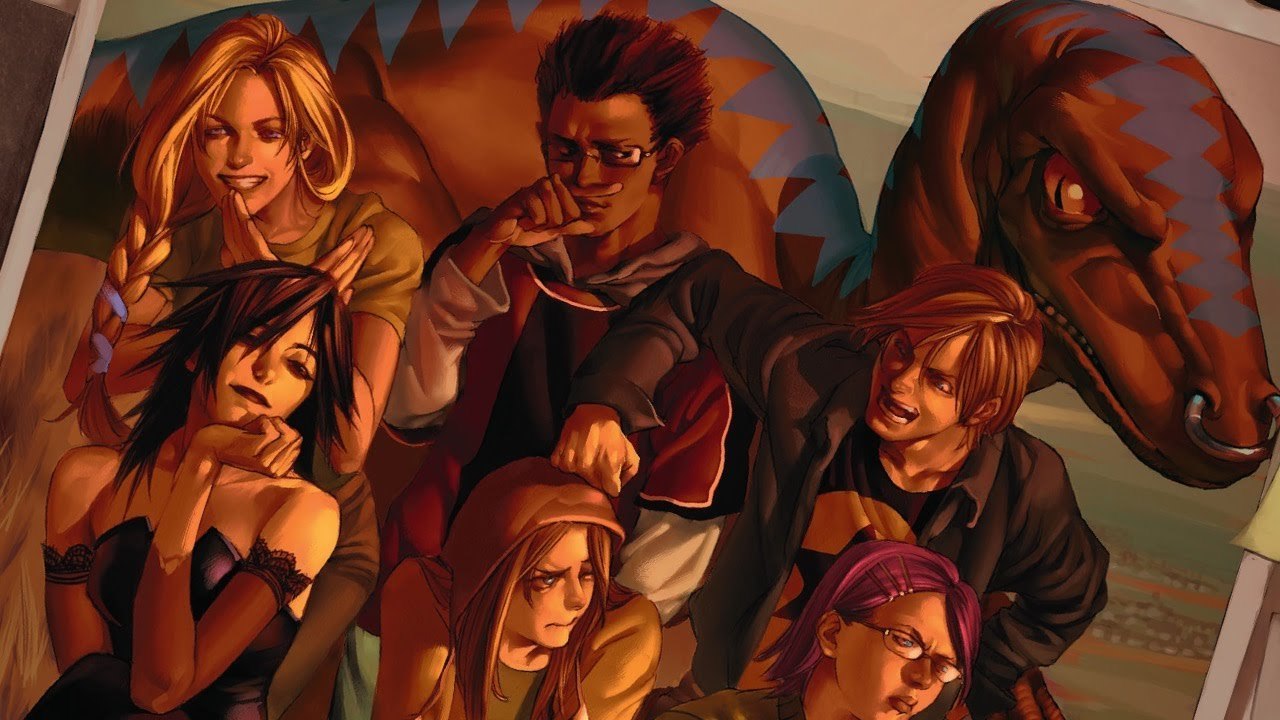 An adaptation of Marvel's hit teen superhero comic book Runaways has been in development for ages. Writer Brian K. Vaughn and artist Adrian Alphona's acclaimed tale about a group of teens who discover that their friendly parents are actually The Pride, a team of supervillains that control the West Coast of America, and that they have inherited their dastardly folks' gifts, has everything needed to make a very solid feature film. So of course Hollywood let scripts for it just gather dust on the shelf for years.
Luckily though, The Runaways have run onto the small screen courtesy of Hulu, who have now officially announced that they have picked it up for a pilot order. Along with that news from the streaming service, we have first look at the show's cast: Rhenzy Feliz as Alex Wilder, the genius prodigy son of mafia bosses; Lyrica Okano as Nico Minoru, the daughter of dark wizards; Virginia Gardner as Karolina Dean, who discovers she's a solar powered alien; Gregg Sulkin as Chase Stein, the son of mad scientists who steals his parents' tech, Allegra Acosta as Molly Hernandez, the daughter of mutants who possesses super strength and invulnerability; and Ariela Barer as Gertude York, the daughter of time-travelers, who also has a telepathic link to a genetically engineered velociraptor named "Old Lace". Yes, a velociraptor.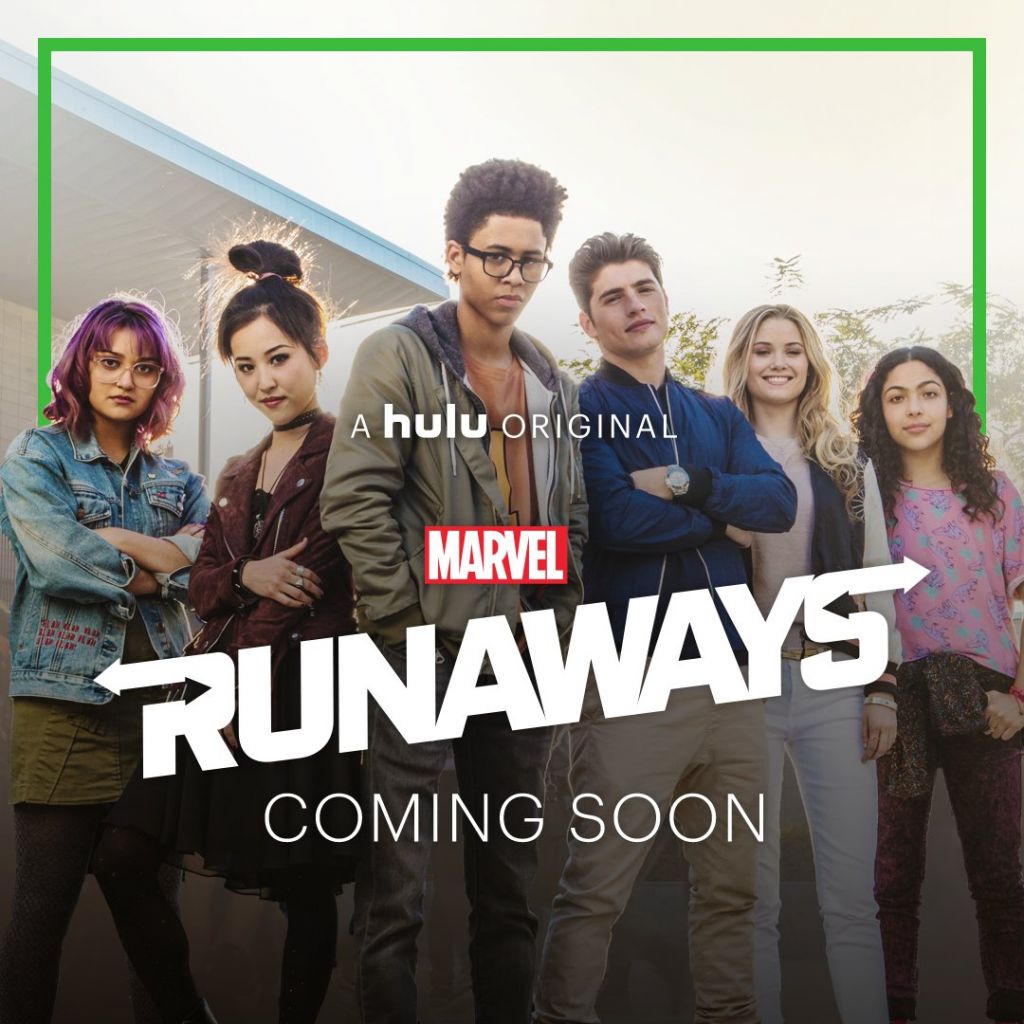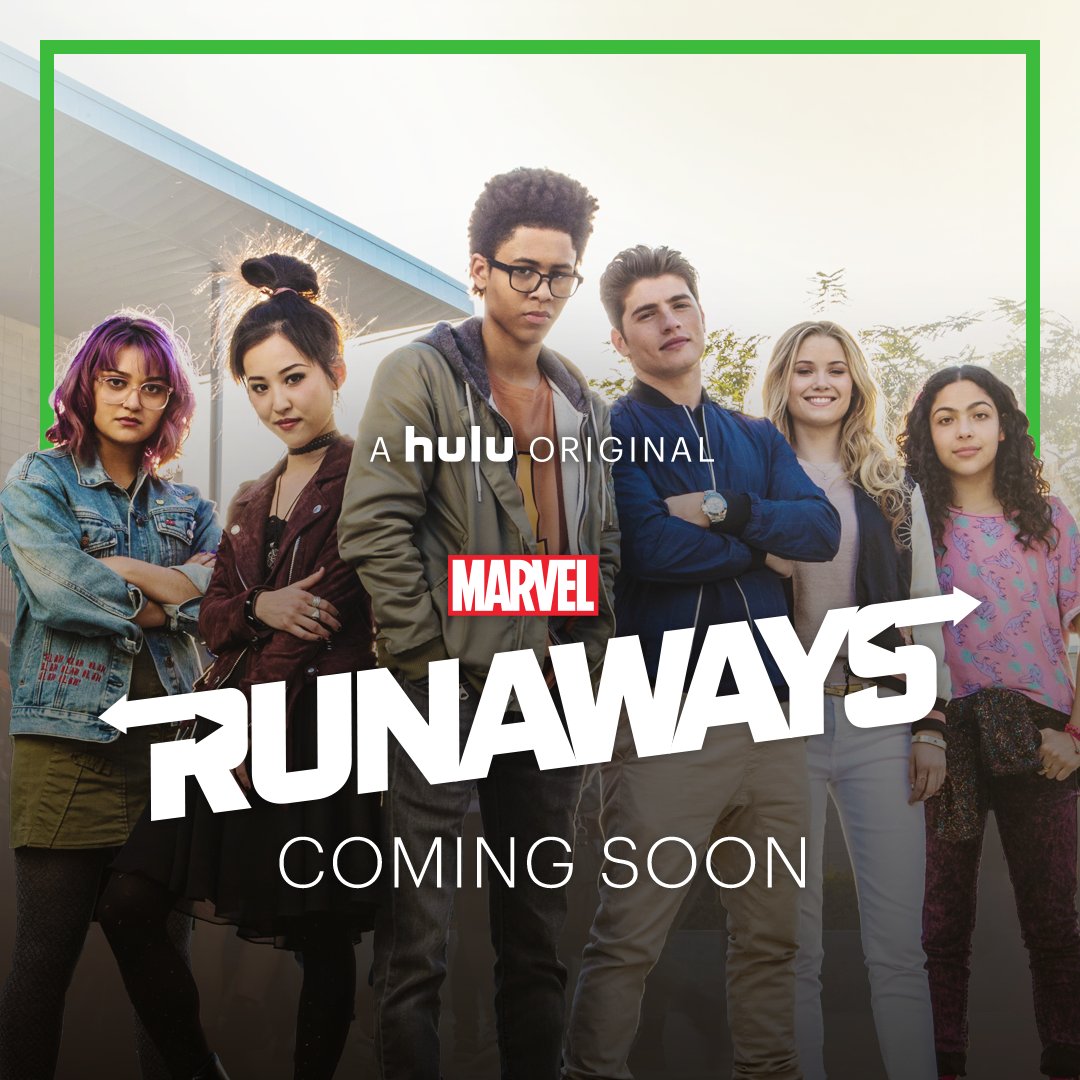 If you noticing a distinct lack of carnivorous dinosaur in that pic, fret not as the show's official Twitter account tweeted out a message that heavily implies that Old Lace will indeed be showing up in the series.
Where's a velociraptor emoji when you need it?
Along with this official unveiling of The Runaways also came an unofficial one, but one that admittedly is the more exciting of the two. It would appear that some cam footage from Hulu's Upfront expo has leaked, showing off what appears to be the first brief teaser trailer for the show.
Also starring in The Runaways as the teens' villainous parents will be Ryan Sands, Angel Parker, Brittany Ishibashi, James Yaegashi, Kevin Weisman, Brigid Brannagh, Annie Wersching, Kip Pardue, James Marsters (SPIIIIIKE!!!) and Ever Carradine. Gossip Girl and The OC creators Josh Schwartz and Stephanie Savage will act as showrunners on The Runaways, which will go into production later this year for a 2018 premiere on Hulu. Here's the official synopsis:
Marvel's Runaways, based on the comics created by Brian K. Vaughan and Adrian Alphona, is the story of six diverse teenagers who can barely stand one another but who must unite against a common foe: their parents. It stars Rhenzy Feliz as Alex Wilder, a loud-and-proud nerd who spends much of his free time playing video games; Lyrica Okano as Nico Minoru, a tough, angst-ridden budding Wiccan; Virginia Gardner as Karolina Dean, who, underneath her veneer of privilege and perfection, is experiencing a newfound eagerness to explore her identity; Ariela Barer as Gert Yorkes, a purple-haired, riot grrrl; Gregg Sulkin as Chase Stein, a high school heartthrob many write off as a dumb jock but who exhibits flashes of untapped brilliance in engineering; and Allegra Acosta as the eternally peppy Molly Hernandez, the youngest and most innocent of the group.
Last Updated: May 5, 2017