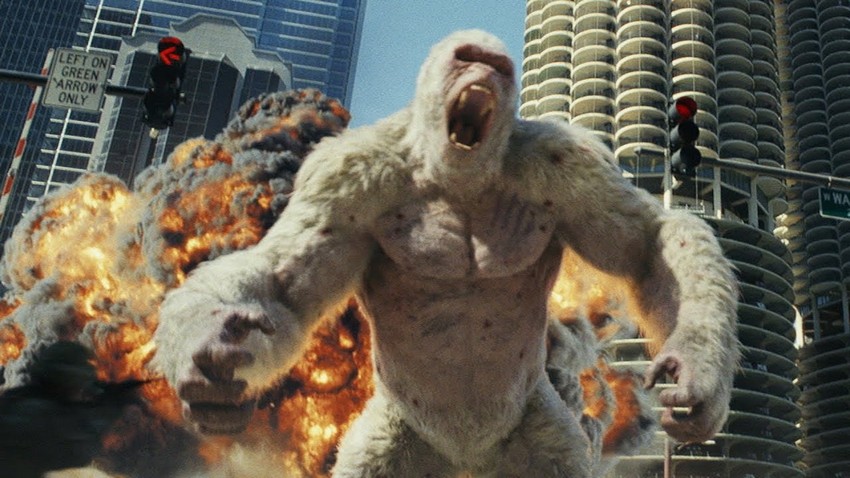 Nobody has ever accused Rampage of looking like a sensible and serious movie. Based on the 1980s arcade game about a trio of gigantic monsters that punch buildings for no other reason than they can, the upcoming big-budget blockbuster starring Dwayne "The Rock" Johnson was always going to just be about over the top spectacle. But as the latest trailer attests, director Brad Peyton may have gone over the top of over the top as one of the monsters gets an unexpected upgrade that leaves even The Rock flummoxed.
That being said though, similar to what Johnson explains in this trailer among some wry one-liners about the cartoonish size of his biceps, they could probably make this movie a lot more grounded but where's the fun in that?
Primatologist Davis Okoye (Johnson) shares an unshakable bond with George, an extraordinarily intelligent, silverback gorilla that's been in his care since birth. When a rogue genetic experiment goes wrong, it causes George, a wolf and a reptile to grow to a monstrous size. As the mutated beasts embark on a path of destruction, Okoye teams up with a discredited genetic engineer and the military to secure an antidote and prevent a global catastrophe.
It's very hard to not get some Jumanji vibes here, seeing as that was Johnson's last film and it too saw him getting up to hijinx with some CG-animated beasties. Somehow though, I don't think Rampage will be quite as good as Jumanji surprisingly turned out to be. This is the third collaboration between Johnson and Peyton and their previous efforts – Journey 2: The Mysterious Island and San Andreas – definitely delivered on the polished spectacle front, but they're not exactly what I would call great cinema. I'll definitely see this in cinema, because I'm a sucker for trashy disaster movies, but I'm going in with some low expectations.
Rampage also stars Naomie Harris, Jeffrey Dean Morgan, and Joe Manganiello, and is scheduled for release on 20 April 2018.
Last Updated: January 24, 2018