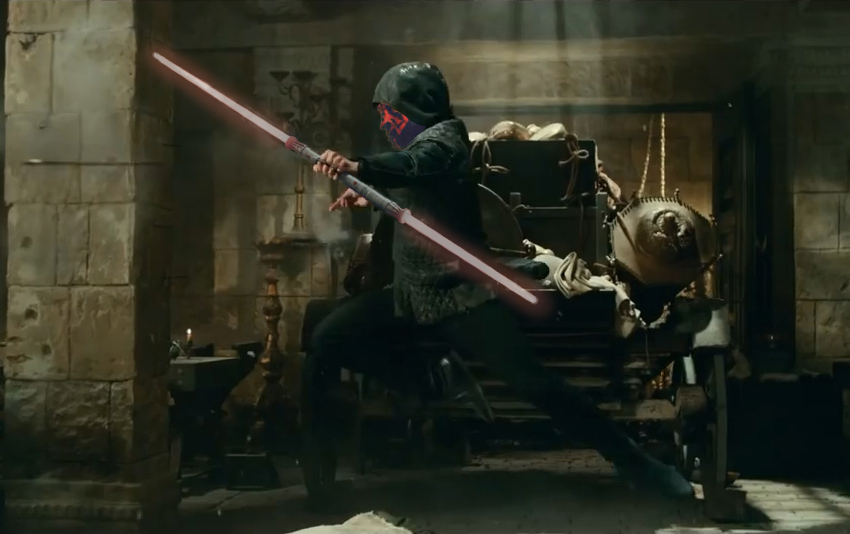 If you're a big fan of Jeremy Renner's superhero archer Hawkeye in the Marvel Cinematic Universe, then I've got some bad news for you as [SLIGHT SPOILER ALERT IF YOU HAVEN'T SEEN A SINGLE TRAILER, POSTER OR ARTICLE] he's not in Avengers: Infinity War. Not to worry though, as it appears that Lionsgate's upcoming Robin Hood reboot has 2018 covered for your seemingly super-human bowman needs.
That's definitely the impression I got while watching the first trailer for the upcoming revisionist take which sees Kingsman star Taron Egerton putting both his acting and action chops on display as a brand new version of the legendary British bandit. He appears to be a whole lot more acrobatic with a faster bow and arrow trigger finger – especially in the obligatory super-slow-mo – than his many other cinematic contemporaries. Contemporaries that up until now have famously included a surly Russell Crowe, a swooning Kevin Costner, an animated fox, and even a song and dance routine about men's restrictive leggings, among others. With that in mind, I guess going for the over-the-top comic book-esque action hero version, complete with a Bruce Wayne/Oliver Queen-ish secret identity, certainly can't be described as getting too crazy with the source material.
To the credit of helmer Otto Bathurst – the Peaky Blinders director making his feature film debut here – at least it looks extremely polished. It certainly also doesn't hurt that Egerton is surrounded by a very solid cast in Jamie Foxx as Little John, Jamie Dornan as Will Scarlet, Ewe Hewson as Maid Marian and Hollywood's current go-to blockbuster villain actor Ben Mendelsohn as the evil Sheriff of Nottingham. Check them all in action in the trailer below!
Robin of Loxley (Taron Egerton) a war-hardened Crusader and his Moorish commander (Jamie Foxx) mount an audacious revolt against the corrupt English crown in a thrilling action-adventure packed with gritty battlefield exploits, mind-blowing fight choreography, and a timeless romance.
Both Egerton and Bathurst have previously stated that their version of Robin Hood was going to be gritty and intense, even making comparisons to Kathryn Bigelow's The Hurt Locker, but I'll be damned if I get that from this trailer. No, this looks slick and fast and potentially enjoyable in a cinematic junk food, "What if CW's Arrow was a big budget movie?" kind of way. Then again, I was hoping for the same thing with the last film to take a fresh and modern approach to a British figure of myth and look at the mess of wasted potential that Guy Ritchie's King Arthur ended up being. Let's hope Egerton and Bathurst don't fall into the same traps… Oh, wait. Robin Hood was written by Joby Harold, the very same guy who penned Guy Ritchie's King Arthur. Bugger.
Robin Hood (previously titled Robin Hood: Origins) is scheduled for release on 21 November.
Last Updated: May 4, 2018