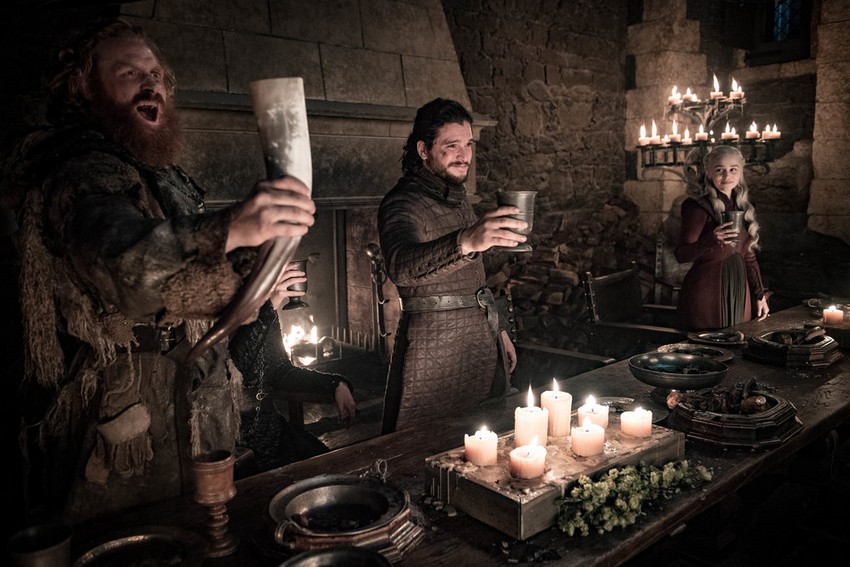 I was too tired to wake up at 3am to watch the latest episode of HBO's Game of Thrones live yesterday morning. This meant I had to avoid certain parts of the internet for the entire day until I could watch it last night. Try as I might though, I could not avoid discussions about the episode. Or at least, one very particular moment in the episode: The Starbucks coffee cup.
In what rapidly became the internet's new favourite meme, during a raucous feast at Winterfell early in the episode, a totally anachronous coffee cup can be spotted sitting on the table next to Emilia Clarke's Daenerys and Kit Harrington's Jon Snow. What's more, it looked like a Starbucks coffee cup.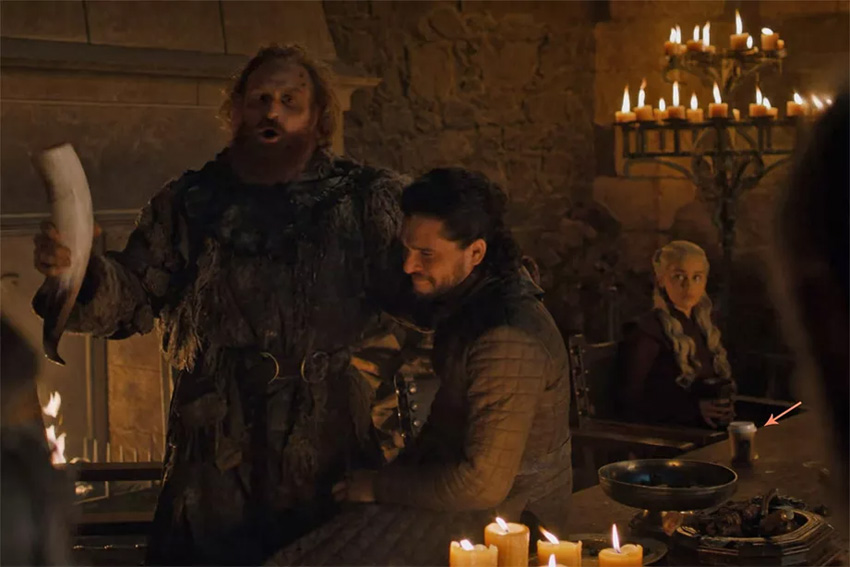 It's barely visible in the episode as it's only on screen for a very brief period, but somebody saw it and the internet immediately went wild with jokes and memes to the point where moderators on a Game of Thrones subreddit were deleting posts because they had become so bombarded with them.
Hilariously, instead of scrambling in panic, HBO actually responded to the entire fiasco with a joke of their own. "News from Winterfell. The latte that appeared in the episode was a mistake. Daenerys had ordered an herbal tea," the official Game of Thrones Twitter account tweeted out.
Exec producer Bernadette Caulfield also apologized during an interview with WNYC, after jokingly revealing that "Westeros was the first place to have Starbucks, it's a little-known fact." Starbucks themselves also got in on the fun, by tweeting out that they were "surprised she didn't order a Dragon Drink."
But how did a coffee cup end up there? A simple mistake really. As the show's art director, Hauke Richter, explained to Variety, "Things can get forgotten on set". This is not some rare event and actually occurs fairly regularly in big TV series and movie productions. Especially when it comes to something as nondescript as a coffee cup in a scene overflowing with food and drink and riotous partygoers.
There have been far more innocuous gaffs than this in very high profile productions over the years. You can famously spot cars parked in the backgrounds of Ben-Hur, Lord of the Rings, and Braveheart, for example. According to Richter, this particular incident got "so blown out of proportion [because] it has not happened with 'Thrones' so far."
Did you spot this particular snafu while watching? Or maybe you think this is nothing but a storm(born) in a coffee cup?
Last Updated: May 7, 2019