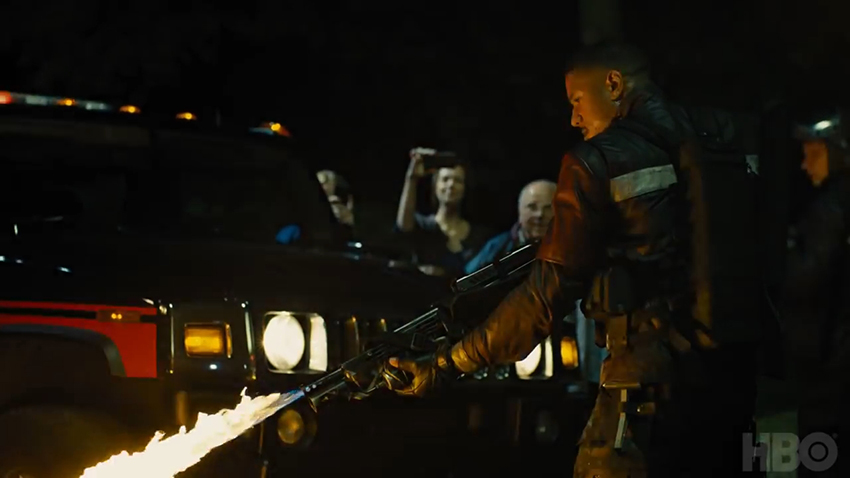 Michael B. Jordan is so hot right now, and it looks like he's about to get hotter. Like really hot. The Black Panther actor will be swapping from sympathetic villain to reluctant hero for HBO's much-anticipated upcoming movie adaptation of Ray Bradbury's seminal 1953 sci-fi novel, Fahrenheit 451, which sees a dystopian future world in which "the media is an opiate, history is rewritten and 'firemen' burn books" to keep the general populace uninformed and under the thumb of the powerful.
Fahrenheit 451 is, in my opinion, one of the greatest sci-fi novels ever written, so I've been looking extremely forward to this. This is especially true since it will be starring the immensely talented Jordan (ironic, since he's also played the Human Torch in Fox's regrettable Fantastic Four reboot) as Montag, "a young fireman who struggles with his role as law enforcer". A struggle not made easier by his zealous mentor Beatty, played by the equally talented Michael Shannon. That is one superhot pairing (I promise that's the last fire pun), but one we really didn't get to see anything of in the film's first teaser trailer which was really a whole lot of nothing.
Luckily, we have a whole of something to look at today, as HBO has now finally debuted a proper full trailer for the show, giving us a solid and intense look at the actors at work, including Sofia Boutella's Clarisse, an informant who "gets caught between the competing interests of Montag and Beatty." Check it out below.
Fahrenheit 451 is one of HBO's big-ticket items this year – in any other universe this would have deserved a big budget theatrical release – and thus far it's looking very much to be keeping up to the hype levels. The film is directed by Ramin Bahrani (who also directed Shannon in the great 99 Homes) who also co-scripted with Amir Naderi (The Runner). It also stars Laura Harrier, Keir Dullea, Martin Donovan, Grace Lynn Kung, and Jane Moffatt. HBO hasn't given a precise release date yet, but it is scheduled to hit the US cable network sometime in May. Hopefully, we won't have to wait too long after that to also see it grace local TV screens in some form (C'mon, Showmax with your HBO coverage!).
Here's the full synopsis for Bradbury's original novel, which gives a lot more detail on the story:
Guy Montag is a fireman. In his world, where television rules and literature is on the brink of extinction, firemen start fires rather than put them out. His job is to destroy the most illegal of commodities, the printed book, along with the houses in which they are hidden.

Montag never questions the destruction and ruin his actions produce, returning each day to his bland life and wife, Mildred, who spends all day with her television "family." But then he meets an eccentric young neighbor, Clarisse, who introduces him to a past where people didn't live in fear and to a present where one sees the world through the ideas in books instead of the mindless chatter of television.

When Mildred attempts suicide and Clarisse suddenly disappears, Montag begins to question everything he has ever known. He starts hiding books in his home, and when his pilfering is discovered, the fireman has to run for his life.
Last Updated: February 27, 2018