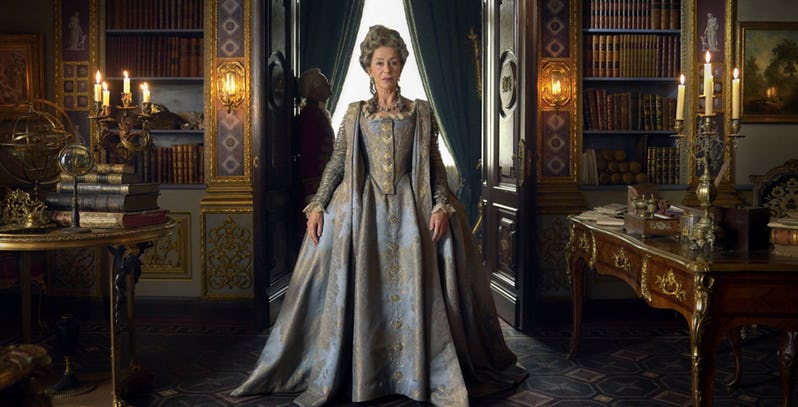 As you get older your choices narrow. A statement that sadly becomes more of a reality to some of us. It's also the crux of this trailer for a new HBO Limited series titled Catherine the Great, which sees the masterful Helen Mirren once again take on the role of royalty, having won acclaim for her role as Queen Elizabeth II in Stephen Frears' The Queen.
This time though, Mirren steps away from the British throne and right into the Russian one as she takes on the role of one of the most powerful queens that country has ever seen who uses her lust for power to form a remarkable empire that was set to become one of the largest ever captured by a monarch.
For HBO, this is a second big series that focuses on the country of Russia, following their remarkable Chernobyl. Much like that series though this one also looks like it is set to reap in remarkable acclaim with exceptionally high production standards, a powerful story and most of all, some impressive acting performances with Mirren at the fore.
Catherine the Great comes from director Philip Martin, who is no stranger to creating beautifully crafted shows about royalty having also helmed several episodes of Netflix's The Crown. The show is scheduled to release later this year and promises to be yet another big winner for HBO who seems to be pulling out exceptional shows one after the other with remarkable ease. They clearly know who to craft a winning series.
Below is the official synopsis for the series:
Set against the politically tumultuous and sexually charged court of Russian empress Catherine the Great, who wielded supreme power throughout Russia for nearly half of the 18th century, the limited series follows Catherine towards the end of her reign during her passionate affair with Grigory Potemkin. Amid scandal, intrigue and immense conflict, they develop a unique and devoted relationship, overcoming their adversaries and together serving as the architects of modern-day Russia.
Last Updated: July 23, 2019