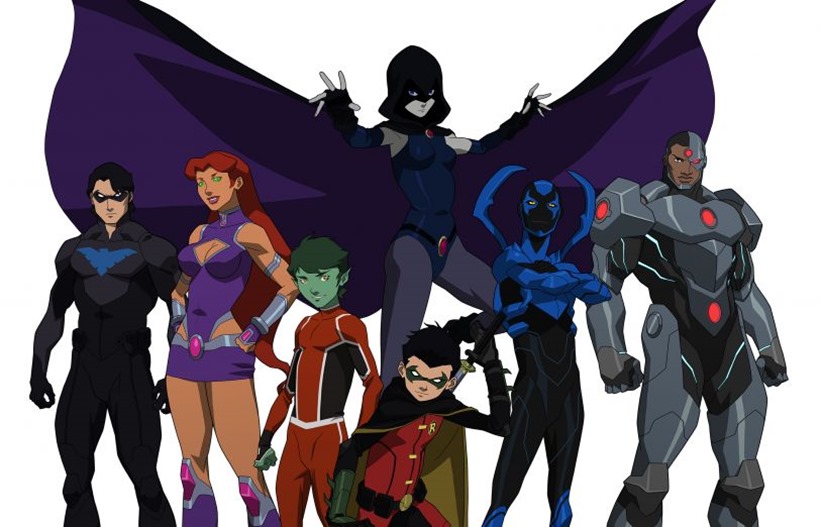 If you're a fan of animation, you need to do yourself a favour and sit down for an evening of the DC animated universe. A series of direct to DVD flicks, DC and Warner Bros Animation have been churning out a steady selection of movies based on existing comic book storylines and some original content. Some are good! Some are…ok. But none of them are bad, and they're fun for a good hour or so.
Assault on Arkham, Justice League: Throne of Atlantis and Batman vs. Robin and Justice League: Gods and Monsters have all been solid examples of decent popcorn entertainment. They've also been solid investments for DC and Warner Bros, with more content on the way. This year, expect to see an adaptation of the ultimate Joker origin story, The Killing Joke, as well as a new Batman tale in Bad Blood.
And after that, the Justice League are going to war with the Teen Titans. Justice League Vs. Teen Titans will follow later this year, and feature the DCAU incarnation of the Teen Titans going up against a brainwashed version of the Justice League. Thanks to Raven's demonic father Trigon, the young heroes of tomorrow have to find a way to stop heavyweight powerhouses such as Superman, Shazam and Wonder Woman from wrecking the planet.
So far, the voice line-up includes Jon "The Walking Dead" Bernthal as Trigon, Taissa "American Horror Story" Farmiga as Raven, Jake T. Austin as Blue Beetle, Brandon Soo Hoo as Beast Boy, Kari Wahlgren as Starfire, Shemar Moore as Cyborg, Sean Maher as Nightwing and Stuart Allan as Robin. Returning DCAU voices include Jason O'Mara as Batman, Jerry O'Connell as Superman, Rosario Dawson as Wonder Woman, and Christopher Gorham as the Flash.
There's no specific comic book that the film is based on, but the story "sends Robin to work with the Titans after his volatile behavior botches a Justice League mission. The young team then must really step up to face Trigon after he possesses the League and threatens to conquer the world," according to DC via Geektyrant.
It may be the first time that the younger DC heroes have appeared in the direct-to-DVD universe, but they've been spotted in other adaptations in the past. There's the superb Young Justice which managed to blend action, drama and world-building into one magnificent product, as well as my current guilty pleasure Teen Titans Go.
A series, which features heroes who are less noble than the Suicide Squad. Go check it out.
Last Updated: January 20, 2016