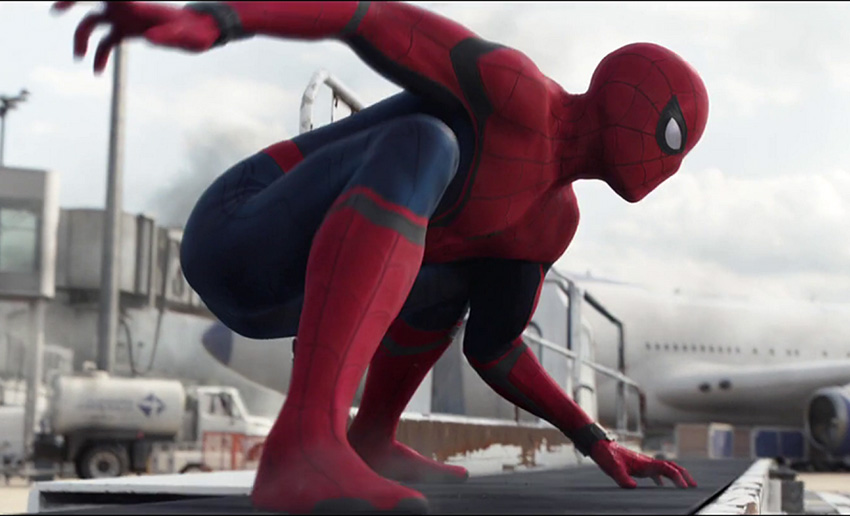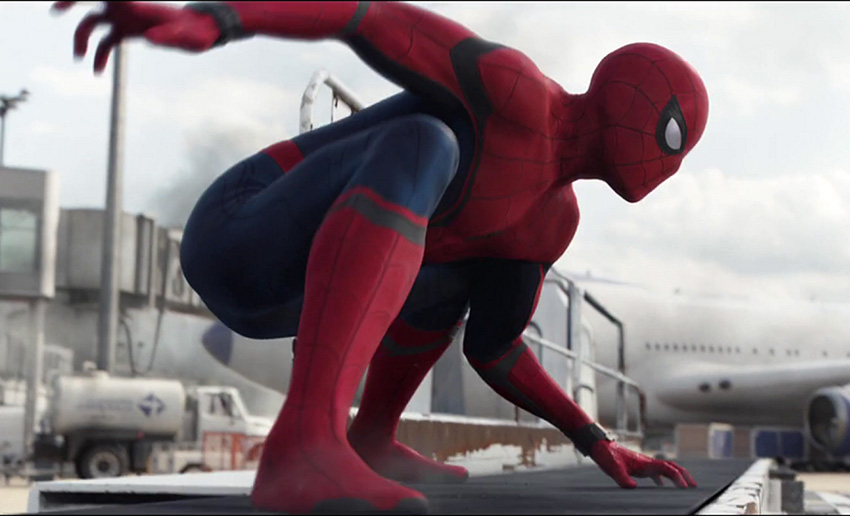 The new trailer for Justice League may have been hogging the superhero movie news headlines this weekend past, but there was no way that Marvel was going to let their Distinguished Competition steal all the limelight. While marketing for Spider-Man: Homecoming has ground to a halt recently (probably in anticipation of one massive campaign push in about a month or two), that changed over the last few days as the film's official Twitter account tweeted out a trio of new posters.
Homework can wait. The city can't. #SpiderManHomecoming pic.twitter.com/Po7VJaCfWg

— Spider-Man (@SpiderManMovie) March 24, 2017
Straight A superhero. #SpiderManHomecoming pic.twitter.com/p9VC3NO7cO

— Spider-Man (@SpiderManMovie) March 24, 2017
Quickest way to get home. #SpiderManHomecoming pic.twitter.com/O50JUhWKKr

— Spider-Man (@SpiderManMovie) March 25, 2017
Besides for getting really good looks at that kickass suit, what I love about these posters is just how much personality is injected into these bits of promo, especially with the laid back character and cheeky descriptions. I mean that first poster is just perfectly Spider-Man!
Marvel are really leaning into the high school angle of this remake (that is a yellow Midtown High School jacket), and with actor Tom Holland actually having Peter Parker looking and sounding like a high school kid for once (Tobey Maguire looked like the oldest 17-year old ever), I'm actually really looking forward to how Marvel can handle this important aspect of the character. I also really dig how prominently the city of New York and its recognizable landmarks – including, of course, the Avengers Tower – features here. While the Big Apple is home to so many of Marvel Comics' biggest heroes, I don't think any of them have as close a relationship to the city as much as Spider-Man does.
Hilariously, superhero movie fan art creator extraordinaire BossLogic also took to Twitter to reveal this awesome rendition of the poster above, but with Deadpool gatecrashing Spidey's chill time.
This is my house 😀 @TomHolland1996 x @vancityreynolds @deadpoolmovie @SpiderManMovie pic.twitter.com/7WH34Z2blI

— BossLogic (@Bosslogic) March 25, 2017
Spider-Man: Homecoming also stars Michael Keaton as the Vulture, a classic Spidey villain getting the big screen treatment for the first time, while Bokeem Woodbine will also be tackling secondary villain duties as another classic villain, the Shocker. Marisa Tomei and Robert Downey Jr. will reprise their respective Captain America: Civil War roles as Aunt May and Tony Stark/Iron Man, while Marvel Cinematic Universe newcomers include Zendaya, Donald Glover and Tyne Daly. The film was directed by Jon Watts (who also helmed the brilliant Cop Car) and is scheduled for release on 7 July.
Here's the full synopsis:
A young Peter Parker / Spider-Man (Tom Holland), who made his sensational debut in Captain America: Civil War, begins to navigate his newfound identity as the web-slinging super hero in Spider-Man: Homecoming. Thrilled by his experience with the Avengers, Peter returns home, where he lives with his Aunt May (Marisa Tomei), under the watchful eye of his new mentor Tony Stark (Robert Downey, Jr.). Peter tries to fall back into his normal daily routine – distracted by thoughts of proving himself to be more than just your friendly neighborhood Spider-Man – but when the Vulture (Michael Keaton) emerges as a new villain, everything that Peter holds most important will be threatened.
Last Updated: March 27, 2017