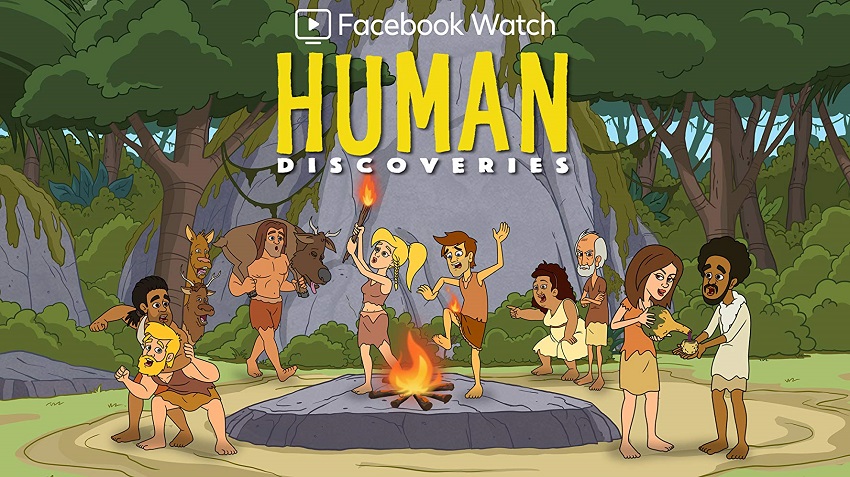 Hey fellow kids, did you know Facebook has a thingamajig called Facebook Watch? I didn't, but then I have a good excuse – I've never had a Facebook account because Facebook has always been a complete waste of time, and nobody wastes my time but me. There's also a good chance that even if you're on Facebook you still don't actually know about it (until now), because in a fairly recent survey of Facebook users (via this BBC article) half of the respondents who potentially had access to it didn't even know it existed.
That's not particularly good for a fledgling YouTube/streaming service mash-up operating on its own platform, especially when it's free, albeit ad-supported. So yes, the ambiguously and uncreatively named Facebook Watch is real and, no, it's got nothing to do with actual watches, like the Apple Watch, but rather wants you to watch it – and you might decide to give it a shot after seeing the trailer for their latest upcoming original content.
Human Discoveries is an animated comedy series set in 10,000BC, at a time when human civilisation was just taking its first baby steps, and encountering its many stumbles. It features a star-studded voice cast headlined by Zac Efron and Anna Kendrick, along with Jillian Bell, Lamorne Morris, Lisa Kudrow, Paul Scheer, Ed Begley Jr., and Stephanie Beatriz.
The official plot synopsis is as follows:
A group of friends living at the dawn of human civilization are the first to discover necessities like fire and the wheel. We'll watch as they stumble onto humanity's best, and worst, innovations. Art. Alcohol. Fashion. Racism. Small talk. And, much to their confusion, monogamy.
Let's take a look:
Well to quote the bunny, "that smells pretty good." While some of the jokes got progressively on-the-nose and made me eye roll a bit at their obviousness, I liked it overall. It's maybe not be the most original work you've ever seen, but it's well put together, the art style is simple and smooth, and you've got a talented voice cast delivering some jokes.
What do you think?
Human Discoveries is due to premiere on Facebook Watch on 16 July. Facebook users in the US, UK, and down under shouldn't have an issue watching it as Facebook Watch has been official rolled out in those countries, and while it's being slowly rolled out across the rest of the world, users elsewhere might need to use a VPN – although they'll probably know if you do, because they know everything else about you.
Last Updated: July 3, 2019