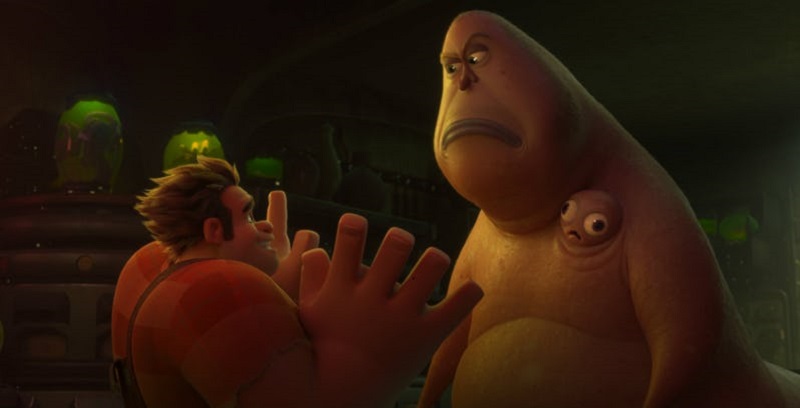 We all know that not only is the internet a vast world of information, but it can be quite a dark place too. And by dark I'm not referring to Darryn's browser history (Editor's note: Stay out of my Raven fan-fiction folder Craig), because this is a kid's movie after all. It's all something which Ralph (John C. Reilly) and Vanellope (Sarah Silverman) are both not afraid to explore as they travel to both the good and bad parts of the internet in their quest to find a vintage game component to fix her arcade machine Sugar Rush, after it gets shut down.
Along the way though, they get side-tracked (like we all do) by everything else available on the internet which will challenge their friendship and question what the duo really wants in life. If what I just wrote sounds like a remarkably deep movie, fear not because while those elelelements most certainly there for this sequel to Wreck it Ralph, it's still the colourful and fun kids movie that you would expect from Disney:
The previous trailers have tended to focus on the bright side of the internet, but this time around it sees Ralph and Vanellope visit a very dark and gothgoth-inspireding game called Slaughter House (which features a character called Shank voiced by Gal Gadot) as well as the really dark side of the Internet where Ralph runs afoul of its more unusual residents.
Ralph Breaks the Internet is certainly looking like a decent and fun movie. It's probably not as heavy on the nostalgia as the first movie and certainly less gaming focused, but the characters look to be as relatable as the first. And I really like its portrayal of the internet as a world filled with content, information and just about everything you can imagine. Although I was expecting to see a lot more trolls and intolerant opinionated characters in this movie. Because that's mostly what I see on the internet.
Last Updated: September 21, 2018