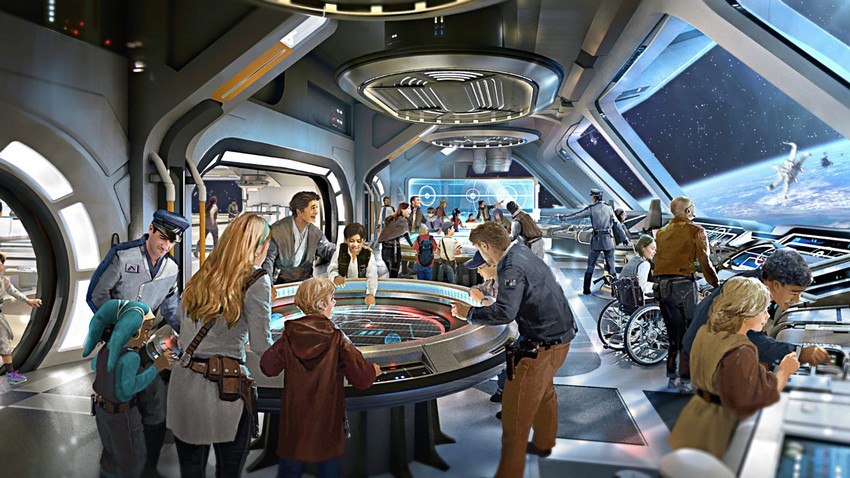 Everybody has dreams. Some are small, some are big, and some are simply crazy impossible. For most of my geeky life, I've had one of the latter: To fly the Millennium Falcon. Usually, when I sheepishly told people about this as a kid, they would laugh it off. What they should have done is just told me to wait. Specifically wait until 2019, which is when Disney will open the gates on the long-awaited Star Wars: Galaxy's Edge.
We've known about the fully-immersive theme park/hotel being built at both Disneyland Resort in California and Disney World in Florida for a while now, and as we get closer to opening day more features are being revealed by the House of Mouse. Firstly, what would Star Wars be without some John Williams?! The legendary composer responsible for some of Hollywood's most memorable music has lent his talents once again to the world's biggest sci-fi franchise by creating brand new theme songs to be used at the two Galaxy's Edge parks. A video posted to the official StarWars.com site has provided a taste of what Williams has cooked up and it's every bit as epic as his previous offerings.
Along with the music, Disney has also dropped videos of the two major attractions at the Galaxy's Edge parks. The first is called Millennium Falcon: Smugglers Run and it makes my dream come true as guests will able to help operate the "fastest hunk of junk in the galaxy" in a life-sized, highly accurate recreation of the Millennium Falcon.
The second big attraction is titled Star Wars: Rise of the Resistance and moves action to the era of the new movies as it "puts guests in the middle of an epic battle between the Resistance and the First Order".
Just like the rest of Galaxy's Edge, from the moment you check into your hotel to when you leave, you will be in a fully-immersive Star Ward experience, surrounded by staff in full costume and character. It's also been confirmed that this personalized adventure will take place on the planet Batuu (featured in the novel Star Wars: Thrawn Alliances) and will feature a main village called Black Spire Outpost that is stuffed with activities, as explained by Disney Parks story editor Margaret Kerrison.
The largest settlement on the planet Batuu, Black Spire Outpost is an infamous stop for traders, adventurers, and smugglers traveling around the Outer Rim and Wild Space. Off the beaten path, this outpost has become a haven for the galaxy's most colorful — and notorious — characters. Widely known for the petrified remains of its once towering ancient trees, the spires now stand guard across the river valleys and plains and have long captured the imagination of travelers to this planet. To the first settlers, these petrified spires became more than just landmarks; they became the heart of the outpost itself.
Guests will be able to drink blue milk at the Black Spire Outpost cantina, catch up with old clone trooper Rex, shop at for in-universe items at a Toydarian toy shop and much more. For those staying at the Disney World resort, "from the moment you board your launch pod, it's a fully-immersive, multi-day Star Wars adventure aboard a luxury starship complete with high-end dining, space-view cabins and all of the exciting action you would expect from an authentic Star Wars experience."
Galaxy's Edge is without a doubt right on top on my wish list for holiday destinations, and luckily I still have some time to save up to beat that rand-dollar exchange rate. The Galaxy's Edge park in Disneyland Resort in California is scheduled for open mid-2019 while the park at Disney World in Florida will open at the end of next year.
Last Updated: November 19, 2018