Nobody likes to be wrong. Being wrong sucks. Or at least that's what I would have said if I wasn't talking about Jumanji: Welcome to the Jungle where it's never before been so fun to be wrong. My early trepidations about this sequel to the beloved 1995 fantasy adventure flick starring the late Robin Williams have been well advertised on this site, and can you blame me? Based on the trailers, this was looking like yet another CG-overload soulless Hollywood cash-in on our precious nostalgia.
However, here's the thing: It would appear that director/co-writer Jake Kasdan (Walk Hard: The Dewey Cox Story, Bad Teacher) and co have taken this revolutionary, barely seen approach to previewing this film by actually keeping all the best bits for the full movie and not just giving them away in the trailers! Preposterous, I know!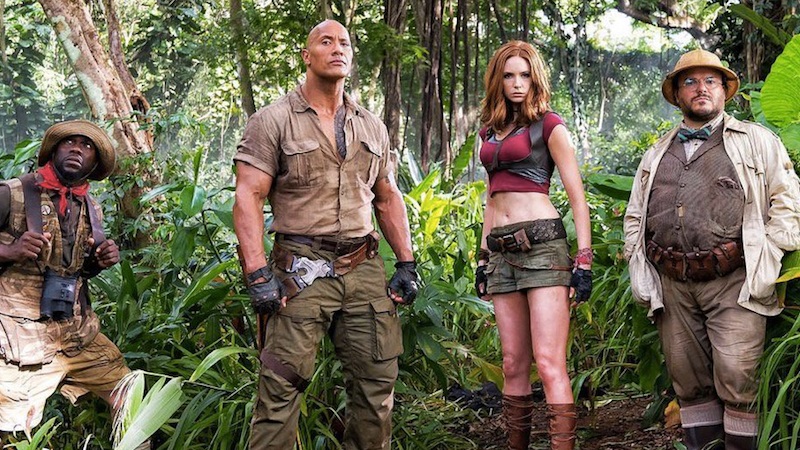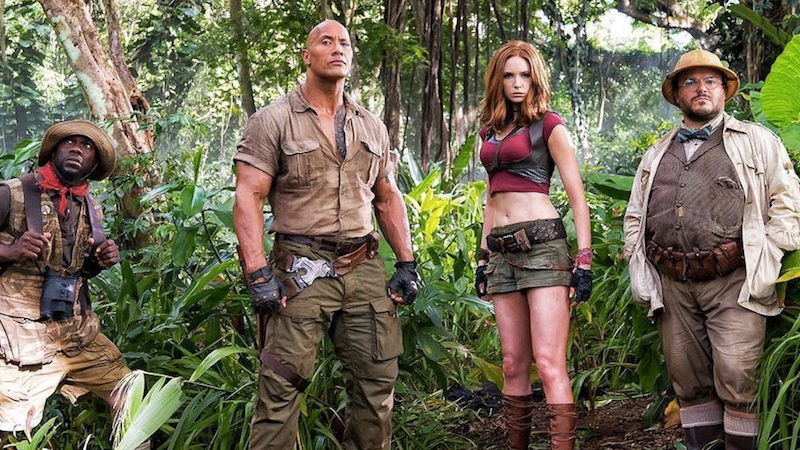 So if you were previously as hesitant as I was, I'm extremely happy to tell you that Jumanji: Welcome to the Jungle is way better than you think it is. Hell, even if you've just readjusted your expectations based on that opening paragraph, it's still even better than that! Kasdan and the rest of his writing team have spun up a fantasy romp which is packed to the rafters with abdominal destroying gags, cool action beats, and heaps of heart and character. And did I mention the funny gags? Because, seriously, it's ridiculous just how much fun this film is.
And it's fun that spans the full spectrum from very innocent all-ages stuff to some more risqué and ribald jokes that land even better for how unexpected they are. And that's really the big thing about Jumanji: Welcome to the Jungle – how surprising it is. It continuously delights in ways I just never saw coming, even in how effectively it upgrades the original board game premise to the video game age.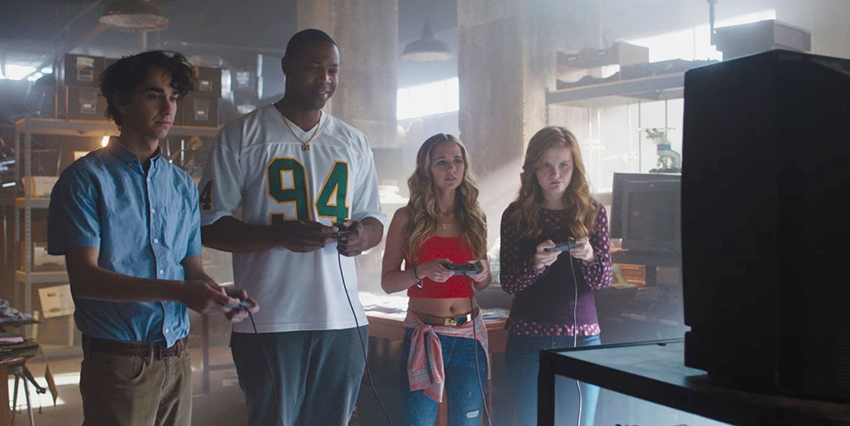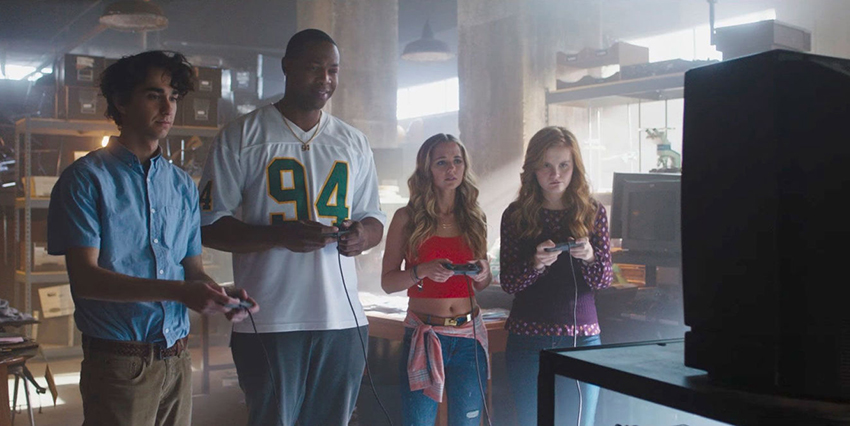 This new premise sees four teenagers – Spencer (Alex Wolff), a nerdy gamer with a fear of everything; Fridge (Ser'Darius Blain), Spencer's ex-childhood friend turned mean jock; Bethany (Madison Iseman), a pretty, self-obsessed teenager never far from her phone; and Martha (Morgan Turner), a surly outcast loner – randomly thrown together into detention where they discover a strange Jumanji video game and decide to play it to pass the time. As you can expect, things do not go as planned.
After just haphazardly picking their on-screen avatars in the game, the four find themselves magically sucked into Jumanji, a sweltering jungle world where danger – and even death – lurks around every corner. Making it a bit tricky to avoid that death is the fact that our teens are no longer our teens, as they've been transformed into the avatars they picked. Spencer has become muscly intrepid explorer Dr Smolder Bravestone (Dwayne "The Rock" Johnson), Fridge picks diminutive zoologist Franklin "Mouse" Finbar (Kevin Hart), Bethany finds herself in the middle-aged overweight male body of cartographer Professor Sheldon "Shelly" Oberon (Jack Black), while Martha transforms into scantily clad ass-kicker Ruby Roundhouse (Karen Gillan).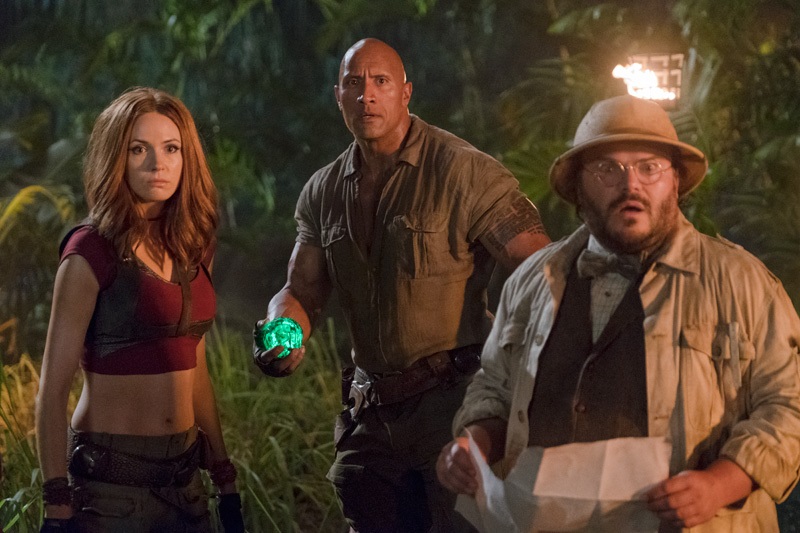 The four barely have time to discover exactly what the strengths and weaknesses (oh the hilarious, delicious weaknesses!) of their new bodies are though before NPC Nigel (Rhys Darby) shows up to tell them that they need to embark on a quest that will take them all over Jumanji if they are to save the land from the evil John Hardin Van Pelt (Bobby Cannavale), Smolder Bravestone's ex-adventuring partner turned creepy, bug-infested bad guy (who unfortunately really isn't much more than that).
If you noticed the use of NPC (i.e. non-playable character) in the previous sentence and knew what it was, then you're bound to get an even bigger kick out of this new Jumanji, as it plays with video game tropes throughout to sidesplittingly hilarious effect. As the four teenagers stuck in these new bodies, the cast is also all phenomenal with great chemistry everywhere.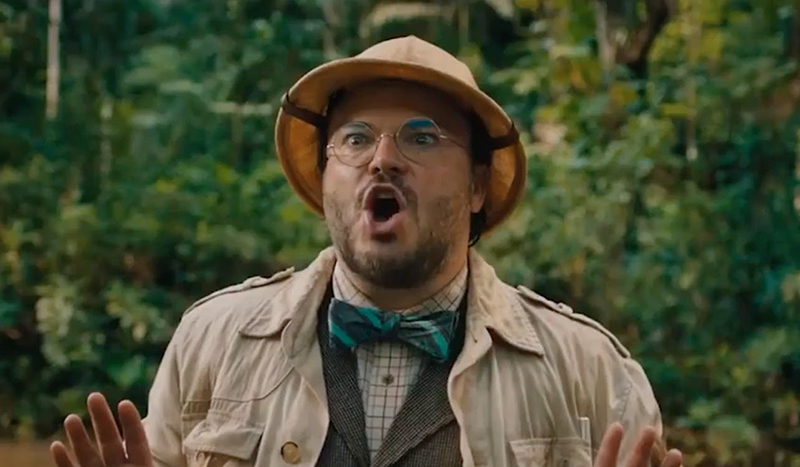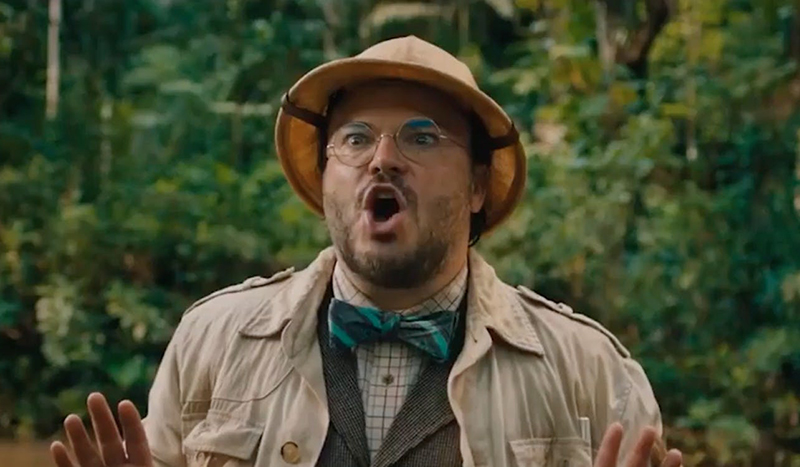 I've always been a fan of Johnson and Gillan, but when it came to Hart and Black, their career efforts have always been very hit and miss for me. Well, here they hit and they hit hard! Johnson gets some real fantastic bits playing against type as the scared Spencer, Gillan flexes some serious physical comedy muscles, Hart is perfect as the usually alpha male Fridge now stuck in the tiny form of Mouse, and if Black can from now onwards just star in all his movies as a vain teenage girl playing Jack Black then that would be great.
But it's not all about the laughs though, as the adventures these teens go through in Jumanji forces them to address their own insecurities and social anxieties. Things may not reach the sentimental bittersweet peaks of Alan Parrish and Sarah Whittle's romance from the original film, but there's still a whole lot of palpable heart here – a bunch of it added by Nick Jonas' Jefferson "Seaplane" McDonough – as the characters grow and change. And speaking of Robin Williams' Alan Parrish, Kasdan includes a brief but rather sweet hat-tip that isn't just honourable but also cements this movie as not a reboot, as some thought it would be, but indeed the next chapter in that fantastical tale begun 22 years ago.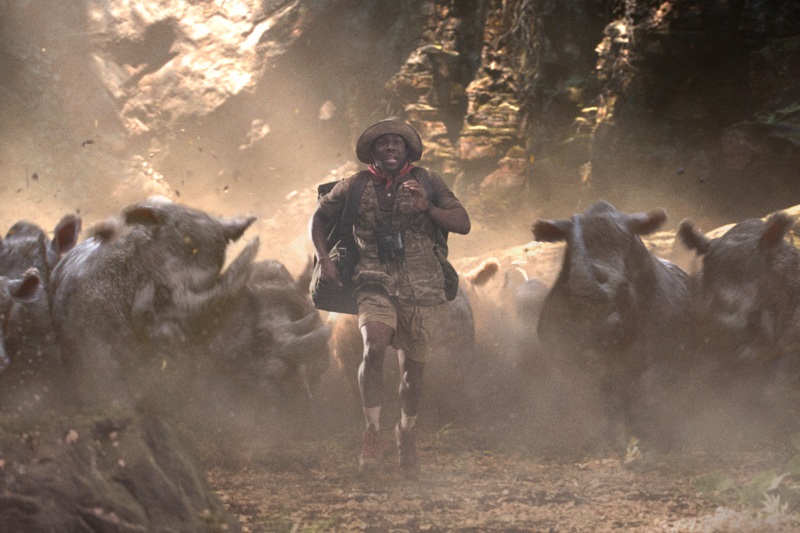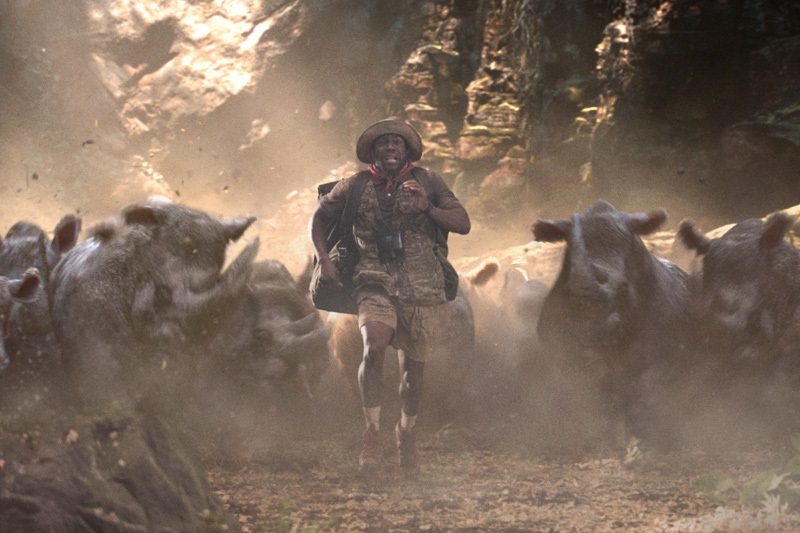 It's also a chapter that ticks all the boxes its predecessor did, with wonderful CG animals and special effects in thrilling action set pieces that will delight younger audience members. It also has an enlivening pace and easy to love charm to it, ensuring that viewers are never bored as they are sucked into this magical, larger than life world. They will be right there with Smolder Bravestone and the rest of the gang as they swing, run, fly and even flying kick their way across Jumanji. Some gags may go over the head of the real young'uns – as they're meant to do, due to their adult nature – but there's something for everybody to love here.
That "everybody" also includes me, something I would never have thought possible just a scant few weeks ago. Much like Blade Runner 2049 – yes, I'm mentioning that masterpiece in the same breath – Jumanji: Welcome to the Jungle shows how you can make a sequel to a beloved classic that doesn't just ride nostalgic coattails nor does it feel the need to trample everything that came before. It never tries to be that original 1995 film but brings its own magic to a beloved world to contemporize it and make it relevant again. Like the opening line from the Guns N Roses song that gives this movie its subtitle says, "Welcome to the jungle, we got fun and games. We got everything you want honey, we know the names."
Oh, and if you hate all this text stuff above, have a look at our video review, ok?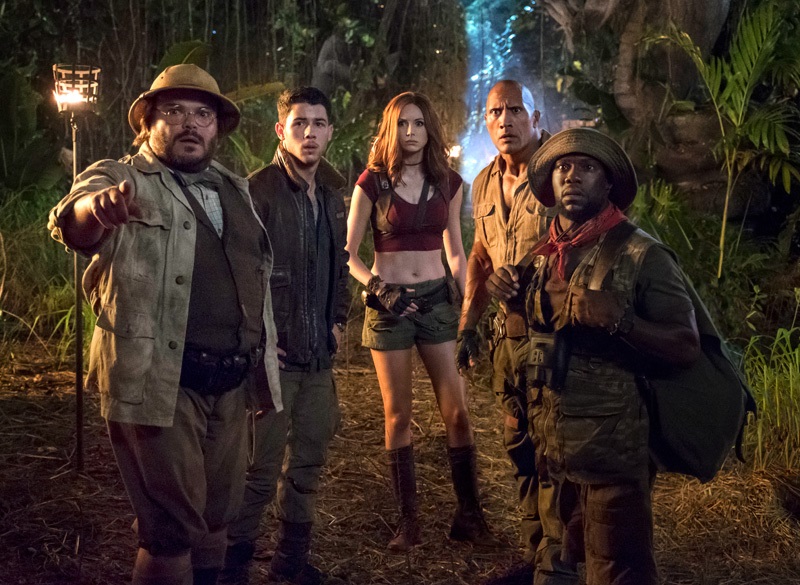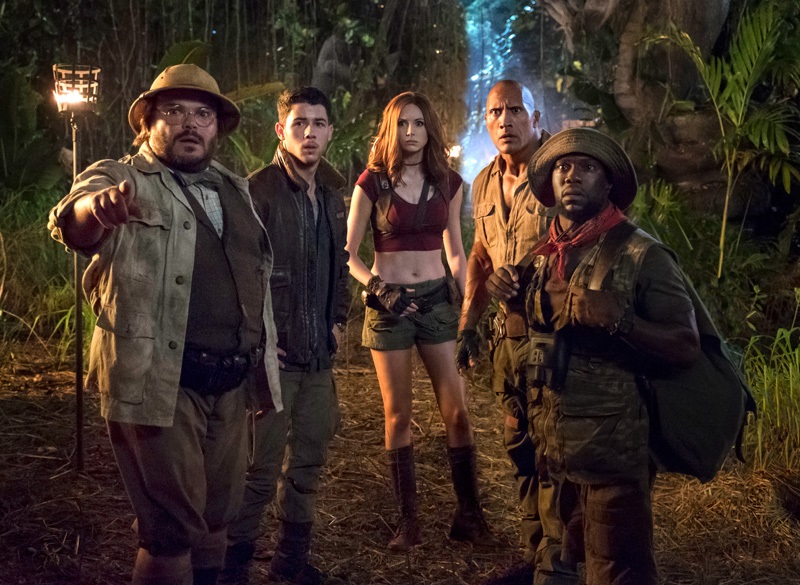 Last Updated: December 11, 2017
With its non-stop barrage of gut-busting gags, great characters and palpable heart, Jumanji: Welcome to the Jungle is not just an unexpectedly great sequel to a beloved classic which contemporizes its origins while still honouring them, but it's also the biggest and most enjoyable movie surprise of 2017.