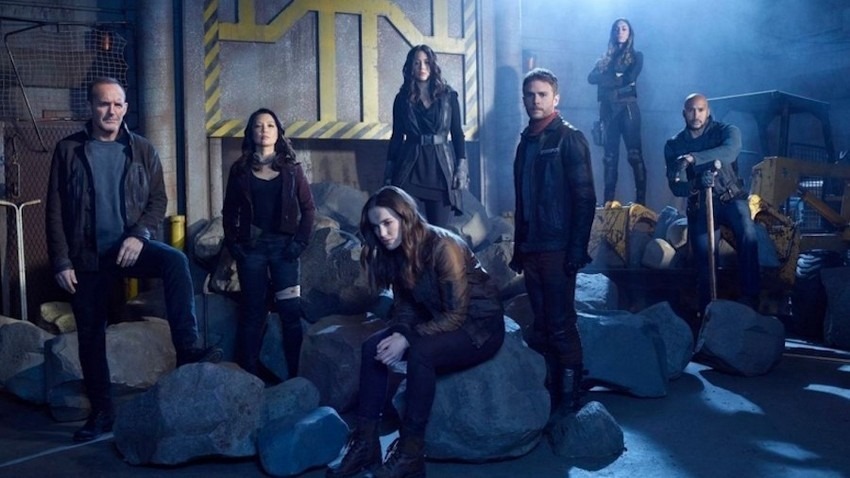 Quick question: What's reliably been the best Marvel comic book show on the small screen for the last few years? I bet most of you said Daredevil. Most of you would be wrong. While the Netflix adventures of the Man Without Fear is indeed spectacular (particularly the jaw-droppingly good recent third season), it has had its share of dips in quality. Meanwhile, over on ABC, Marvel's Agents of SHIELD started off low in its rocky first season but then turned everything around and just kept going from strength to strength to truly become the best Marvel comic book show on the small screen (I will fight you on this). It may not have had big viewership numbers, finding itself on the bubble several times, it was just amazing viewing.
All good things must come to an end though, and for a while there it looked like that would be the case for Agents of SHIELD after five seasons. Showrunners Jed Whedon and Melissa Tancharoen even wrote the most recent finale as such, giving lead Clark Greg's Phil Coulson a touching sendoff of sorts as he finally found love, while major plot points all got wrapped up. With the Disney+ streaming service set to launch next year, it wouldn't have been surprising for ABC to close up shop on the show so that Marvel could launch something new over on the new platform. Instead, Agents of SHIELD actually got picked up for a brand new season on ABC to air in July of next year. Would this then would be the final season? Nope.
Not only are you getting Season 6 of Marvel's #AgentsofSHIELD this summer, the show has also been picked up for a 7th Season! pic.twitter.com/JRmj68tAZo

— Agents of SHIELD (@AgentsofSHIELD) November 16, 2018
With 8 months still to go before the season 6 premiere, Agents of SHIELD has already been renewed for season 7. Marvel officially made the announcement a few days ago in a surprising press release, revealing that this new season – much like season 6 – would have a lower episode count of 13 down from the 22 of the first quintet of seasons. There's one alarming point about the press release though, as it indicates that the show stars "Ming-Na Wen, Chloe Bennet, Iain De Caestecker, Elizabeth Henstridge, Henry Simmons, Natalia Cordova-Buckley and Jeff Ward."
While I'm super happy to see Ian De Caestecker's name there given the fact his Leo Fitz died (don't worry, some time travel shenanigans sorted that out), there's a distinct lack of Clark Gregg in that list. Has Coulson just decided to stay on that tranquil beach where we last left him? He's been the heart and soul of the show from the get-go, so it will be sad if he's not coming back but it's not as if Agents of SHIELD is lacking in capable leads.
New exclusive Quake look. Come at me bad guys. @AgentsofSHIELD @Marvel pic.twitter.com/kCaXX578sw

— Chloe Bennet (@chloebennet) November 17, 2018
The de facto choice for that job is, of course, Chloe Bennet, as her Daisy Johnson aka Quake has been at the centre of most of the show's biggest arcs. Shortly after the press release about the season 7 renewal, the actress tweeted out a pic showing off the new look her super-powered agent will be sporting in the upcoming sixth season and she's looking as badass as ever.
As for Agents of SHIELD itself, a recent study has shown that the show is actually the most popular of all of Marvel's television offerings, beating out Daredevil and the other Netflix shows significantly, when taking ratings, social media buzz and peer-to-peer traffic into account. With that kind of following, and the ratings-transcending love that Disney clearly has for this show, don't be surprised if you hear about a season 8 renewal before we even get to season 7.
Last Updated: November 22, 2018