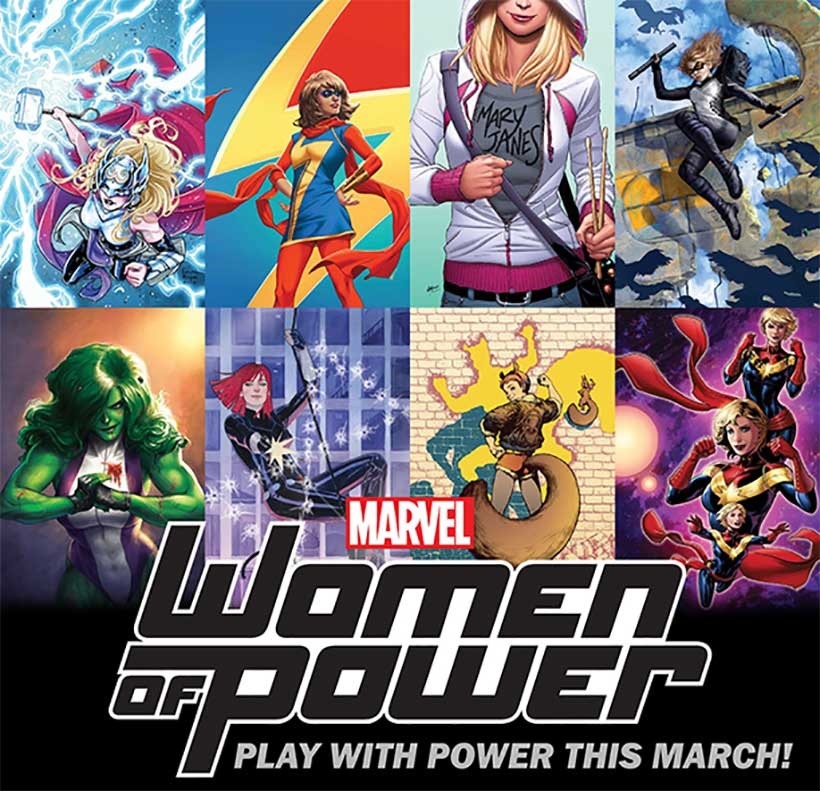 When it comes to diversity in media, few have been so bold and quick to embrace it as Marvel. They have a Muslim Ms Marvell, a new American-Asian Hulk (who's both brawn and brains), A Spider-Man who's both black and Latino, a lady Thor – and honestly, so many more characters than I could even begin to list that are from a broader spectrum than we've seen in the past.
I think it's great – opening up the world of comic books to a wider audience. Today, the company kicks off its new "Women of Power" event, which aims at bringing its many, many women heroes to the forefront. To launch the initiative, they're adding many of its mightiest women to its wide range of video games on mobile, console, handheld, and PC today.
"Across our portfolio, we're going to launch over a dozen new female characters in all of our different games as well as the in game story events," Bill Rosemann, Creative Director of Marvel Games, told Entertainment Weekly.
So you'll be seeing the likes of Moonstone, Captain Marvel and Poundcakes in LEGO Marvel's Avengers; Kamala Khan, She-Hulk, X-23 in Marvel Contest of Champions, Proxima Midnight in Marvel Future Fight, Silk and other Spider women in Spider-Man Unlimited – and a whole lot more.
Marvel believes it's their responsibility to spread both diversity and inclusion.
"The reason we do this is because we live and breathe the Marvel mantra: with great power comes great responsibility," said Rosemann. "And we view our power in Marvel games as storytelling. Our responsibility is to use that power to embrace and spread Marvel's historic and ongoing message of diversity and inclusion and inspiration and empowerment."

"We're getting to a point where people just want to see really great characters and powerful characters up there, and it doesn't matter what their gender is," says Marvel's Director of Content and Character Development Sana Amanat. "We are not going out there and painting our characters with one color, with one style. What makes the Marvel universe so rich is all of these variances and different perspectives, and a lot of that has to do with showcasing different experiences but some of that is just showing distinct character and personalities."
Marvel is of course, not alone when it comes to comic book diversity – with DC realising that broader audiences mean more sold comics.
"Diversity isn't just adding characters of different races, cultures, genders and sexualities to the DC Universe, it's also telling stories that will appeal to different kinds of people," DC said on its blog. "Action is great, and there will never be a shortage of action spectacles in the DCU, but this year showed us that there's room for other types of stories as well."
And that's just it; there's room in any sort of media for everyone.
Last Updated: March 3, 2016