Are you ready? ARE YOU READY TO GET EXTREME! EXTREME LIKE AN ENERGY DRINK! PLUG IT IN YOUR FACE HOLE AND DRINK THE BLUE LIQUID OF EXTREMENESS! TO THE MAX! WWE Extreme Rules kicks off this Sunday, as the WWE's most popular superstars and Roman Reigns get set to defend their gold in the most lethal matches possible. Here's the full match list.
WWE World Heavyweight Champion Roman Reigns vs. AJ Styles in an Extreme Rules match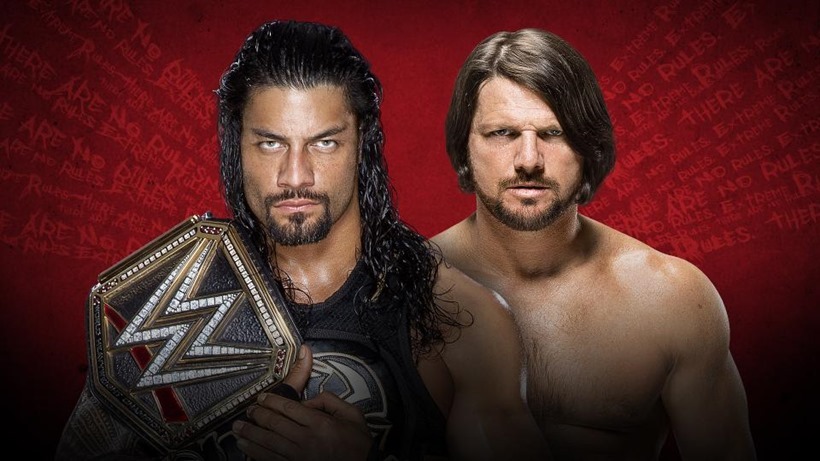 Look, it'll probably be a really decent match, but we all know that Reigns is going to win and kill everyone in attendance at Monday Night RAW next week when he picks up a mic while the TV technicians do their best to filter out all the booing. Let's just move onto the more interesting matches.
WWE Women's Champion Charlotte vs. Natalya in a Submission match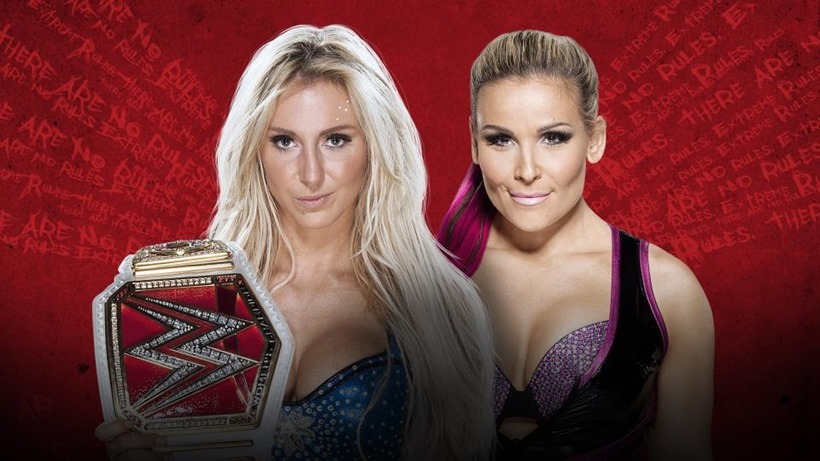 There we go! For months now, Charlotte has managed to hold onto her Women's championship while the entire ladies division has been biting at her heels. Part of that has come down to skill. While an even larger part has come down to having her daddy Ric Flair in her corner. At Extreme Rules however, there'll be no parental meddling to get in the way of Natalya going for gold. This time, nobody will be there to save Charlotte from Natalya locking in her dreaded Sharpshooter in this submission match.
Intercontinental Champion The Miz vs. Kevin Owens, Cesaro and Sami Zayn in a Fatal Fourway match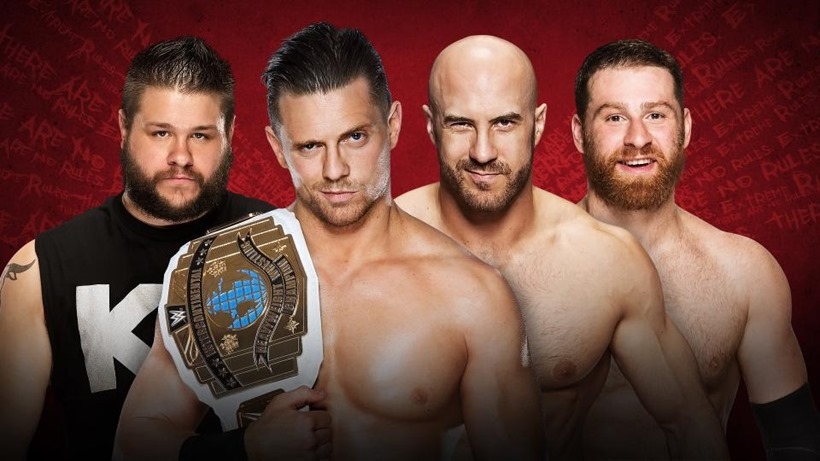 The race for the Intercontinental championship has seen some fierce competition ever since the gold changed hands at WWE Payback. Ever since that pay per view, the Miz has been fending off the likes of Kevin Owens, Cesaro and Sami Zayn in multiple matches as the superstars took their competition to dangerous new levels. At Extreme Rules, all four of those high-flying performers will collide, looking to become the definitive Intercontinental champion once and for all in a fatal fourway for the ages.
Dean Amborse vs. Chris Jericho in an Asylum match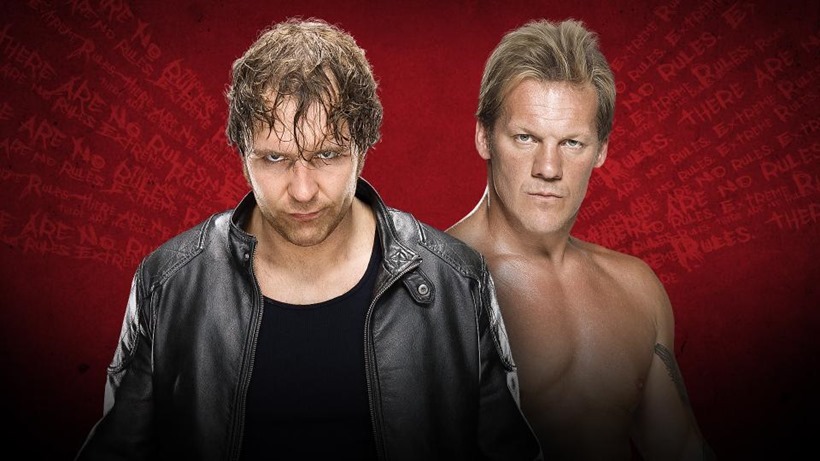 While some superstars are fighting to keep the gold around their waist, others have more personal reasons to enter the ring and shave years off of their careers. With Dean Ambrose and Chris Jericho taking their feud to very deep levels that involved the most expensive WWE jacket around being destroyed and beloved potplant Mitch murdered in the ring, these two maniacs are looking to finally settle the score.
And they'll do just that, in an Asylum. A specially-prepared steel cage that is filled with weapons. There's no stipulation here where Ambrose and Jericho can escape the cage to win. One of them is either going to be pinned or forced to submit. And these two would most likely not have it any other way.
WWE Tag team Champs The New Day vs. The Vaudevillains
Massively popular team of Kofi Kingston and Big E versus two chumps who dress up like a bad Family Guy joke that was out-dated ten years ago. Guess who I'm supporting.
United States Champion Kalisto vs. Rusev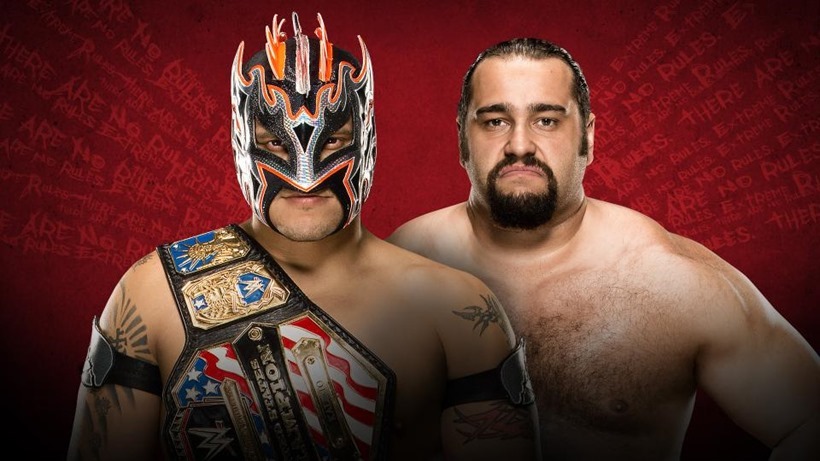 After two pay per views, Kalisto has some new competition for his United States championship at Extreme Rules. Which might be because Ryback made a legitimate point about the unfair conditions that exist over unequal pay for performers, which of course is why you haven't seen him on WWE programming lately because ol' Vince really hates it when anyone has an opinion. But hey, that Rusev fella looks like he'll be a good fit for the US championship race, right?
Dolph Ziggler vs. Baron Corbin in a No Disqualification match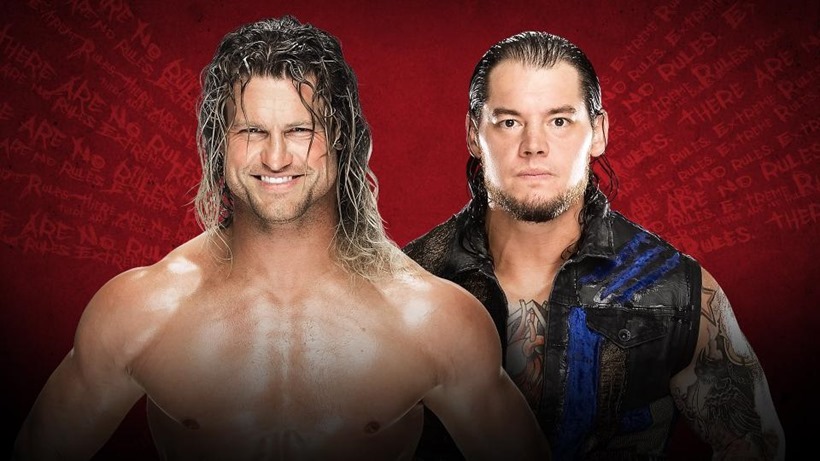 Things are about to get…extreme. Baron Corbin has been stalking Dolph Ziggler for weeks now, as the two have locked horns in bouts where each man has a win over the other. It's the battle of experience vs unrelenting power in this rubber match at Extreme Rules, as the show-off faces the lone wolf one more time to see who the better in-ring competitor really is.
The Uso vs. Karl Anderson and Luke Gallows in a Tornado Tag Team match
Whenever Roman Reigns has been in the ring lately, he could always trust on having the Uso brothers in his corners. And likewise with his main event opponent AJ Styles, who reluctantly had some help from Luke Gallows and Karl Anderson over the last couple of weeks. Naturally, the Bullet Club and The Usos aren't exactly on friendly terms, having clashed repeatedly during RAW and Smackdown.
Time to settle the rivalry then, with a good ol' fashioned tornado tag team match. Can naturally-perfected teamwork triumph over the brawn and fury of Anderson and Luke Gallows who thankfully no longer hangs around with his tongue flapping out of his mouth the whole time? Enh, probably.
Last Updated: May 20, 2016