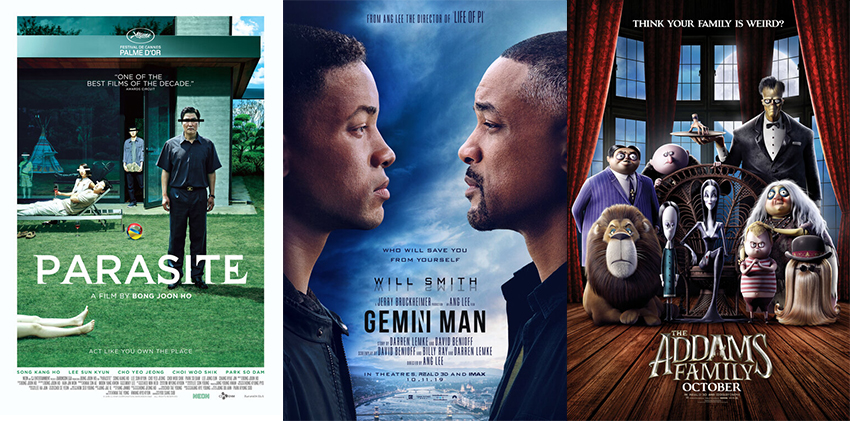 You can happily skip past the "big releases" of this week and head straight to Bong Joon Ho's highly acclaimed black comedy horror Parasite. Everything else isn't really worth your time.
---
Gemini Man
Age Restriction: 13 L V
Henry Brogan (Will Smith), an elite assassin, is suddenly targeted and pursued by a mysterious young operative that seemingly can predict his every move.
While Gemini Man's massively divisive high frame rate approach will undeniably put off some viewers from the get-go, it's still something that needs to be experienced on the big screen for yourself to make up your mind on it. And at least you'll also get some action thrills along the way. – 6.5/10
Rotten Tomatoes: 28% (Rotten)
Metacritic: 28% (Generally Unfavourable Reviews)
---
Addams Family
Age Restriction: 10-12 PG H P V
Get ready to snap your fingers! The first family of Halloween, the Addams Family, is back on the big screen in the first animated comedy about the kookiest family on the block. Funny, outlandish, and completely iconic, the Addams Family redefines what it means to be a good neighbor.
Rotten Tomatoes: 33% (Rotten)
Metacritic: 44 (Mixed or Average Reviews)
---
The Goldfinch
Age Restriction: 16 D L V
Theodore "Theo" Decker (Ansel Elgort) was 13 years old when his mother was killed in a bombing at the Metropolitan Museum of Art. The tragedy changes the course of his life, sending him on a stirring odyssey of grief and guilt, reinvention and redemption, and even love. Through it all, he holds on to one tangible piece of hope from that terrible day…a painting of a tiny bird chained to its perch. The Goldfinch.
Rotten Tomatoes: 24% (Rotten)
Metacritic: 40 (Mixed or Average Reviews)
---
Parasite
Age Restriction: 16 D L S V
Bong Joon Ho brings his work home to Korea in this pitch-black modern fairytale. Meet the Park Family: the picture of aspirational wealth. And the Kim Family, rich in street smarts but not much else. Be it chance or fate, these two houses are brought together and the Kims sense a golden opportunity. Masterminded by college-aged Ki-woo, the Kim children expediently install themselves as tutor and art therapist, to the Parks. Soon, a symbiotic relationship forms between the two families. The Kims provide "indispensable" luxury services while the Parks obliviously bankroll their entire household. When a parasitic interloper threatens the Kims' newfound comfort, a savage, underhanded battle for dominance breaks out, threatening to destroy the fragile ecosystem between the Kims and the Parks.
Rotten Tomatoes: 100% (Certified Fresh)
Metacritic: 95 (Universal Acclaim – Metacritic Must See)
---
Zulu Wedding
Age Restriction: 13 D L S
Lu left South Africa and her Zulu-Sotho heritage behind to become a dancer in America, and when she falls in love with Tex, she knows he's the man to marry. But when she brings Tex home to meet her family, she discovers she's been promised since birth to a Zulu king. Caught between two men, two families, and two countries, Lou has to come to terms with who she is so she can fight for what she wants.
---
For more information about the age restrictions, click here.
Last Updated: October 11, 2019