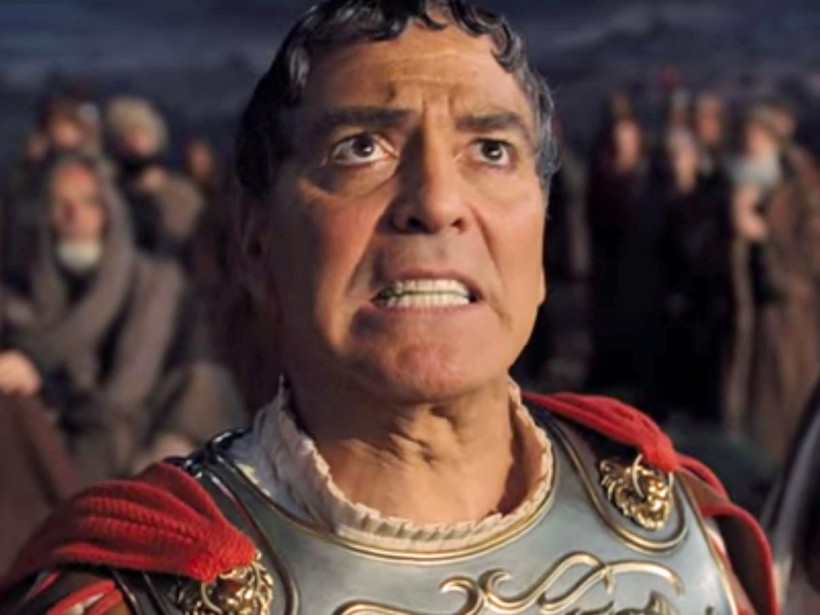 So, I've just come back from our pre-screening of Fifty Shades of Black and, while I wrote up a lot of this article in advance, I left out the intro part – thinking that I'd have time to throw something together. Unfortunately, that damn stupid movie melted my brain and I can't think of anything besides for how perfectly George Clooney's expression in the above picture must have matched mine while I was watching Fifty Shades of Black. Ugh.
Four-time Oscar (R)-winning filmmakers Joel and Ethan Coen (No Country for Old Men, True Grit, Fargo) write and direct HAIL, CAESAR!, an all-star comedy set during the latter years of Hollywood's Golden Age. Starring Josh Brolin, George Clooney, Alden Ehrenreich, Ralph Fiennes, Jonah Hill, Scarlett Johansson, Frances McDormand, Tilda Swinton and Channing Tatum, HAIL, CAESAR! follows a single day in the life of a studio fixer who is presented with plenty of problems to fix.
Hail, Caesar! is a Coen brothers comedy through and through, and if you're really not a fan of their style, you might find this movie more on the confusing and silly side. But if you stick with it, you'll find a complex and involving plot, solid performances from the enormous ensemble cast and an overwhelming sense of love for classic cinema. Managing to poke fun at and pay tribute to old Hollywood at the same time, Hail, Caesar! gets a worthy 4/5 stars from Craig.
In 1947, Dalton Trumbo (Bryan Cranston) was Hollywood's top screenwriter until he and other artists were jailed and blacklisted for their political beliefs. TRUMBO (directed by Jay Roach) recounts how Dalton used words and wit to win two Academy Awards and expose the absurdity and injustice of the blacklist, which entangled everyone from gossip columnist Hedda Hopper (Helen Mirren) to John Wayne, Kirk Douglas and Otto Preminger.
While Hail, Caesar! is all silliness and fun, Trumbo tackles a much darker side of Hollywood from the same era. But despite the heavier subject matter it's still an entertaining film, droll and engaging, with Bryan Cranston's sincere and Oscar-nominated performance leading the movie. Earning 73% on Rotten Tomatoes, Trumbo is a compelling look into a fascinating true part of Hollywood's history.
13 Hours: Secret Soldiers of Benghazi
From Director Michael Bay, 13 HOURS: THE SECRET SOLDIERS OF BENGHAZI is the gripping true story of six elite ex-military operators assigned to protect the CIA who fought back against overwhelming odds when terrorists attacked a U.S. diplomatic compound on September 11, 2012. When everything went wrong, six men had the courage to do what was right. Based on the nonfiction book 13 Hours by New York Times bestselling author Mitchell Zuckoff and members of the Annex Security team.
Michael Bay isn't exactly the master of subtlety and tact, so having him in charge of a movie about elite American soldiers ex-military operators in a politically charged environment? You'd expect it to be all "MURICA! F-YEAH!" and explosions and carnage and lots of exclamation points!!! And well, it is, but to a lesser degree than we've come to expect. It's still there though, so 13 Hours: The Secret Soldiers of Benghazi comes out a bit on the uneven side, it's not incredibly moving and deep but what is there is entertaining, if not actually good. As I saw one reviewer had put it, "it all makes for a ferocious but flawed film – but I'd certainly buy the video game". Alwynne thinks it deserves 3.5/5 stars, so long as you forget about looking for political intricacies and just enjoy the ride.
This spoof from the Wayans Brothers parodies the ultra-popular novel/film series Fifty Shades of Grey.
Ugh, spoof movies. What is the point even? This is a genre that peaked at Scary Movie. The first one. You can check out my lobotomy review later, but for now I just cannot in good conscience recommend anyone watch this movie. Please, take my word on it. Much like the size of the main character's penis, there is nothing to see here. Move along folks.
2016 Oscar Nominated Short Films – Animation (Cinema Nouveau)
HISTORIA DE UN OSO – An old, lonesome bear tells the story of his life through a mechanical diorama.
PROLOGUE – A small girl bears witness as warriors battle to death in an incident in the Spartan-Athenian wars of 2,400 years ago.
SANJAY'S SUPER TEAM – a young, first-generation Indian-American boy's love for western pop-culture comes into conflict with his father's traditions.
WE CAN'T LIVE WITHOUT COSMOS – Two cosmonauts, two friends, try to do their best in their everyday training life to make their common dream a reality. But this story is not only about the dream.
WORLD OF TOMORROW – A little girl is taken on a mind-bending tour of her distant future.
Besides for the yearly Pixar short that gets nominated for an Oscar, it's very rare that you'll get to see any of the others in the Best Short Film (Animated) category – unless they're pirated or leaked to YouTube. This year, all five of the Oscar Nominated animated short films will be screening on Cinema Nouveau, which I think is pretty cool! So if you want to check out the short films that are going to lose to Sanjay's Super Team, Cinema Nouveau is the place to be this weekend.
Happiness is a Four-Letter Word
Life doesn't come with a manual. Three best friends will have to find out what truly makes each of them happy and then fight to get it.
Based on the Cynthia Jele novel of the same name and billed as a romantic drama, Happiness is a Four-Letter Word seems pretty heavy handed on the drama side if the trailer is anything to go by. Predicable but still entertaining, it's very much a popcorn flick, super stylish without too much substance, playing out like a "90 minute episode of Top Billing" according to one reviewer.
This article originally appeared on TheMovies.co.za
Last Updated: February 19, 2016