New movies are dominating the Netflix releases this month. Whether they're Netflix originals or the movies you loved from yesteryear, you've got a lot of film to catch up on!
Original Series
Troy: Fall of a City: Season 1
Searching for the woman promised to him by Aphrodite, herdsman Paris learns his true identity and falls for Helen of Sparta, igniting the Trojan War.
Troy: Fall of a City is well produced and stays reasonably attentive to Homer's myth-making, along with some decent acting from its largely unknown cast.
Launches April 6
Watch on Netflix
Lost in Space: Season 1
With Earth in crisis, the Robinson family heads to space to write a new chapter in human history in this revival of the iconic '60s sci-fi series.
A wondrous new take on the original 1960s series, Netflix's Lost in Space honours its origins while charting a new course with a modern retelling.
Launches April 13
Watch on Netflix
The Alienist: Season 1
In 1896 New York, Dr. Laszlo Kreizler joins reporter John Moore, police clerk Sara Howard and forensics experts the Isaacsons to catch a serial killer.
So far, critics have said that The Alienist is a lushly rendered, gritty tale with the kind of nudity, gore and explicit themes often seen in today's quality TV shows… but it's still a largely predictable story.
Launches April 19
Watch on Netflix
Superstition: Season 1
A family of morticians with supernatural connections provides "afterlife care" for clients who've suffered unworldly deaths.
A supernatural drama, Superstition is entertainingly dark, but violent, and seeks to improve on similar kinds of shows.
Launches April 29
Watch on Netflix
Original Films
6 Balloons
Over the course of one night, a woman drives her heroin addict brother across LA in search of a detox center, with his two-year-old daughter in tow.
6 Balloons is a movie that understands co-dependency from the inside, as well as the helplessness and hopelessness of trying to cure someone else's addiction.
Launches April 6
Watch on Netflix
Amateur
A 14-year-old basketball phenom struggles to fit in with his new team after a video of him goes viral.
Written and directed by newcomer Ryan Koo, Amateur follows Michael Rainey Jr. (from "Orange Is the New Black", "Power", and Barbershop: The Next Cut) as Terron as he discovers and deals with a system of corruption and greed in amateur sports.
Launches April 6
Watch on Netflix
Orbiter 9
A woman who's been alone on a spaceship her whole life becomes enamored with an engineer who suddenly enters her life and upends her universe.
A Spanish sci-fi romantic drama, Orbiter 9 originally premiered in Spain in April 2017, with its global release courtesy of Netflix.
Launches April 6
Watch on Netflix
The Week Of
Starring Adam Sandler and Chris Rock, this comedy centers on the week leading up to the wedding of their characters' kids. Robert Smigel directs.
The fourth and final film in the first four-film deal between Adam Sandler and Netflix, The Week Of ropes Chris Rock into the mix for a comedy about the stress of two parents in the lead up to their children's wedding.
Launches April 27
Watch on Netflix
Original Documentaries
Chef's Table: Pastry
Dessert comes first this season as four renowned pastry chefs serve up decadent treats, daring new flavors, and stories of struggle and triumph.
Chef's Table is about profiling world-renowned chefs, and in this spin-off season entitled Chef's Table: Pastry, creator David Gelb follows pastry chefs from around the world.
Launches April 13
Mercury 13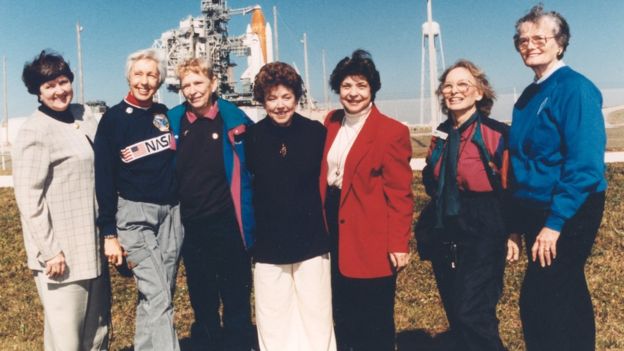 This documentary profiles women who were tested in 1961 for spaceflight, but had their dreams dashed when only men were chosen to become astronauts.
As part of a privately funded program, thirteen American women underwent some of the same physiological screening tests as the astronauts selected by NASA on April 9, 1959 for Project Mercury. This is their story.
Launches April 20
Watch on Netflix
New Series Available
Killjoys: Season 2
In a solar system on the edge of self-destruction, a trio of interplanetary bounty hunters pursue some of the most dangerous criminals at large
The chemistry of the cast elevates the show's genre mashup of western and science fiction beyond the point where it seems fair to continue comparing Killjoys to Firefly — especially since Killjoys has actually continued into a second season.
Launches April 1
Watch on Netflix
Arrow: Season 5
Based on DC Comics' Green Arrow, a weathy playboy becomes a vengeful superhero, saving the city from villians armed just with a bow and arrows
With new allies and new villains, Arrow manages to return to its roots while moving forward in a way that will have you itching for more ahead of the show's sixth season.
Launches April 6
Watch on Netflix
Lucifer: Season 2
Bored with being the Lord of Hell, the devil relocates to Los Angeles where he opens a nightclub and forms a connection with a homicide detective.
Lucifer's second season gets off to a nice start, building on the show's strengths while retaining some of the weaknesses. It remains an unapologetically sordid, demonically fun hour of TV.
Launches April 19
Watch on Netflix
New Films Available
Paul
Simon Pegg and Nick Frost (Hot Fuzz, Shaun of the Dead) reunite for the comedy adventure Paul as two sci-fi geeks whose pilgrimage takes them to America's UFO heartland. While there, they accidentally meet an alien who brings them on an insane road trip that alters their universe forever.
It doesn't measure up to Pegg and Frost's best work, but Paul is an amiably entertaining — albeit uneven — road trip comedy with an intergalactic twist.
Launches April 1
Watch on Netflix
Apollo 13
"Houston, we have a problem." Those words were immortalized during the tense days of the Apollo 13 lunar mission crisis in 1970, events recreated in this epic historical drama from Ron Howard. Astronaut Jim Lovell (Tom Hanks) leads command module pilot Jack Swigert (Kevin Bacon) and lunar module driver Fred Haise (Bill Paxton) on what is slated as NASA's third lunar landing mission. All goes smoothly until the craft is halfway through its mission, when an exploding oxygen tank threatens the crew's oxygen and power supplies. As the courageous astronauts face the dilemma of either suffocating or freezing to death, Mattingly and Mission Control leader Gene Kranz (Ed Harris) struggle to find a way to bring the crew back home, all the while knowing that the spacemen face probable death once the battered ship reenters the Earth's atmosphere.
In recreating the troubled space mission, Apollo 13 pulls no punches: it's a masterfully told drama from director Ron Howard, bolstered by an ensemble of solid performances.
Launches April 1
Watch on Netflix
Eternal Sunshine of the Spotless Mind
Jim Carrey stars as Joel Barish, a man who is informed that his ex-girlfriend Clementine (Kate Winslet) has had her memories of their relationship erased from her brain via an experimental procedure performed by Dr. Mierzwiak (Tom Wilkinson). Not to be outdone, Joel decides to have the same procedure done to himself. As Mierzwiak's bumbling underlings Stan (Mark Ruffalo) and Patrick (Elijah Wood) perform the operation on Joel — over the course of an evening, in his apartment — Joel struggles in his own mind to save the memories of Clementine from being deleted
Propelled by Charlie Kaufman's smart, imaginative script and Michel Gondry's equally daring directorial touch, Eternal Sunshine is a twisty yet heartfelt look at relationships and heartache.
Launches April 1
Watch on Netflix
Steve Jobs
Set backstage at three iconic product launches and ending in 1998 with the unveiling of the iMac, Steve Jobs takes us behind the scenes of the digital revolution to paint an intimate portrait of the brilliant man at its epicenter.
Like the tech giant co-founded by its subject, Steve Jobs gathers brilliant people to deliver a product whose elegance belies the intricate complexities at its core.
Launches April 1
Watch on Netflix
Jaws 1, 2, 3
Duuun dun duuun dun dun dun dun dun dun dun…
Stephen Spielberg's classic 1974 film and its two rather unnecessary and less well received sequels come to Netflix this month, along with all the quotable lines and the theme music that you're guaranteed to get stuck in your head.
Launches April 1
Watch on Netflix
12 Monkeys
An intense film about time travel, this sci-fi entry was directed by Terry Gilliam, a member of the comedy troupe Monty Python. The film stars Bruce Willis as James Cole, a prisoner of the state in the year 2035 who can earn parole if he agrees to travel back in time and thwart a devastating plague. The virus has wiped out most of the Earth's population and the remainder live underground because the air is poisonous. Returning to the year 1990, six years before the start of the plague, Cole is soon imprisoned in a psychiatric facility because his warnings sound like mad ravings. There he meets a scientist named Dr. Kathryn Railly (Madeleine Stowe) and Jeffrey Goines (Brad Pitt), the mad son of an eminent virologist (Christopher Plummer).
The plot's a bit of a jumble, but excellent performances and mind-blowing plot twists make 12 Monkeys a kooky, effective experience.
Launches April 1
Watch on Netflix
Doom
A coalition of Earth's scientific and military interests have established a research colony called Olduvai on the planet Mars, but one day all communication from the outpost stops and no one can tell what has happened — though the final messages suggest it's not good. Believing foul play may have overtaken Olduvai's crew, the Rapid Response Tactical Squad, a team of specially trained military personnel, are deployed to investigate the situation and, if necessary, eliminate the invaders. But Sarge (Dwayne Johnson, aka The Rock) and Reaper (Karl Urban), leaders of the RRTS team, soon discover the situation is far more grim than they could have imagined.
The FPS sections are sure to please fans of the video game, but lacking in plot and originality to please other moviegoers.
Launches April 1
Watch on Netflix
Daddy's Home
An affable radio executive finds himself competing for the affections of his step-children following the unexpected reappearance of his wife's ex-husband in this Paramount Pictures comedy.
Will Ferrell and Mark Wahlberg have proven comedic chemistry, but Daddy's Home suffers from a dearth of genuinely funny ideas – and lacks enough guts or imagination to explore the satirical possibilities of its premise.
Launches April 1
Watch on Netflix
Memoirs of a Geisha
In the years before World War II, a Japanese child is torn from her penniless family to work as a maid in a geisha house. Despite a treacherous rival who nearly breaks her spirit, the girl blossoms into the legendary geisha Sayuri. Beautiful and accomplished, Sayuri captivates the most powerful men of her day, but is haunted by her secret love for the one man who is out of her reach.
Though Memoirs of a Geisha found popularity amongst audiences, critics were not convinced. Less nuanced than its source material, Memoirs of a Geisha may be a lavish production, but it still carries the simplistic air of a soap opera.
Launches April 1
Watch on Netflix
Carrie
A reimagining of the classic horror tale about Carrie White (Chloë Grace Moretz), a shy girl outcast by her peers and sheltered by her deeply religious mother (Julianne Moore), who unleashes telekinetic terror on her small town after being pushed too far at her senior prom. Based on the best-selling novel by Stephen King, Carrie is directed by Kimberly Peirce with a screenplay by Roberto Aguirre-Sacasa.
It boasts a talented cast, but Kimberly Peirce's "reimagining" of Brian De Palma's horror classic finds little new in the Stephen King novel — and feels woefully unnecessary.
Launches April 1
Watch on Netflix
The Danish Girl
The remarkable love story inspired by the lives of artists Lili Elbe and Gerda Wegener. Lili and Gerda's marriage and work evolve as they navigate Lili's groundbreaking journey as a transgender pioneer.
The Danish Girl serves as another showcase for Eddie Redmayne's talent — and poignantly explores thought-provoking themes with a beautifully filmed biopic drama.
Launches April 30
Hail, Caesar!
Four-time Oscar (R)-winning filmmakers Joel and Ethan Coen (No Country for Old Men, True Grit, Fargo) write and direct Hail, Caesar!, an all-star comedy set during the latter years of Hollywood's Golden Age. Starring Josh Brolin, George Clooney, Alden Ehrenreich, Ralph Fiennes, Jonah Hill, Scarlett Johansson, Frances McDormand, Tilda Swinton and Channing Tatum, Hail, Caesar! follows a single day in the life of a studio fixer who is presented with plenty of problems to fix.
Packed with period detail and perfectly cast, Hail, Caesar! finds the Coen brothers delivering an agreeably lightweight love letter to post-war Hollywood.
Launches April 30
Content and release dates are subject to change without notice
Last Updated: April 3, 2018