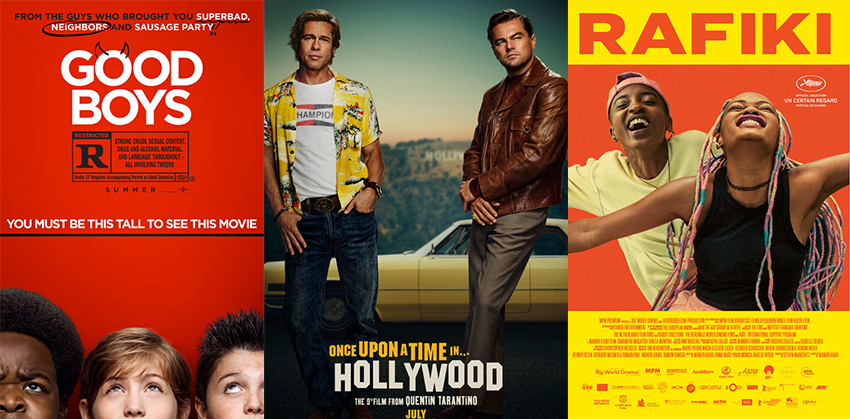 Quite a few critically acclaimed films are opening in cinemas this week, from Quentin Tarantino's latest self-love fest film to a raucously funny, R-rated coming-of-age tale. Here's everything hitting local screens this weekend.
---
Once Upon a Time in Hollywood
Age Restriction: 18 D L V
Quentin Tarantino's ninth feature film is a story that takes place in Los Angeles in 1969, at the height of hippy Hollywood. The two lead characters are Rick Dalton (Leonardo DiCaprio), former star of a western TV series, and his longtime stunt double Cliff Booth (Brad Pitt). Both are struggling to make it in a Hollywood they don't recognize anymore. But Rick has a very famous next-door neighbor…Sharon Tate.
What Critical Hit has to say:
Quentin Tarantino's Once Upon a Time in Hollywood is a bold, ambitious, meticulously crafted, and magnificently acted fairy tale vision of a Tinsel Town that was and could have been. It's also undoubtedly the least mainstream film the acclaimed filmmaker has made in a while, and is overlong and potentially frustrating due to its narrative choices. A flawed bit of excellence. 7.5/10
Rotten Tomatoes: 85% (Certified Fresh)
Metacritic: 83 (Metacritic Must See)
---
Good Boys
Age Restriction: 16 D L S V
After being invited to his first kissing party, 12-year-old Max (Jacob Tremblay) is panicking because he doesn't know how to kiss. Eager for some pointers, Max and his best friends Thor (Brady Noon) and Lucas (Keith L. Williams) decide to use Max's dad's drone – which Max is forbidden to touch – to spy (they think) on a teenage couple making out next door. But when things go ridiculously wrong, the drone is destroyed. Desperate to replace it before Max's dad (Will Forte) gets home, the boys skip school and set off on an odyssey of epically bad decisions involving some accidentally stolen drugs, frat-house paintball, and running from both the cops and terrifying teenage girls (Molly Gordon and Midori Francis)
What Critical Hit has to say:
Good Boys may star kids but it's most definitely not for kids. But balancing out the R-rated gut-busting scatological laughs with surprising heapings of heart and soul, debuting filmmaker Gene Stupnitsky spins up a hugely entertaining coming-of-age tale. 8/10
Rotten Tomatoes: 79% (Certified Fresh)
Metacritic: 60 (Mixed or Average Reviews)
---
Rafiki
Age Restriction: 16 L P S V
"Good Kenyan girls become good Kenyan wives," but Kena and Ziki long for something more. Despite the political rivalry between their families, the girls resist and remain close friends, supporting each other to pursue their dreams in a conservative society. When love blossoms between them, the two girls will be forced to choose between happiness and safety
Rotten Tomatoes: 94% (Certified Fresh)
Metacritic: 68 (Generally Favourable Reviews)
---
Uncovered
Age Restriction: 16 L V S
Aluta's life is going well. She works for mining magnate Frank Drake who, since Aluta's parents were killed when she was a child, has become a surrogate father to her. The premier, Nomusa Zwide, is running to be the first female president of South Africa. The only fly in her ointment is her sister Pumla—a tenacious journalist with a history of mental illness. Pumla smells a rat when Frank Drake announces his plans to sell his mine to the local Somkhele community. Aluta refuses to take Pumla seriously, until Pumla is murdered. When police rule the murder a suicide, Aluta suspects foul play. Desperate to find the murderer, Aluta picks up the investigation where Pumla left off. As she puts the pieces together, it turns out Frank's mine has been overmined and he's selling a useless piece of land to the Somkhele people. Aluta's digging also draws Frank's attention. He takes out a hit on her, forcing her into hiding. She'll have to reconnect with her ex-boyfriend, a hacker who's stolen millions from Frank's company, to help her if she's to stay alive long enough to reveal the truth to the world. Will this trusting young woman be able to become the hardened survivor who can make impossible choices in order to save not just herself, but her country?
---
Overcomer
Age Restriction: 7-9 PG
Life changes overnight for coach John Harrison when his high school basketball team and state championship dreams are crushed under the weight of unexpected news. When the largest manufacturing plant shuts down and hundreds of families leave their town, John questions how he and his family will face an uncertain future. After reluctantly agreeing to coach cross-country, John and his wife, Amy, meet an aspiring athlete who's pushing her limits on a journey toward discovery. Inspired by the words and prayers of a new-found friend, John becomes the least likely coach helping the least likely runner attempt the impossible in the biggest race of the year.
Rotten Tomatoes: 40% (Rotten)
Metacritic: 17 (Overwhelming Dislike)
---
Last Updated: August 30, 2019