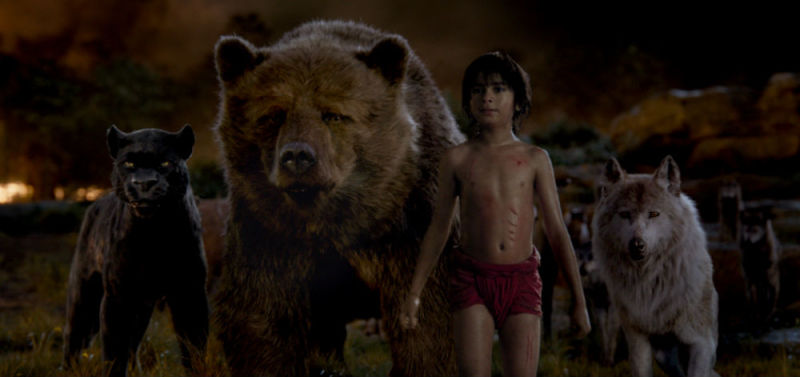 This week you have a choice between jungle and forest, and I'd really recommend the jungle route!
Rudyard Kipling's beloved story returns to the screen in this Walt Disney Pictures production from director Jon Favreau.
Possibly the most beautiful movie you'll ever see, this "live action" version of The Jungle Book is one of those rare remakes that actually improves on the original. The visuals are just ridiculously sublime, the voice acting is on perfectly on point, the characters better realised than you've ever seen them before. The story is a bit more toned down, but at the same time the scale is grander and the dramatic stakes are so much higher. This is movie magic at its finest and everyone will love it. Kervyn certainly did, with a damn near perfect 4.5/5 stars.
Book now for 2D at Nu Metro or Ster Kinekor
Book now for 3D at Nu Metro or Ster Kinekor
Book now for IMAX, exclusive to Ster Kinekor
Book now for 4DX, exclusive to Nu Metro
Against the backdrop of Japan's Aokigahara forest, where people go to end their lives, an American woman braves the mysterious, uncharted terrain to search for her missing sister.
Despite starting out strongly creepy, The Forest spirals downwards into increasingly generic scare tactics that, at the end of the day, aren't even that frightening. Natalie Dormer is about the only good thing in The Forest, she's more than capable of carrying the movie, but unfortunately she's not enough to escape a 9% rating on Rotten Tomatoes.
Book now at Nu Metro or Ster Kinekor
Based on the bestselling memoir by Stephen Elliott, The Adderall Diaries is the gripping and complex story of how an author's fascination with a high-profile murder case leads him to come to terms with his troubled past while embarking on a potentially life-changing romance in the present.
Much like the main character himself, The Adderall Diaries is disjointed and confused, bordering on the painful. The movie lacks the grit and bravado of the source material, and is instead just a movie about James Franco playing a version of James Franco, as almost all of his movies are. Only the semi-interesting and committed performances of the supporting cast manage to scrape together 23% on Rotten Tomatoes.
Book now at Nu Metro or Ster Kinekor
Ruby Adams is a dancer, from the Midwest, on a scholarship, living her first day in New York City. Johnnie Blackwell is a British musician, playing for money in the subway tunnels. Her world is classical and disciplined; his is improvisational and street-smart. When a hip-hop battle gone wrong throws these two artists together, they immediately clash but can't deny it when sparks begin to fly. Their lives quickly get entangled in the pitfalls that come with competing in New York City.
Reading that blurb and watching that trailer legitimately made me cringe, so imagine my surprise when I checked out High Strung on Rotten Tomatoes, only to discover that it's sitting on 71%. Yes, granted there are only seven reviews – five of which are positive, but for a movie that sounds so derivative that's not bad going. The plot is flimsy and all together unsubtle, but it's a fun movie with great choreography and a 91% Audience Approval rating. Just don't expect anything deep and meaningful and I'm sure you'll enjoy it.
Book now at Nu Metro or Ster Kinekor
The memories and skills of a CIA agent are implanted into the brain of a dangerous criminal in order to stop an international terrorist.
I'm not entirely sure what to think about Criminal. On the one hand, look at that cast! Kevin Costner, Gary Oldman, Tommy Lee Jones, Ryan Reynolds and Gal Gadot? That's some serious talent. On the other hand, read that blurb again. That sounds seriously silly. And unfortunately, Criminal is as silly as they come, wasting that majorly talented cast on a pulpy, scattered and ultimately average thriller. It could have been great, instead it's just 22% on Rotten Tomatoes.
Book now at Nu Metro or Ster Kinekor
This article originally appeared on TheMovies.co.za
Last Updated: April 15, 2016