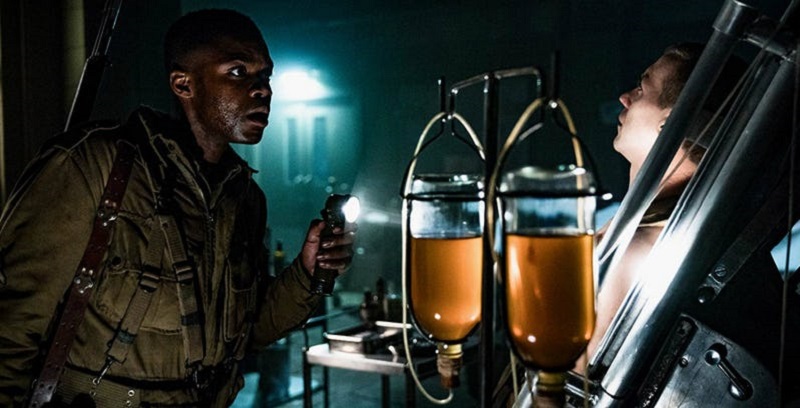 Did you ever wonder how the Zombie apocalypse will come to be? Well, like with most things in life, it seems we may be able to blame Nazi's. At least that's what I can deduce so far from the rather cryptic plot of the J.J. Abram's produced World War 2 thriller Overlord.
Long-rumoured to be the fourth movie in the Cloverfield connected universe, it appears that Overlord is more of a standalone thriller that follows a group of U.S. paratroopers on the eve of D-Day in Normandy, France during World War 2 who stumble onto a town where the Nazi's have been conducting strange experiments which seems to be given birth to monsters or zombies of some sort. Written by Billy Ray (Captain Phillips) and Mark L Smith (The Revenant) and directed by Julius Avery (Son of the Gun) looks like a really well-executed horror movie that has so far been receiving rave reviews in the few film festivals it has been shown to. And based on this new trailer for the movie which showcases the grim and horrific experiments the soldiers' encounter, it's easy to see why:
What I really love about all the trailers from this movie released so far is how little we really know what's going on. It looks as cryptic as it is scary and promises to be so much more when it does eventually release. Hopefully, that is the case and given the pedigree of movies produced by Abram's, you can most certainly expect it to have some thought provoking moments too. And possibly a slight tease to Cloverfield, though I doubt it given that all movies around the Cloverfield topic have added the worlds Cloverfield to the name. Cloverfield films also have a habit of dropping on us with very weird marketing campaigns and few trailers which also doesn't quite fit in with the approach taken in this movie.
Overlord stars Jovan Adepo, Mathilde Olivier and Ian De Caestecker and is expected to release this November. And what can be better than watching a bunch of soldiers kill off both monsters and Nazis in the same movie.
Last Updated: October 8, 2018