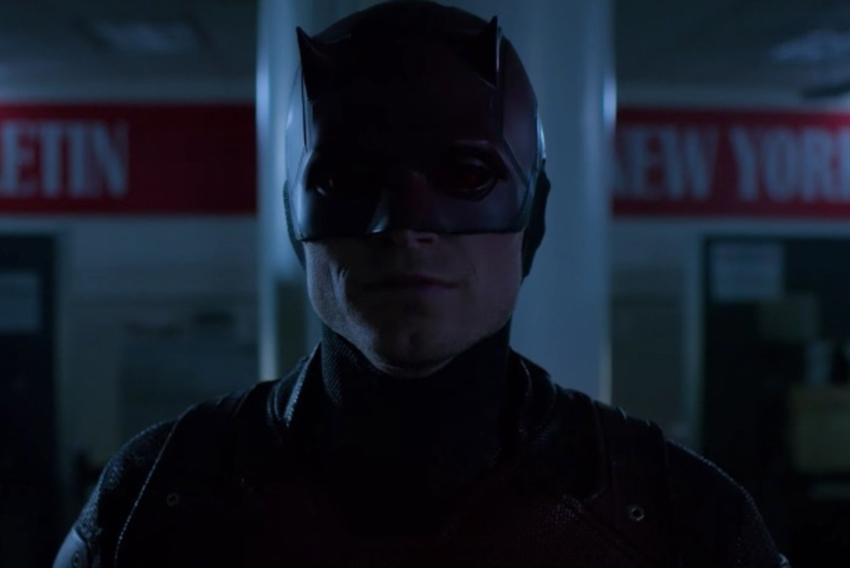 For months now, fans had been speculating that new Daredevil season 3 cast addition Wilson Bethel would be playing the Man With No Fear's archnemesis Bullseye. The official word was that Bethel's character was an FBI agent, but he reportedly was going by the name Benjamin Poindexter, one of Bullseye's aliases from the comics. Both the Marvel TV series' producers and titular star Charlie Cox were keeping mum on exactly what was happening with Bethel's role, but a recent slip up from a Hollywood personal trainer all but confirmed it. Then on Friday, in the buildup to New York Comic Con, we got the first full-length trailer for the upcoming show that showed us Bethel in action for the first time… as Daredevil? Wait what?
Damn, it looks like Cox's Matt Murdock is in for a rough time. And he'll clearly also be the one doing the roughing up. A fact that Vincent D'Onofrio's Wilson Fisk, now out of jail, takes advantage of by sending out a fake Daredevil to twist public opinion. And that's what brings us to Bethel. Of course, any comic book fan worth their salt would have seen all those trick shots done by this faux Daredevil and immediately only thought of Bullseye. The confrontation in a church is also a big clue, as that was the scene of their most iconic confrontation in the comics (I won't spoil that one, for you non-comic readers).
Luckily, fans didn't need to subject themselves to more "Is he or isn't he?" nonsense though, as at NYCC itself, just a day later during the Daredevil panel, Bethel officially confirmed his role.
They get along so well out of costume. #Daredevil #Bullseye #NYCC #ItsAFanThing pic.twitter.com/vawWqSZMtf

— SYFY @ NYCC (@SYFY) October 6, 2018
While initially Cox and Bethel were joking about how "Marvel did not approve this message", the end of the panel was punctuated by the surprise of another trailer being released. This one though was all about Bethel and showed us that the initial reports of him being an FBI agent had actually been right as well.
I like that they're not just introducing Bullseye as some kind of mewling psychopath (oh hey, Colin Farrell from the failed 2003 Daredevil movie, I didn't see you standing there) but actually building him up as a real character with depth. The masterful first season of the show did the same thing with Wilson Fisk aka The Kingpin, and it quickly made him one of Marvel's best villains. Let's hope the trend continues here.
Daredevil season 3 will debut on Netflix on 19 October.
Last Updated: October 7, 2018