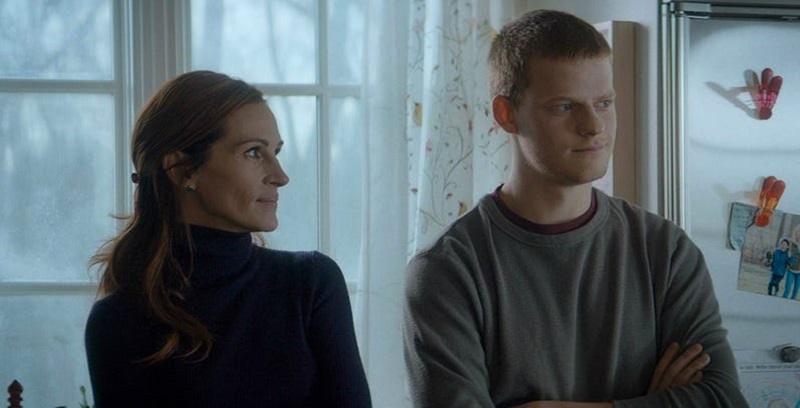 Julia Roberts might be the big star in the upcoming movie Ben is Back by novelist turned filmmaker Peter Hedges, but I think it's safe to say that the real star to look out is Hedges' real-life son Lucas Hedges. Hedges has made quite a name for himself after starring in award-winning movies like Manchester by the Sea, Ladybird and Three Billboards Outside Ebbing, Missouri. It seems that almost every film the guy touches is acting gold and based on the very brief glimpse we get to see in this movie, Ben is Back is going to be no different.
If you're familiar with Peter Hedges' work like his novel What's Eating Gilbert Grape or film Pieces of April, then you know that he has a thing for dramas involving dysfunctional families. Familiar territory which he is exploring once again in what looks like it will be a moving drama.
Ben is Back sees Roberts star as Holly Burns, a woman whose son Ben (Lucas Hedges) returns home without warning one Christmas Eve, seemingly well-adjusted and problem-free. Unfortunately, Holly soon learns that Ben's previous issues are far from behind him and, thus, struggles to keep her family from falling completely apart over the 24 hours that follow. The film also stars Courtney B Vance as Holly's husband and Kathryn Newton as sister Ivy.
Ben is Back is unlikely going to be a movie that will appeal to wide audience and will probably make you feel as moody as the weather in the trailer. Still, there are always people that love this sort of thing. The film is released in December in the U.S. and likely to hit SA early next year, though I suspect most of us will be spending our cash on the many blockbusters coming our way then.
Last Updated: August 27, 2018