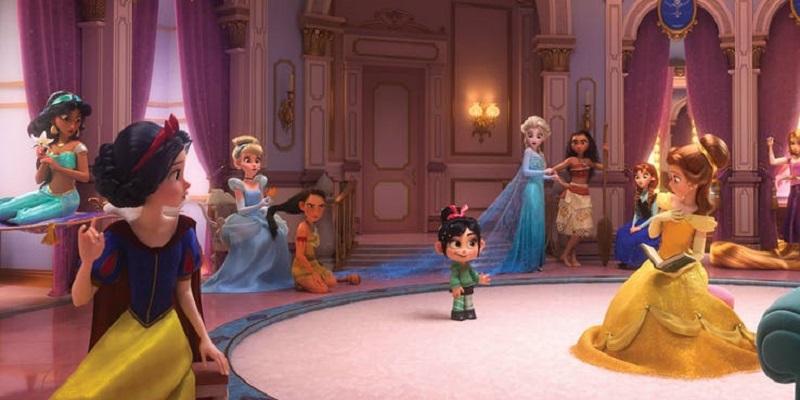 The internet has revolutionised the world and the way we live in it, so just imagine what it has done for the fictional digital characters that live in it. In this upcoming sequel to the popular Wreck-it Ralph, we see Ralph's world get a whole lot bigger as the video-game characters from Fix-It Felix and Sugar Rush have their arcade machines connected to the internet and introduced to a whole new world.
And much like this world, that world is dominated by Disney and its many characters as this sequel looks to up the cameo appearances to not just popular video game characters, but as many internet and Disney pop culture references as you can think of. And probably many that you can't. Does the world of video-game characters and digital mainstream media exist or is just an opportunity for Disney to market themselves?
While I do find the Disney influence perhaps a little too strong, I enjoyed this trailer. It's great that Disney is making fun of its characters and that even the awkward full name of the movie, Ralph Breaks the Internet: Wreck-it Ralph 2, gets mocked. I love it when writers are willing to poke fun at themselves and are aware of their silly ideas.
Much like the first movie which relied on large doses of video-game nostalgia to appeal to older audiences, this movie seems aimed at appealing to a wider range of people who will be able to relate to its depiction of the internet in a vast digital world with new characters to join Ralph (John C. Reilly) and Vanellope von Schweetz (Sarah Silverman) which include Yesss (Taraji P. Henson) – the head algorithm for a popular site called BuzzTube – and a search engine appropriately named KnowsMore (Alan Tudyk).
The film though also seems to be keeping that same appeal from the first film which was a lot more than simple pop-culture nostalgia, but also featured strong characters and a decent story in its own right. While we can't comment too much on the latter here, it seems the bigger world of Wreck-it Ralph 2 is certainly appealing.
Last Updated: June 5, 2018