Warning: Potential spoilers for Avengers 4 ahead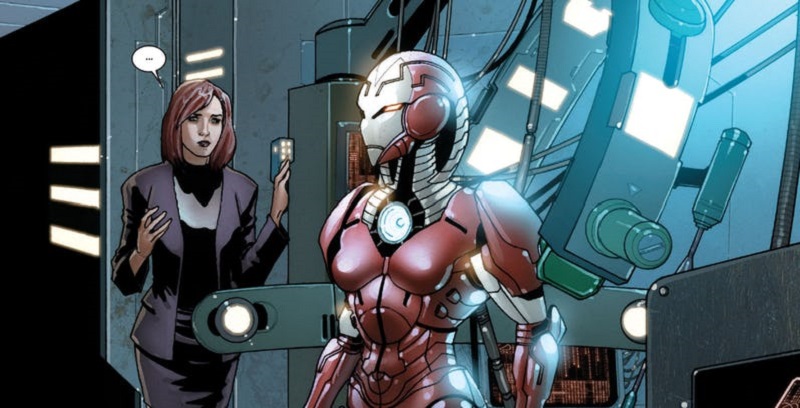 Avengers: Infinity War left the Marvel Cinematic Universe hanging by a thread. The movie tragically wiped out half of its super-hero contingent and left everyone wondering how it can all possibly be saved from here. It also sparked discussion around what was left of the rest of the world and the characters whose fate we didn't see, come the end of the movie. Like Gwyneth Paltrow's Pepper Potts, CEO of Stark Industries and fiancée to Iron Man's Tony Stark. Does she survive and what impact will have on their relationship. Actually, no one should've been worrying about that, but just in case you were, well then I have good news for you. There is a chance she survived the snap and possibly could be saving the day too.
Well, that is if this picture that has been shared on Instagram by kpow_ok is authentic, which it looks –  unless someone is a true master of Photoshop in not only getting her face spot on, but faithfully recreating the suit from the comics. The image (shared below) shows Paltrow wearing Pott's Rescue armour, which is her own version of the Iron Man suit which has been developed by Stark for her just in case she ever needs to come to his or the world's rescue.
BRUTALES FILTRACIONES de 'AVENGERS 4' recién dimos el rumor de Pepper con el traje violeta. Bueno aquí tenemos de las figuras de acción Hero Visión de la peli!

Se CONFIRMARIAN:
?los trajes blancos para THOR, ROCKET Y CAP
?Rescue violeta
?C.Marvel sin traje ? pic.twitter.com/UgiCmEMLuy

— Sebi (@SebiMarvel) October 18, 2018
While it's difficult to draw any definite conclusions from the picture, some toy designs showing a new purple Iron Man armour suit for a female character seems to make it official that Potts could indeed be suiting up in the fourth Avengers film. How or what she will do or how she could influence the story will obviously need to be seen, but the why is probably pretty obvious with most of the world wiped out and Potts more than ever needed to help come to the rescue.
It would also not be the first time that Potts dons a suit in the movies as she previously gained control of the Mark 42 armour in Iron Man 3. Since then her presence in the MCU films has reduced considerably and she has taken more of a back seat in the on-screen action. However, it's likely that during this time, Stark could've easily been developing a suit for her, for moments such as these.
If the rumour is true, it will also mean that the fourth Avengers film will have a strong focus on female heroes with Brie Larson's Captain Marvel set to play an important part in the movie as well. I think it's about time Potts steps up to be a hero who's in on the action and not just behind it.
The fourth Avengers film is due for release on May 3rd, 2019. A wait which feels agonisingly long, considering how we all want to see how the situations is rescued from here.
Last Updated: October 24, 2018