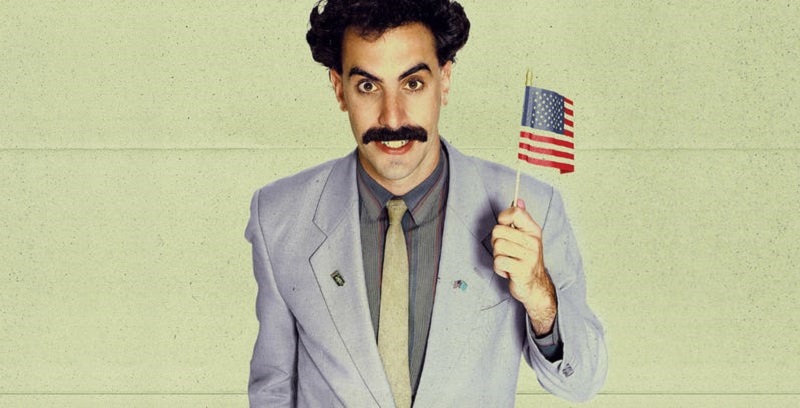 If you were wondering why the world seemed more peaceful yesterday, it's because those people up in the US of A were celebrating the day of their independence, when they overcame an alien invasion and taught the world how to fight back against colonisation. If you're think I'm referencing a movie and not history, just swap the word alien with British and see how similar truth and fiction really are.
It's an important day for the country which values their freedom above all else. A freedom though that has come under some scrutiny in the past year with US President Donald Trump seemingly creating enemies pretty much wherever he goes. Or sometimes just whoever he comes into contact with as celebrities are just as much of a target for the American president as immigrants are.
One such celebrity Trump has had altercations with even before he became president, is Sacha Baron Cohen. Mostly known for his characters Ali G and Borat, in 2003 Cohen had a memorable run-in with Trump during an episode of his satiric series Da Ali G Show. Under the guise of Ali G, the self-proclaimed "voice of da yoof," Cohen would interview unsuspecting celebrities and often catch them saying embarrassing things. In his talk with Trump, Cohen tried to sell the future president on a ridiculous product called "ice cream gloves," that would protect wearers' hands from melting ice cream. Trump quickly realized he was being taken for a ride and ended the interview after just a short time.
Now it appears Cohen is at it again as he has posted a mysterious tweet featuring some footage from Trump himself, the origin of which is not clear, claiming that Cohen is not funny and needs to go back to school. The footage closes out saying that Sacha graduates soon and it shows an image of Trump University, Trump's pre-presidency for-profit education initiative which was charged with defrauding students and was forced to shut-down following $25 million worth of lawsuits:
A message from your President @realDonaldTrump on Independence Day pic.twitter.com/O2PwZqO0cs

— Sacha Baron Cohen (@SachaBaronCohen) July 4, 2018
What exactly all this means we can't quite say. I think it is probably a safe assumption though that something is coming from the comedian soon that will probably unveil either a new character or one of the existing Cohen characters that will likely be mocking Trump University and the president himself.
Now personally, I'm not much of a fan of Cohen. I find his characters mildly annoying and more insulting than genuinely funny, but I would definitely be interested to see what he can come up with that could make a mockery of Trump. Not that Trump needs any help in that department as he is his own worst enemy in making a fool of himself and becoming an easy target for comedians. I can't believe I'm saying this, but this could actually be one idea from Cohen that I might actually look forward to watching.
Last Updated: July 5, 2018