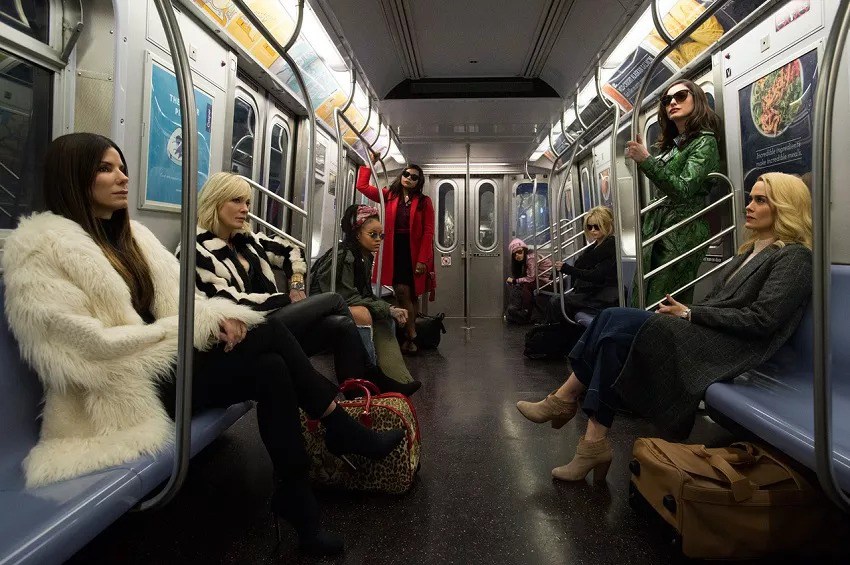 Hollywood's whole "all-female version of an existing property" fad might have taken a swift kick to the male genitals with the failure of Paul Feig's Ghostbusters reboot, but that doesn't mean that a couple of the ideas that got pitched during that phase weren't good ones. Easily the most appealing of the lot was Ocean's 8, a new addition to Steven Soderbergh's Ocean's franchise of popular heist films.
This time around the heisting is led by Sandra Bullock's Debbie Ocean, the just as criminal sister of George Clooney's Danny Ocean from the original trilogy of films. Just like her estranged brother, Debbie puts together a diverse team of individuals with very particular criminal skills to pull off her job, which as the first trailer shows us, is a $150 million jewellery heist at the New York Met Gala.
As is tradition for the Ocean's films, Ocean's 8 boasts a hell of a star-studded cast, arguably even better than the original films as Debbie rounds out her team with Cate Blancett's Lou, Helena Bonham Carter's Rose, Anne Hathaway's Daphne Kluger, Rihanna's Nine Ball, Sarah Paulson's Tammy, Mindy Kaling's Amita, and Nora Lum aka Akwafina's Constance
Soderbergh is only on producing duties this time around as he tapped personal friend Gary Ross (The Hunger Games, Seabiscuit) to direct and co-write this latest Ocean's chapter. Ross has never quite had the stylish flair that Soderbergh does to his directing and it kind of shows in this trailer. This definitely does not look bad at all, and the cast alone – with the always-dependable Damian Lewis playing the film's main villain – is a massive point of appeal, but this doesn't look as… cool as the jazzy previous films. Of course this is just a trailer though, and as we've recently learned, trailers may not be the best indication of a film's quality.
We'll be able to judge the final product for ourselves when Ocean's 8 release on 8 June 2018.
Last Updated: December 19, 2017