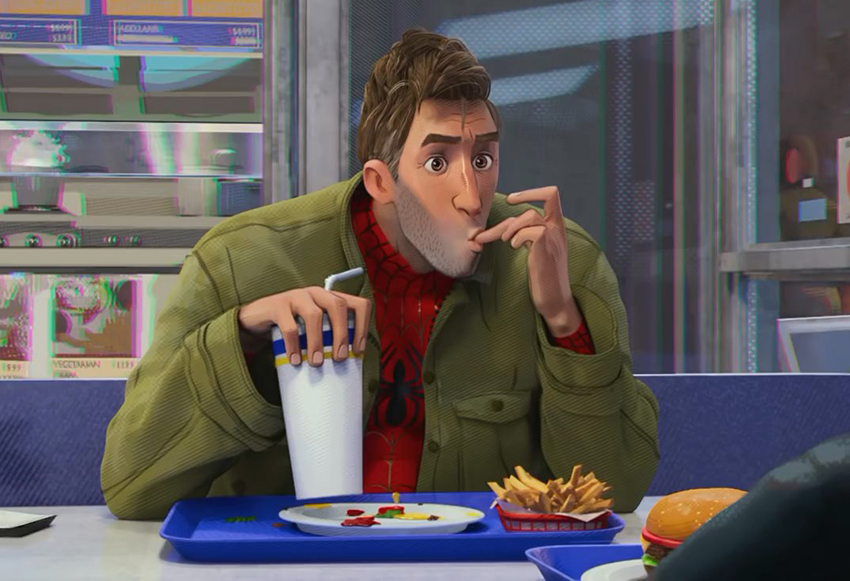 Spider-Man: Into the Spider-Verse is going to be unlike anything we've seen on screen before, and not just because of the unique and incredible-looking comics-inspired art style employed in the upcoming animated film. This will mark the feature film debut of Miles Morale, the very popular Spider-Man of the Ultimate Universe – an alternate dimension in the Marvel continuity – who took on the mantle after original Webhead Peter Parker was killed while battling Green Goblin. It will also give us a different Peter Parker to what you may have been expecting, as was revealed during the film's panel at San Diego Comic-Con last night.
As we saw in the film's most recent trailer, Parker is very much alive and swinging here (more on that later). And he's old. Not elderly, mind you, but definitely not as spry as traditionally depicted, as was explained by New Girl star Jake Johnson who voices the character.
This is Peter Parker at 40. This is Peter with a bad back who doesn't know if he wants to be Spider-Man anymore, and then he meets Miles who needs a mentor and Peter doesn't really want to be a mentor but he sees something really special in this guy.
Finally! A Spider-Man I can identify with! Well, not so much the "mentoring a young hero part" as the "Ow my body aches for some unknown reason, but I'll make myself feel better by slovenly eating burgers" part. Miles Morale voice actor Shameik Moore continued explaining that (SPOILER ALERT) in Mile's universe his Peter Parker did die, but he's contacted by this new Peter Parker hailing from a different universe and immediately latches onto him as "Miles just needs a teacher."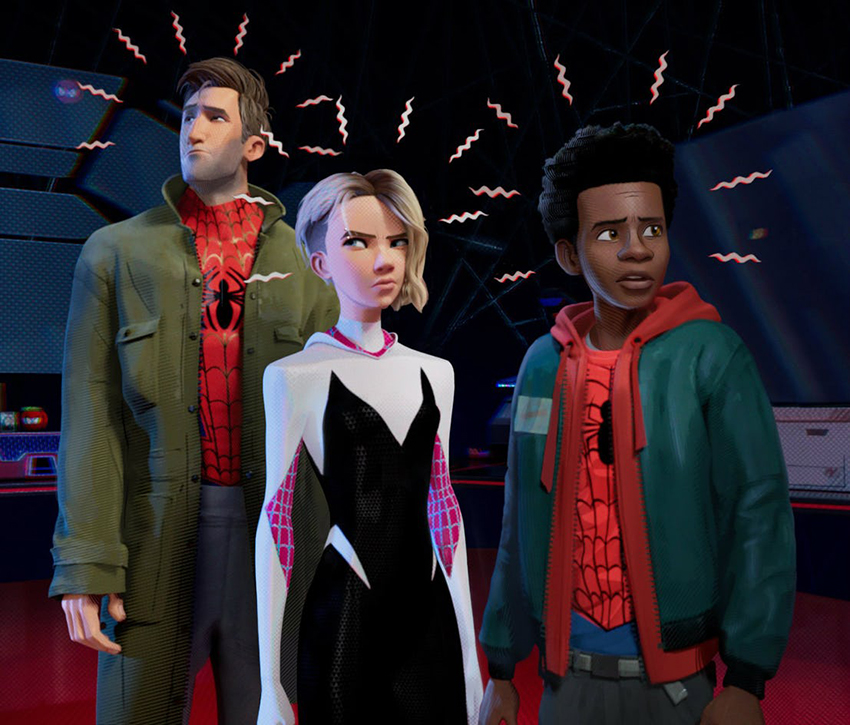 Miles and middle-aged Parker won't be the only Spider-people on hand in this movie though. The panel included a new official pic which showed Parker with Morales alongside fellow big screen debut Spider-Gwen (voiced by Hailee Steinfeld). Sony also debuted exclusive footage of the film to those in attendance at SDCC, and while that footage has not been made available online, we can confirm that it showed off Spider-Man Noir (confirmed to be voiced by Nicolas Cage as was rumoured), 9-year old Peni Parker in her robotic Sp//dr suit (voiced by Kimiko Glenn), and even Spider-Ham aka Peter Porker (voiced by John Mulaney). As with Johnson's Parker, these other Spider-characters are all from different dimensions and their appearance in Miles' universe is a big part of the film's story.
The footage reportedly also gave the first look at the movie's villains in Wilson Fisk aka The Kingpin (voiced by Liev Schreiber) and The Lizard. Both have been confirmed to be using their Ultimate Universe character designs.
Spider-Man: Into the Spider-Verse is scheduled for release on 14 December.
Last Updated: July 21, 2018