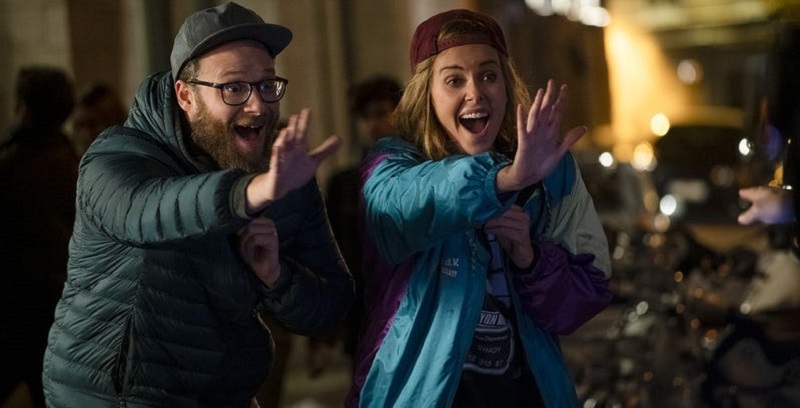 Some people just never seem to grow up. And in saying that I'm not referring to only Darryn, but also Seth Rogen. While the actor and filmmaker has certainly grown an impressive resume over the past few years in Hollywood, it appears his style of humour and the characters he tends to play all largely fall into the same category, with his humour remaining as juvenile as ever. A trend which only looks to continue in his next movie, alongside Charlize Theron, called Long Shots.
Long Shots sees Rogen star as Fred Flarsky, an unemployed journalist who (by chance) reunites with Charlotte Field (Theron), the woman who used to babysit him when he was just a kid. Charlotte has since become the U.S. Secretary of State and is giving serious thought to running for president when she hires Fred as her speechwriter, much to her advisors confusion.
The first trailer for the film looked fairly generic, but potentially fun. However, this time we see Lionsgate drop the censorship and give us a red-band trailer to give us a better idea of what we can really expect from the film:
To be honest, the red-band trailer doesn't do it for me either. Sure, the chemistry between Rogen and Theron looks great, but the racy humour only seems to detract from the whole experience for me and makes it feel like pretty much every other Seth Rogen movie. I do wonder if it could just be the trailer though as the writing team of Dan Sterling (King of the Hill) and Liz Hannah (The Post) suggests a reputation for strong socio-political commentary. Something which I hope this movie explores more of rather than just descending into mere comedy.
The biggest hurdle that Long Shot has to have to overcome though is its release date as the film is scheduled to come out on May 3, a full week after Avengers: Endgame. I wonder of people will be able to focus on pretty much anything else during this period.
Last Updated: March 14, 2019