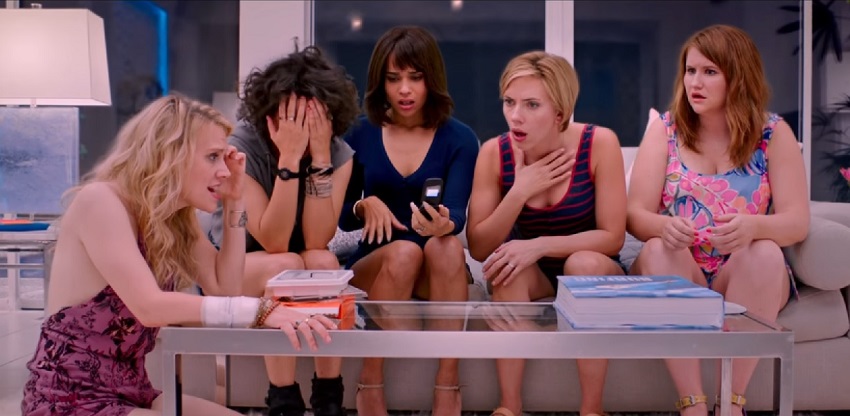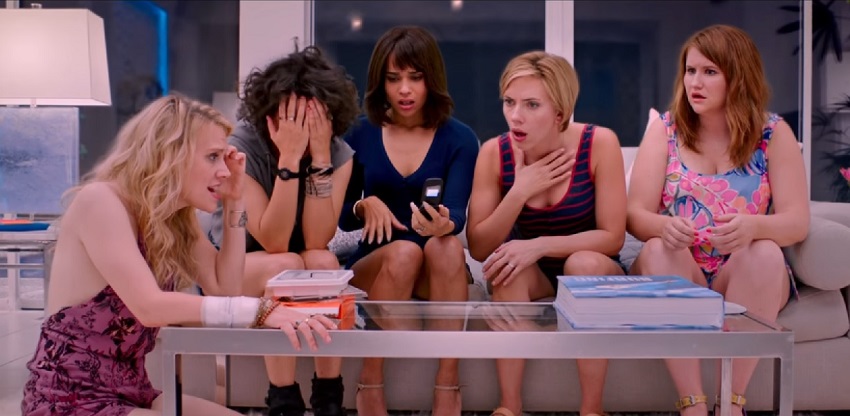 Rough Night is the upcoming comedy starring Scarlett Johansson, Kate McKinnon, Jillian Bell, Ilana Glazer, and Zoë Kravitz as five friends who get together to celebrate Johansson's upcoming wedding. They throw a relaxed bacholerette party where everyone sits quietly and chats about their feelings, bonding over their hopes and dreams for the future.
Hah, just kidding! They go and get s&%t-faced and end up killing a male stripper, like normal people. At least Nick told me that was normal, he also said I shouldn't tell anyone. The secret is safe with me!
The official plot synopsis is as follows:
Five best friends from college reunite 10 years later for a wild bachelorette weekend in Miami. Their hard partying takes a hilariously dark turn when they accidentally kill a male stripper. Amidst the craziness of trying to cover it up, they're ultimately brought closer together when it matters most.
Let's take a look:
This. I like this. It's got just the right blend of the three S's of humour, smart, slapstick and surreal, while avoiding the dreaded fourth S – stupid. While I'm not really too familiar with Kravitz's on-screen work, you've got three of the funniest women on the big and small screen right now in McKinnon, Bell and Glazer, and one of the best actresses currently working in Johansson – all of whom look to be bringing their A-game.
Sure the plot doesn't look original and it's difficult to avoid comparisons with The Hangover, but so what? It's a comedy, it looks funny, and that's just what I want to see – I'll definitely watch this.
What do you think?
Rough Night is due for release in the US on 16 June. Directed by Lucia Aniello, who co-wrote with Paul W. Downs, it also stars Demi Moore, Colton Haynes, Ty Burrell and Dean Winters.
Last Updated: March 9, 2017