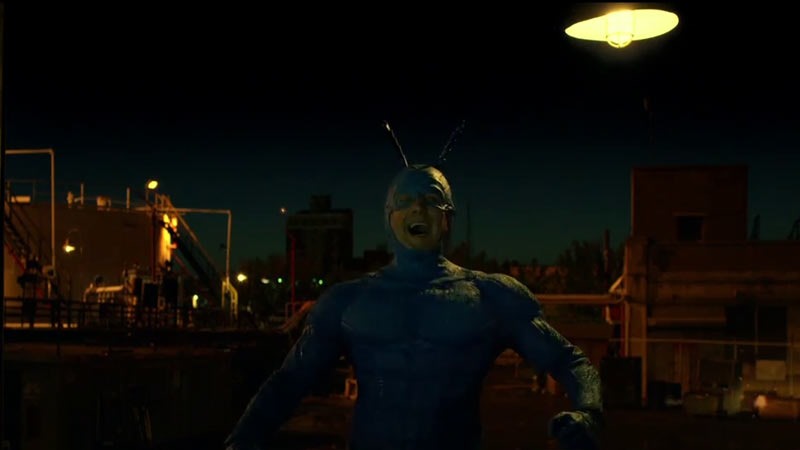 For the tens of people who remember him, Patrick Warburton was the only actor who could ever portray the Tick. Literally, for a time at least, as the short-lived live-action series starred the signature voice of the actor in a bright blue muscle suit with antennas and then quitely faded away into obscurity along with characters such as Bat-Manuel and Arthur.
But a revival is coming, with British actor Peter Serafinowicz as the loopy lunatic. That's the kind of hero that the Tick is when you think about him. A completely unhinged madman with super-strength and nigh invulnerability, whose obsession with justice is thankfully pointed at ne'er-do-wells and other supervillains.
Can Serafinowicz capture that majestic madness in the upcoming series? I kind of think he can, after looking at these two quick clips from Entertainment Weekly:
Sorry, that outdated Flash garbage is required.


The costume may still be kind of pants, but I'm genuinely digging the energy that Serafinowicz is bringing to the Tick. There's definitely a more madcap feeling present here, something that Tick creator Ben Edlund spoke about to EW:
It's a tremendous balancing act because it had to have stakes, it had to have blood, it had to have certain things that are part of the living language of superheroes in the popular culture today. It has a responsibility if it wants to play in that pool to have life and death, to have a relationship to violence that none of the other iterations did. And so how do you have The Tick slip in a pool of blood and have it be funny? You have to find a very specific tone.

His voice is The Tick's voice — it's what I hear in my head now. And to kind of have that take place when combating the very, very large shadow that is cast by Patrick Warburton and his way of characterizing this creature, that is a tremendous relief to feel like there is a new authoritative take on this character in live-action.
Also: SPOON! The latest version of The Tick debuts today on Amazon. I'm cautiosly optimistic to see what Serafinowicz and the rest of the cast bring to the table.
Last Updated: August 19, 2016