I've always dreamt of owning a lightsaber. Ever since I was a kid, the idea of owning a laser sword that was branded with the Star Wars mark has appealed to me. The dork side is a tempting mistress, and I have answered her call. For years, getting your hands on the Force FX brand of lightsabers locally has been a pipe dream. It got to the point where I'd duct tape the bottom half of a pool noodle, scribble on it and pretend that this was my elegant weapon, from a more civilised age.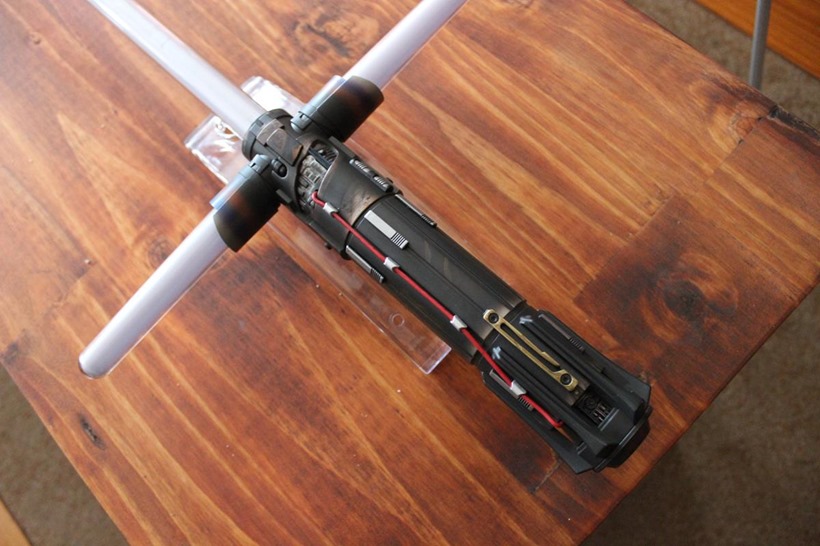 But times change, and so do bank accounts. With the Force awakening, the time has come for the Force FX line of lightsabers to be reborn once again. You've already seen Alessandro play with Anakin Skywalker's legendary lightsaber, a blue-bladed legend that hums with the power of the light side. And three AA batteries.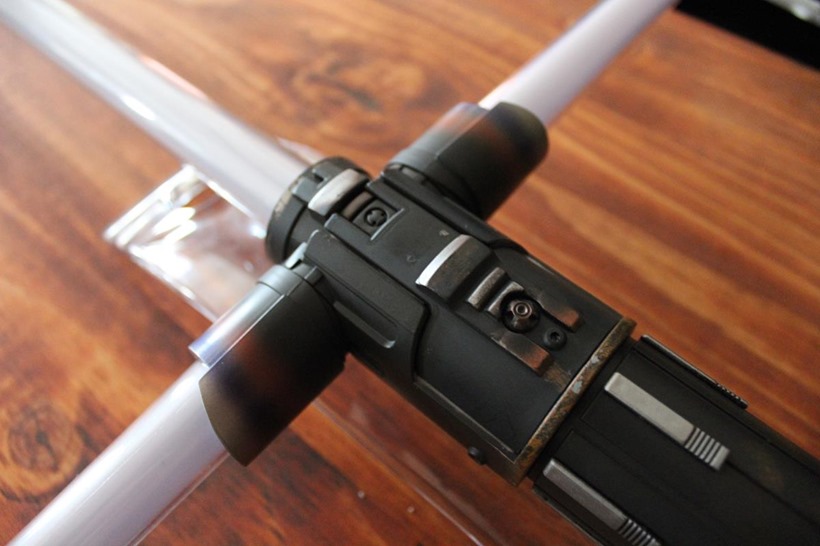 Now it's my turn. But I'm no goody-two shoes. I'm dark side, all the way. Which is why I went with the Kylo Ren lightsaber. And I wish I had bigger hands so that I could wield it properly.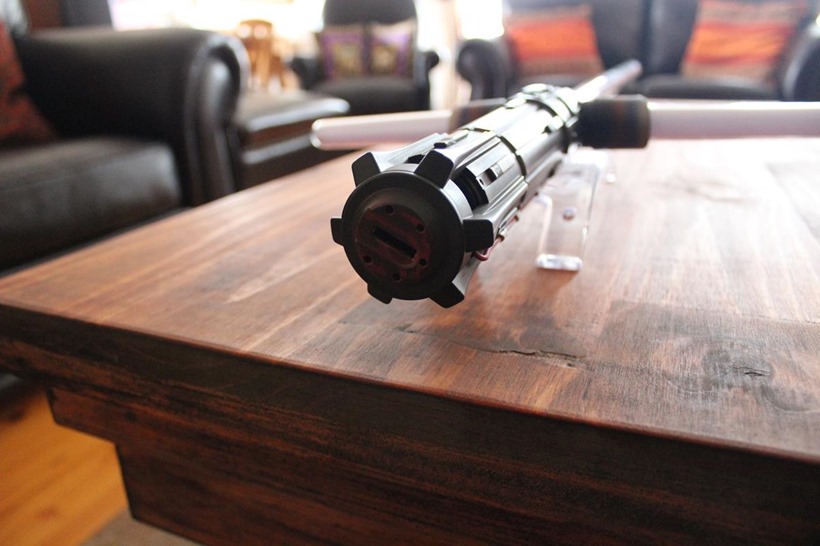 I'm not going to beat around the bush here: The Kylo Ren lightsaber is massive. It weighs around four kilos, and is so thick that I feel like I'm choking a robot neck every time I grasp it with my dainty appendages. It is a heavy, cumbersome behemoth of a lightsaber, and how anyone could use it in combat without stabbing themselves in the chest with one of the venting port blades is beyond me. And I love it because of that.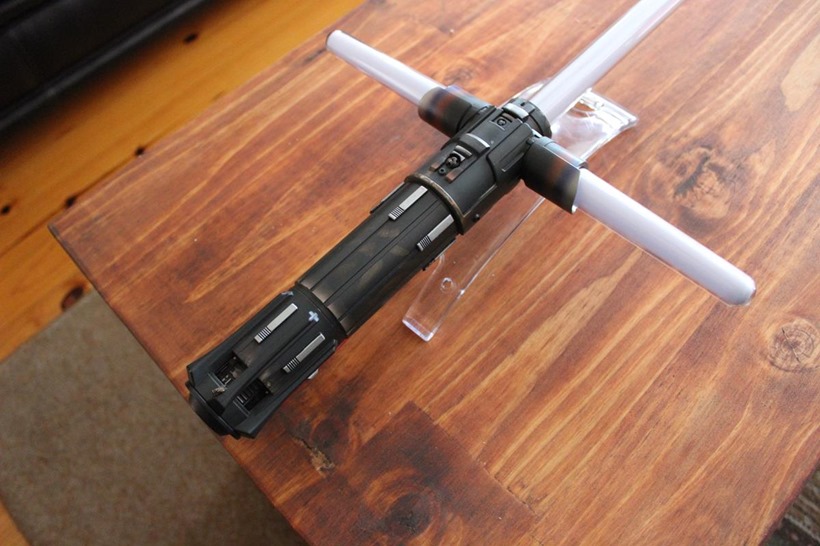 In the Force Awakens, Kylo Ren is a conflicted being, one caught between the pull of the light and the dark. His lightsaber, perfectly translates this inner conflict into a working weapon of unbelievable power. The metal has a tarnished finish, circuits are exposed and a wire runs down the side, having leaked out from its housing.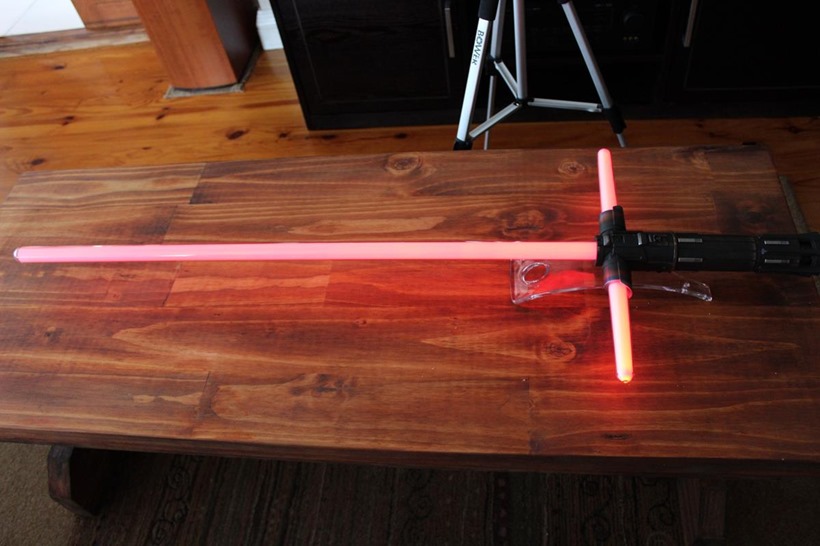 Photos don't do this lightsaber justice, as the finished product is completely metal without a hint of cheap plastic dotted around. It looks like it's made out of plastic in official photos, but it genuinely isn't. I could use this as a blunt force trauma weapon if I wanted to. At the rear, is a cap that can be unscrewed to access the battery compartment. The Ren lightsaber will gobble up three AA batteries to power it's trio of blades, but for how long, I can't say just yet.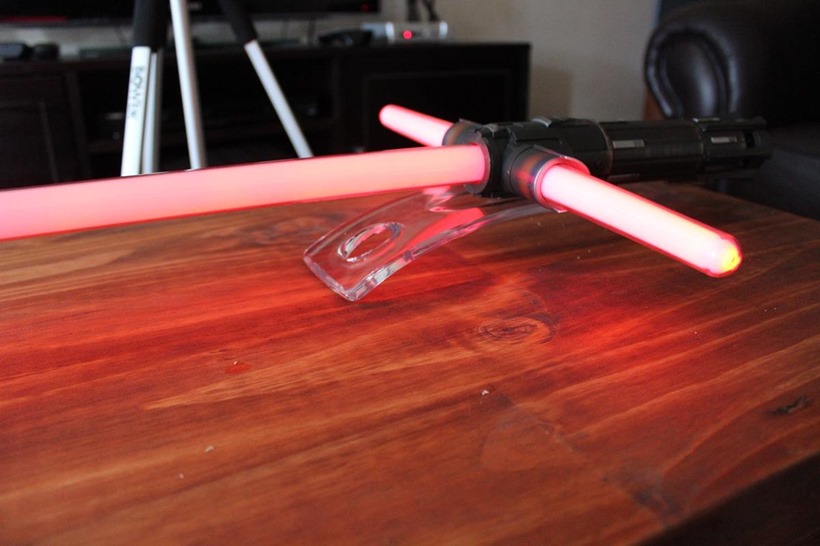 The actual blades have an odd reddish-orange tint to them when they're ignited. It's nowhere near as bright as the Skywalker or Yoda lightsabers, but that's fine. When ignited and in a properly dark environment, it seems as if all the light and energy of this lightsaber is focused completely inwards. There'll still be some glow that emanates from it, but the majority of it will be focused purely on the blades.
There's also a neat shimmering effect that plays here, as the blades occasionally stutter and spit energy, that sets this apart from other Black Series lightsabers. As for sounds, the Kylo Ren lightsaber is…ok. Look, it's a new era, and a brand new lightsaber design for the Force FX series. These are uncharted waters for the maker of your favourite laser swords.
The problem I have here, is that the Kylo Ren lightsaber could be louder. There's a fair amount of volume, but I want more. I want to really hear it hiss, spit and hum. Because the actual sounds are fantastic. They're straight out of the movie, and I love just how different Kylo Ren's weapon actually sounds. Unlike the constant buzzing hum of the Skywalker lightsaber, this one sounds like a cybernetic kitten that is purring.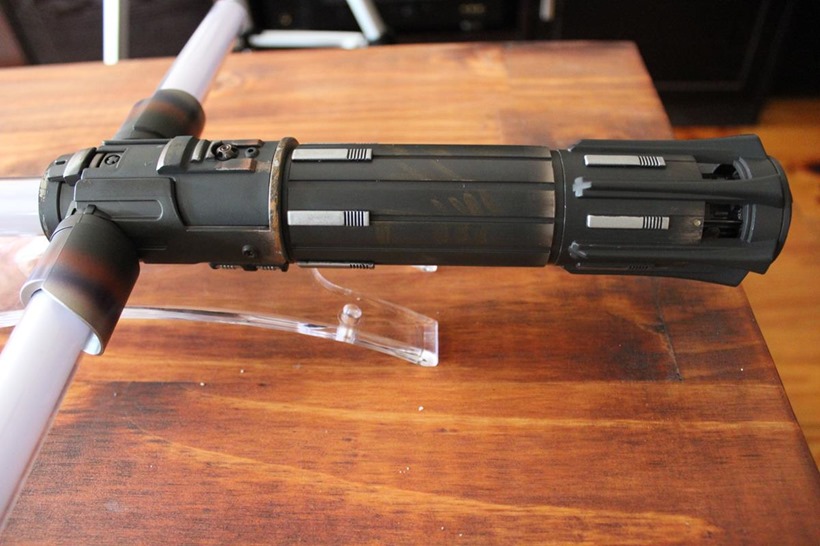 The slash and impact sensors produce something familiar yet otherworldy, dark and sinister. I adore that. I want it to be louder, for more people to enjoy as well. I like this lightsaber, I truly do. But I can see it being more of a museum piece than say, something I'd lug to an event when I'm dressed head to toe in black fabrics and capes. It's beautiful, but big. It sounds amazing, but it's soft.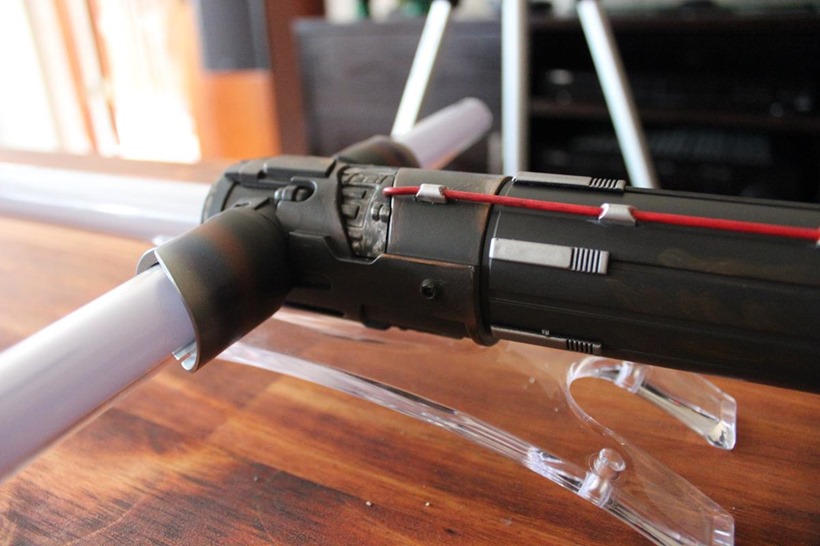 Maybe it's the duality of the character it belongs to, shining through. And I'm happy to have it propped on my desk, ready to be shown off to friends who visit. Just don't ask me to carry it around. That's what my gym membership is for.
Last Updated: January 22, 2016