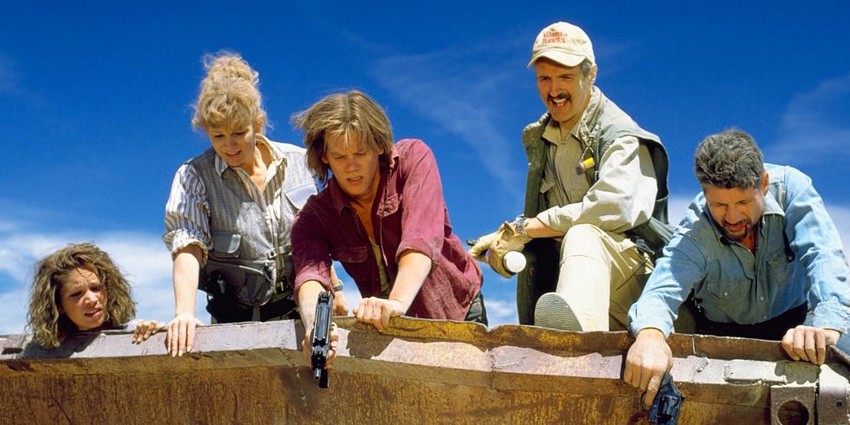 They say there's nothing new under the sun. But under the ground… That was the kind of painful tagline emblazoned on the poster for cult classic 1990 low-budget creature feature Tremors. Well, it would seem that there is indeed nothing new under the sun, as SyFy will be following the latest trend of reviving old movies as TV series as the US studio has put in a pilot order for a brand new Tremors TV series.
But wait! Before you write this one off, it has now been confirmed that besides for just producing, original star Kevin Bacon will in fact be reprising his role as Valentine McKee, the Southern-fried slacker forced to become a hero alongside Fred Ward's Earl Basset to save their small town of Perfection, Nevada after it gets attacked by giant subterranean worms called Graboids. Trust me, kids of today, it's actually better than it sounds.
What was indeed not better were the four direct-to-DVD sequels, which got progressively worse as time went on, as well as an aborted initial attempt at a TV series sequel back in 2003. This new series has now been confirmed to not be a reboot (as was suspected when news of a possible revival first surfaced a while back) but will instead also be a sequel, picking up years later after the events of the movies.
Just which movies is uncertain, as Bacon did not return for Tremors 2: Aftershocks, handing solo lead duties to Ward. Ward, in turn, wouldn't stick around for the subsequent sequels or TV series which all focused on Michael Gross' secondary character Burt Gummer, who then led the first TV series. Bacon didn't elaborate, but did reveal (via TheWrap) why he wanted to revisit the role of Valentine McKee, who after all this time has to "overcome age, alcohol and a delusional hero complex."
"This is the only character I've played that I've ever thought about revisiting. I just got to thinking, where would this guy end up after 25 years? [Showrunner] Andrew Miller has a fantastic take on it and we hope to create a show that will be fun and scary for fans of the movie and folks that have yet to discover it. Let's kick some Graboid ass!"
Jason Blum of uber-successful microbudget horror studio Blumhouse Productions will be producing the Tremors series in a collaboration with SyFy.
We are so pleased to continue our partnership with Syfy and UCP in reviving this cult classic with none other than Kevin Bacon as Valentine McKee; we look forward to thrilling original fans and new audiences alike.
There's no word yet on any timelines for this new show, or whether any of the other original cast members will return, but we'll keep our ears to the ground in case anything burrows up.
Last Updated: June 28, 2017