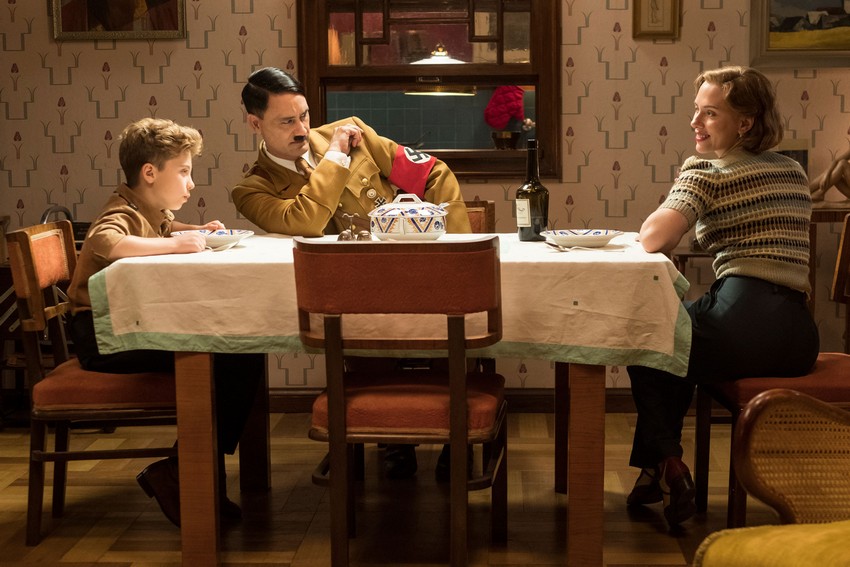 When we first heard of fan-favourite filmmaker Taika Waititi's Jojo Rabbit, it sounded completely bonkers. A coming of age comedy set in WWII Nazi Germany in which the titular lead, a young boy named Jojo, had a quirky, idiotic version of Adolf Hitler as his imaginary friend. Oh and Hitler would be played by the half-Jewish half-Maori Waititi himself. Like I said: bonkers.
So when rumours surfaced recently that Disney – who had acquired the production as part of the Fox takeover – was struggling to figure out how to market this film, it made a lot of sense. How would the family-friendly House of Mouse sell this tale to the public? The answer was surprisingly easy: Just let the movie sell itself because Taika Waititi is a proven brilliant filmmaker who has a knack for telling the most charming story in the weirdest situations. And we can see all of that in a ridiculously delightful new trailer for Jojo Rabbit. Yes, I just used the adjective "delightful" to describe a movie set amidst one of the worst atrocities in mankind's history. Check out the trailer below and see for yourself what I mean.
During the Second World War, lonely German boy Jojo "Rabbit" Betzler (Roman Griffin Davis) has his worldview turned upside down when he discovers that his single mother Rosie (Scarlett Johansson) is hiding a young Jewish girl (Thomasin McKenzie) in their attic. Aided only by his imaginary friend in the form of an idiotic version of Adolf Hitler (Taika Waititi), Jojo must confront his blind nationalism.
How damn good does that look? Funny, sweet, and all kinds of quirky, not to mention boasting a great A-list supporting cast with Scarlett Johansson, Rebel Wilson, Sam Rockwell, and Stephen Merchant. I want to see this now.
Jojo Rabbit will be making its worldwide debut this coming weekend at the Toronto International Film Festival (so we can expect some review soon thereafter to tell us if this movie turns out to be as fantastic as it looks) before officially opening in theatres on 18 October. Unfortunately, that's just for the rest of the world. We're going to have to wait all the way until 17 January 2020 to see it in South Africa.
Last Updated: September 4, 2019