Clint Barton may be the original Hawkeye, but he certainly isn't the best version of that iconic hero. That's an honour that belongs to Kate Bishop, one of the young Avengers who burst onto the comic book scene in the early 2000s. Skilled with weapons of all kind, Bishop has all the skills to pay the bills and an attitude to match.
But over the last couple of years, Bishop has earned a cult following. Thanks to appearances alongside the original Hawkeye in his monthly comic book, Bishop became a breakout star. Bratty but awesome, she's finally getting her own well-deserved solo title that'll feature scripts from Kelly Thompson and art by Leonardo Romero and Jordie Bellaire.
Striking off on her own, Bishop is off to Los Angeles as she enters a world of private investigation and super-heroics. "She's there on a personal mission that's a bit of a mystery, but as always with superheroes she gets caught up in doing some good, and as always with P.I.s there's a dame with nice stems involved," Thompson said to io9, explaining how the recent Matt Fraction penned Hawkeye series helped give Bishop a voice of her own for this solo adventure.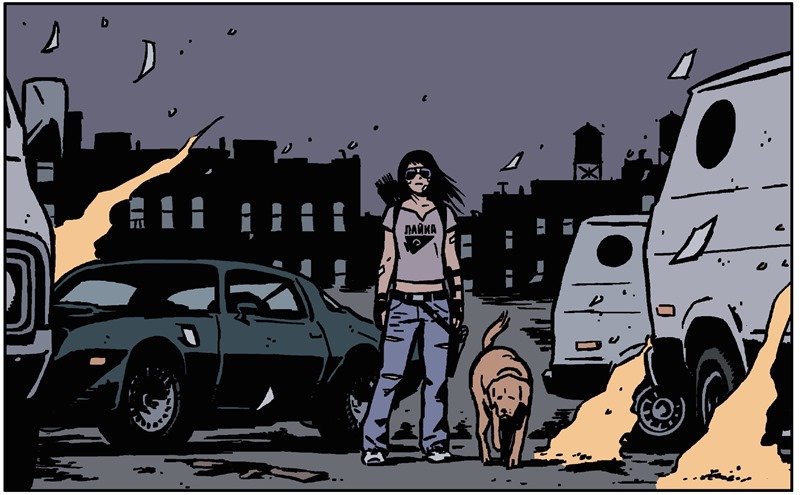 I think the critically acclaimed (and beloved!) Matt Fraction, David Aja, Annie Wu Hawkeye series, where Kate was a co-star and Kieron Gillen and Jamie McKelvie's celebrated Young Avengers run really helped remind people what a great character Kate Bishop is (and what a great Hawkeye she is) and really pushed her forward and leveled up her character development.

The next natural and obvious step was for Kate to be taking center stage in her own book. And it was just fortuitous timing that the Kate book we were developing wound up being the only solo "Hawkeye" book.
No matter how great a script is, it doesn't matter much if the art can't complement the words. Fortunately, Thompson's team of Romero and Bellaire is keeping the down to Earth style of the previous Hawkeye series intact with their run on the new adventures of Kate Bishop: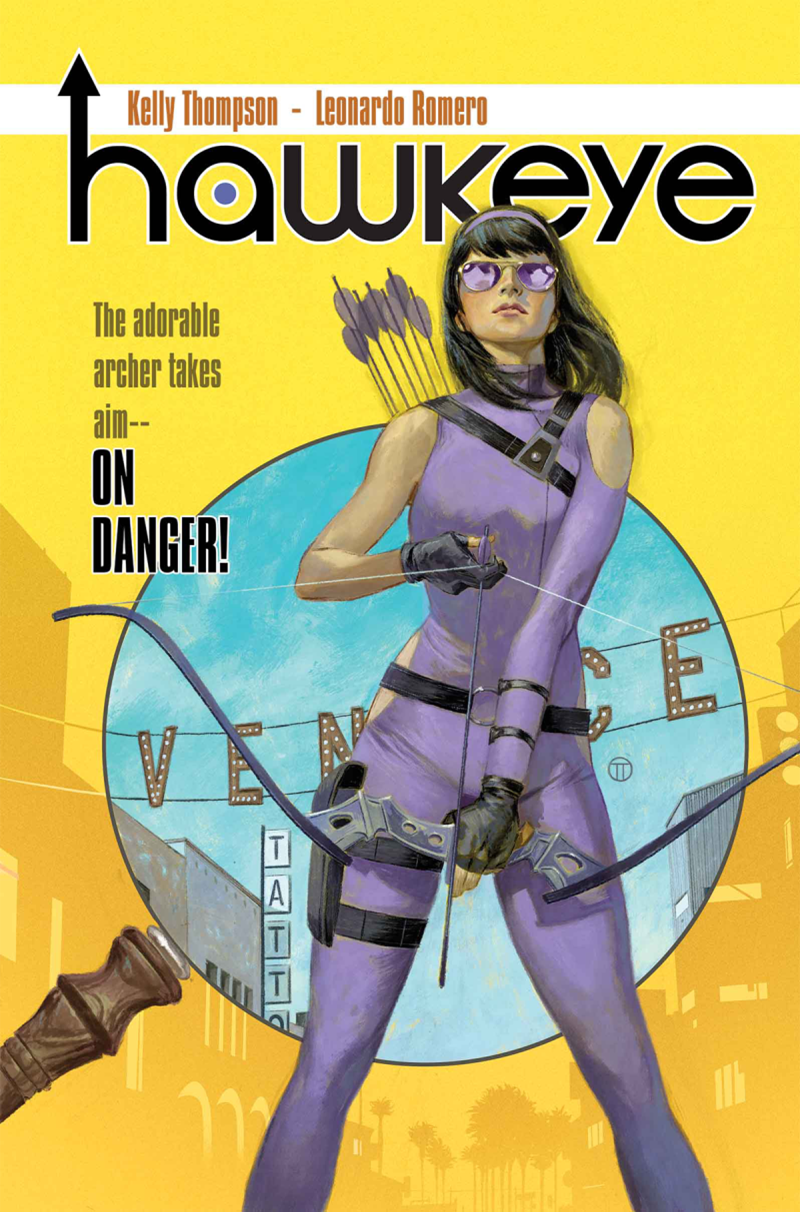 I've said before that one of the great perks of being a comic book writer is that opening up your email inbox is like Christmas. But developing Hawkeye with Leonardo has been like X-Treme Christmas (forgive the X-Men pun, couldn't resist). Every time I check my email there are so many incredible character designs and world building sketches.

Just fantastic stuff. We're very lucky because Leo has a really great style for Kate, who's a more down to earth hero (comparatively) but he's also a great fit for the P.I. noir angle – not every artist can merge those two concepts so seamlessly.

But while we're raving about art let's also mention that we've got Eisner-award winning colorist Jordie Bellaire and we're extremely lucky. I've been dying to work with Jordie since before I started working in comics and I'm excited it's finally coming together. And Jordie and Leo are big fans of each other too…it's a big love fest basically.

Our editors Sana Amanat and Charles Beacham will probably just have to keep us from slobbering all over one another all the time (via email of course…nobody lives close enough for IRL slobbering).
So what kind of danger does a private investigator superhero face? Threats that require both her skills as a detective and an archer to overlap according to Thompson: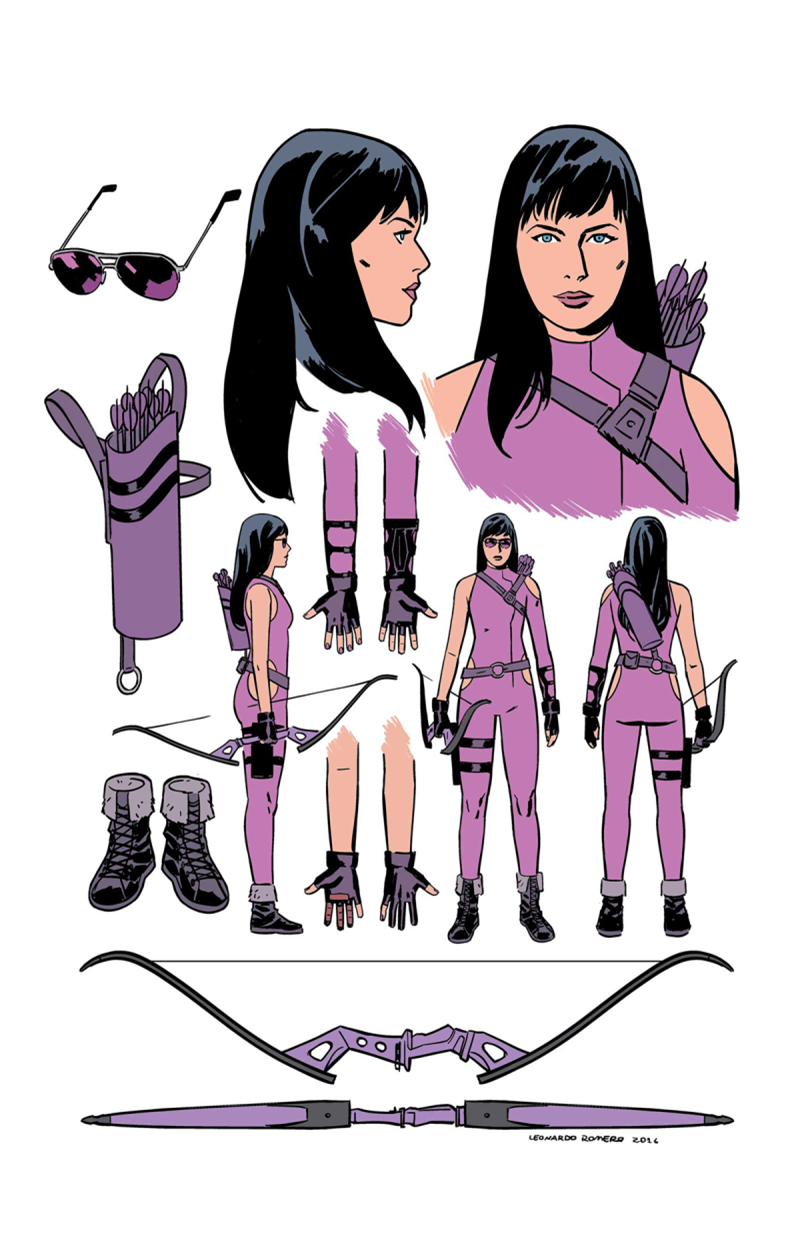 When I was pitching I initially described Kate's book as Veronica Mars with superheroes, and though a lot has changed since pitching, I think that still sums us up pretty well. Kate will be taking on P.I. cases – both her own personal mission that brought her back to L.A., and the clients she finds – but you can't take the superhero out of Kate, nor would we want to. She's an archer first and foremost.

One of the really fun things about Kate as both archer and P.I. has been seeing the way that those skill sets naturally overlap. Being an archer makes Kate a better P.I., and being a P.I. makes Kate a better superhero.
And that just sounds (and looks!) radical so far. The new Hawkeye series kicks off in December, and I'm keen to see what Thompson, Romero and Bellaire craft on this run.
Last Updated: September 20, 2016